US-Brazil market served by six airlines offering 23 routes in Q1; Azul, GOL just added new Florida routes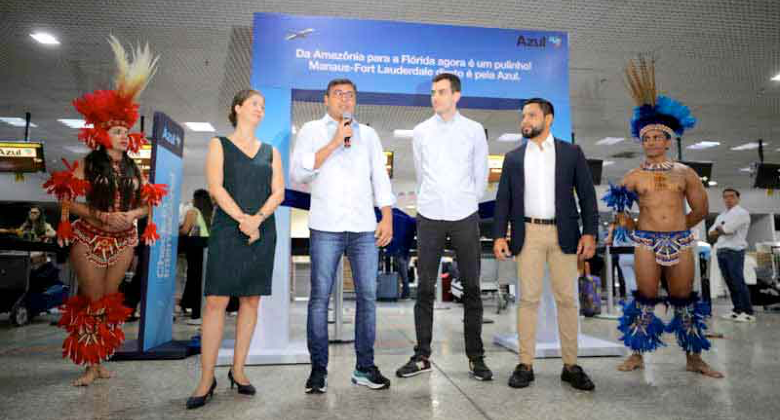 Brazil is the United States' second biggest South American market by seat capacity after Colombia, according to Cirium schedules information data. In the first quarter of 2023 there are 23 non-stop routes encompassing 11 US airports and eight in Brazil. Washington IAD is expected to return in March and Los Angeles in July, but Detroit – which had Sao Paulo GRU flights until March 2019 – remains unserved. Belo Horizonte and Salvador's last US flights were in March 2020; there's currently no indication if they'll return.
Three new routes
Manaus, gateway city to the Amazon, welcomed two new routes by Azul and Gol in time for Christmas. They were driven by the Brazilian city being unserved from South Florida following LATAM ending Miami in March 2020 and American 13 months later. It is the first time that Fort Lauderdale has had Manaus flights:
15 December 2022: Azul, Manaus-Fort Lauderdale (3-weekly)
17 December 2022: Gol, Manaus-Miami (2)
1 July 2023: LATAM, Sao Paulo GRU-Los Angeles (3)
Los Angeles has long had Sao Paulo flights by the likes of Varig, Korean Air (originating/terminating in Seoul) and American. However, American ended it in early 2020, but LATAM will take over the 9,910-kilometre route in July.
Of the 604,000 one-way seats in 2023 Q1, American accounts for 141k and operates five routes, followed by LATAM (131k, five routes), Azul (111k , five routes), United (94k, five routes), Delta (85k, three routes) and Gol (42k, four routes). Capacity is down 26% compared with 2019 Q1 with only Azul having increased its capacity. Three routes have multiple carriers; New York JFK to Sao Paulo GRU (American, Delta and LATAM), Miami to Sao Paulo (American and LATAM), and Miami to Fortaleza (Gol and LATAM).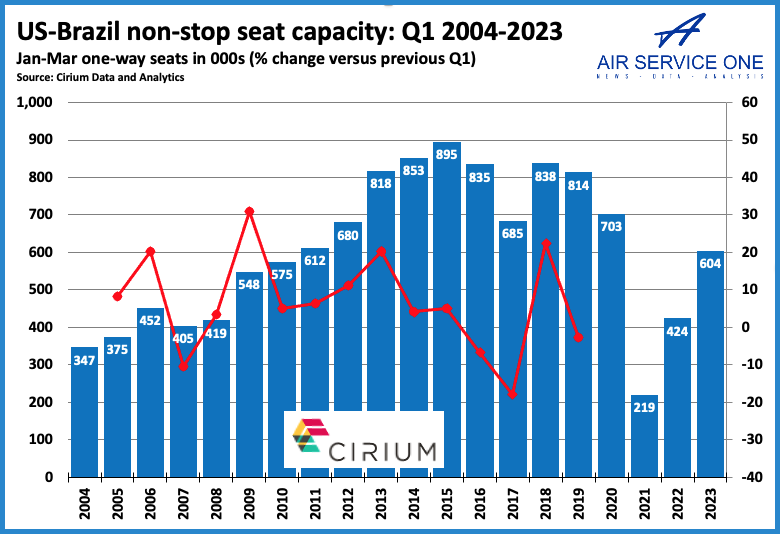 23 US-Brazil routes in Q1
With 29% of US-Brazil seats in Q1 2023, Miami is, of course, the leading US airport to Brazil. However, seat capacity is 14% lower than in 2020 Q1 and 26% lower than 2019 Q1. Miami has five Brazil routes, more than any other US airport, but has lost Belem, Recife and Salvador routes. Also badly impacted is Orlando (seats -31%); it no longer has routes from Belo Horizonte, Fortaleza, Recife and Rio de Janeiro GIG.
In comparison, Fort Lauderdale – whose Brazil network is entirely operated by Azul – has seen capacity rise by 17%. While Belo Horizonte has ended, it has introduced Manaus and expanded Sao Paulo VCP capacity by a third following a typically 2-daily operation. The leading US airports for Brazil capacity in 2023 Q1 are the following (with destinations served in brackets):
Miami: 178,000 one-way Brazil seats in Q1 2023 (Brasilia, Fortaleza, Manaus, Rio GIG, Sao Paulo GRU)
New York JFK: 91,000 (Rio GIG, Sao Paulo GRU)
Orlando: 74,000 (Brasilia, Sao Paulo GRU, Sao Paulo VCP)
Fort Lauderdale: 68,000 (Belem, Manaus, Recife, Sao Paulo VCP)
Atlanta: 63,000 (Rio GIG, Sao Paulo GRU)
Houston IAH: 44,000 (Rio GIG, Sao Paulo GRU)
Dallas DFW: 26,000 (Sao Paulo GRU)
Newark: 25,000 (Sao Paulo GRU)
Chicago ORD: 24,000 (Sao Paulo GRU)
Boston: 11,000 (Sao Paulo GRU)
Washington IAD 2,000 (Sao Paulo GRU – returns in March)
Los Angeles: (Sao Paulo GRU – returns in July)