US capacity now fully recovered; Southwest, Atlanta and Mexico star
The US air travel market was relatively quick to recover to some kind of new normal. In the second quarter of last year seat capacity from all US airports was only 9% lower than during the same period in 2019. According to Cirium schedules data, in the second quarter of this year capacity is up a fraction (0.2%) compared with 2019, though the number of flights is still down 11%. Domestic capacity is up almost 1% while international capacity is down almost 5%.
Comparing the second quarter of 2023 with last year reveals that seat capacity in the US is up almost 10% while the number of flights has increased by around 3.5%. Around three-quarters of carriers in the US market have increased capacity during the last 12 months.
Southwest adds most seats in last 12 months
Leading the way for the biggest increase in seat capacity is Southwest, which has added almost 6.8 million seats in the second quarter compared with last year. This represents above average growth of 13%. During the last 12 months it has not added, or dropped, any airports from its network. United and Delta came next with American only just beating Spirit for fourth place. Despite American's modest capacity growth of just 3%, in terms of total seat capacity it is still the biggest carrier with 59.3 million seats departing US airports, ahead of Southwest (57.5m) and Delta (54.2m).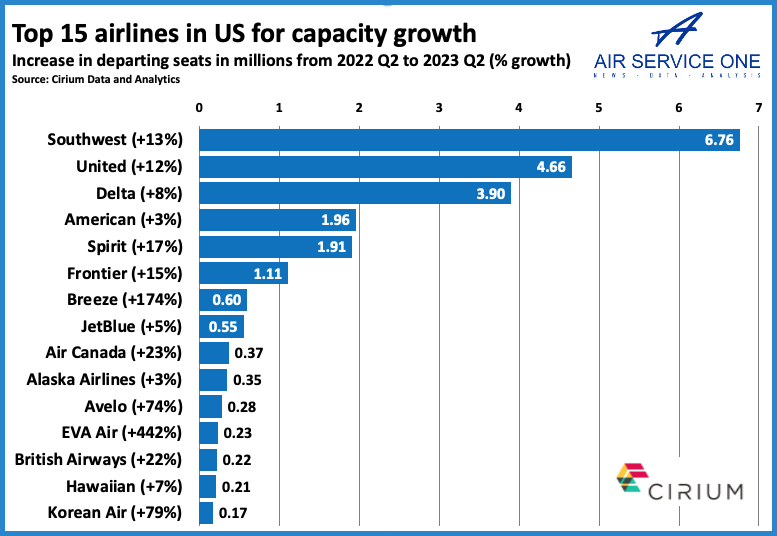 It is worth noting the performance of the two new US carriers Avelo and Breeze, with Breeze in particular expanding rapidly. One airline not in the rankings is Allegiant Air, which actually saw a 2.5% reduction in domestic seat capacity. Other carriers cutting US capacity in the last 12 months include Aeromexico, Lufthansa, Qatar Airways and Turkish Airlines.
Atlanta sees biggest seat increase
A similar analysis looking at airports reveals that the busiest airport in the US, has also seen the biggest increase in available seat capacity during the last 12 months. Delta's mega-hub in Atlanta has added almost 50% more seats (1.8m) than any other airport, though Delta itself is only responsible for half of that growth. Frontier and Spirit have both grown capacity by more than 50% at the Georgian facility.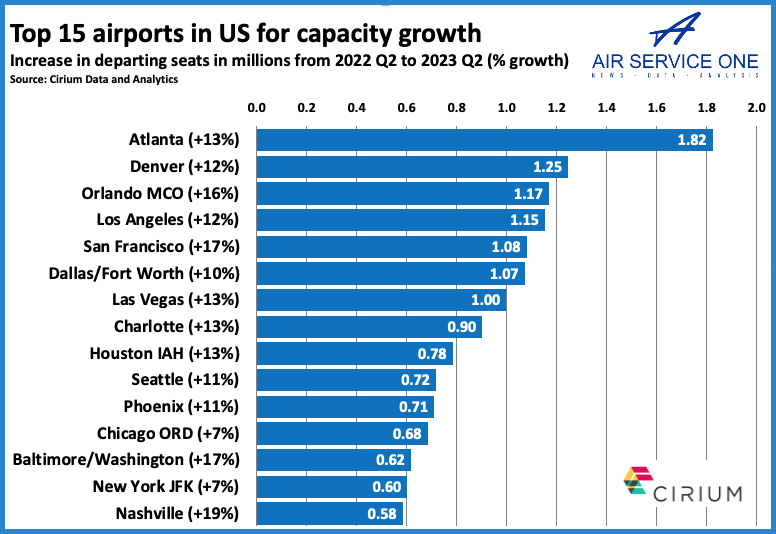 The airports with the biggest reduction in seats are both in Florida. Fort Myers is down 180,000 seats (minus 11%) and Miami is down 160,000 seats (minus 2%). Among the top 100 airports on the US mainland, those with the highest percentage growth are Louisville in Kentucky (+28%), Kansas City (+23%) and Raleigh/Durham (also +23%).
Texas gaining on California and Florida
At a state level, Texas saw a greater increase in seat capacity than any other state beating California and Florida. This growth means that Texas has 31.3 million departing seats in Q2 ranking it third behind California (34.5m) and Florida (32.2m). Southwest, United and American all added between 660,000 and 860,000 seats from Texas airports compared with last year's Q2.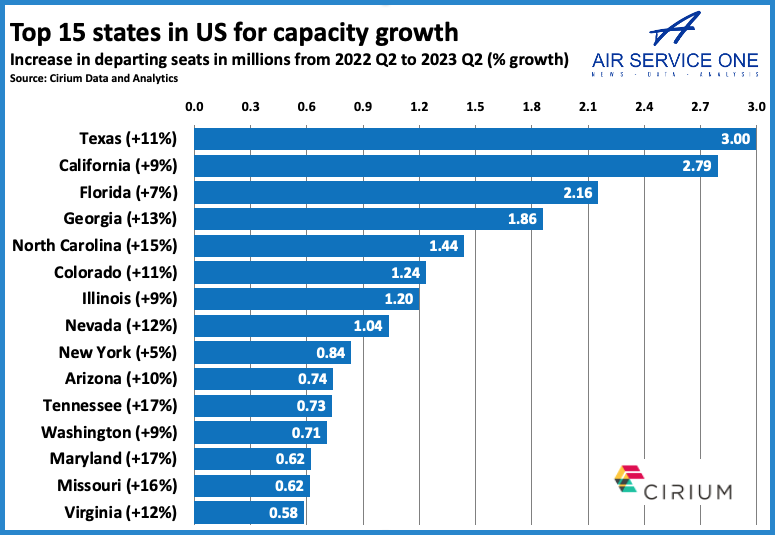 Among the top 15 US states for capacity, Maryland and Tennessee recorded the highest growth rates (+17%) while New York saw the lowest growth (+5%). Among smaller US states for air travel, Kentucky (+22%) and New Mexico (+20%) performed well above average. A few states have seen capacity reduced compared with last year including West Virginia (-4.7%), New Hampshire (-3.7%), Vermont (-3.6%) and Alaska (-3.6%).
Mexico passes Canada as #1 international market
With the international market having recovered more slowly the comparison undertaken here is between 2023 Q2 and pre-pandemic 2019 Q2. International capacity across all countries is still down 4.6%. However, five of the top 15 markets have recorded growth compared with 2019 including Mexico (+20%) which has now overtaken Canada as the leading international market from the US. Other major markets that are now bigger than they were four years ago include Colombia (+26%), Dominican Republic (+23%), Jamaica (+16%) and the UAE (+1%).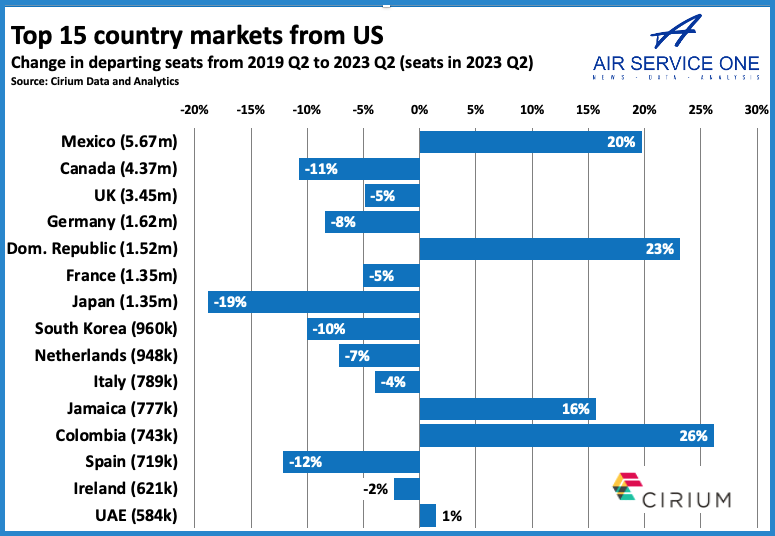 Most European and Asian markets are still down significantly. Among the top 15, Japan has been the hardest hit, with available seats down 19%. Back in 2019 Q2, China was the seventh biggest country market with 1.37 million quarterly seats. Cirium data shows that capacity in Q2 was down 94% to just 82,500 seats. As a result, China currently ranks just 56th among countries, just behind South Africa and just ahead of Finland.
Outside of the top 15, Türkiye has seen capacity growth of 66% helped by Turkish Airlines adding three new US routes; to Dallas/Fort Worth, Newark and Seattle. No US carrier currently operates flights to Türkiye. Another European market, Greece, has seen capacity increase by 63%. Here the growth is all about US carriers with American starting service between New York JFK and Athens, Delta launching flights to the Greek capital from Atlanta and Boston, and United adding non-stop service between Washington IAD and Athens.
While there are currently no longer non-stop flights between the US and Azerbaijan, Russia, Ukraine, Uruguay or Venezuela, there are now non-stop flights to Vietnam. Vietnam Airlines began regular service from Ho Chi Minh City to San Francisco in late November 2021. This spring it is offering 4-weekly service using its A350-900s.
Spirit and Volaris lead international growth
Looking at the leading airlines in the US international market, the top three remain American, United and Delta. The first two have grown their international seat offering by 6%, while Delta's capacity is down 8%. Among the top 15 international carriers, two have seen considerable growth in percentage terms, Spirit (+62%) and Volaris (+46%). Spirit has grown its presence significantly in Colombia, Dominican Republic, Honduras and Mexico.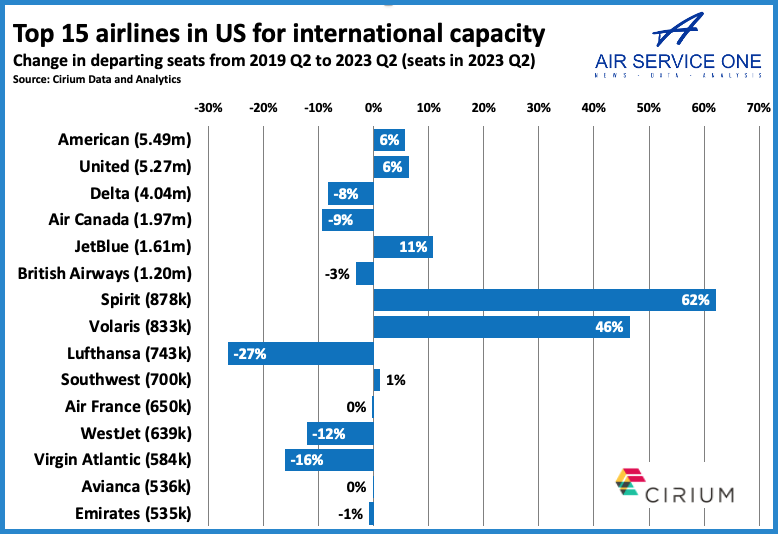 Lufthansa has seen the biggest decrease, having transferred some of its US services to its long-haul leisure brand Eurowings Discover. This carrier is the second biggest new airline in the market, beaten only by Norse Atlantic Airways. Air Premia, PLAY and Vietnam Airlines are other airlines that weren't serving the US in 2019 Q2.
Just outside the top 15 Turkish Airlines (+66%), Frontier (+201%) and Vivaaerobus (+279%) have all added between 200,000 and 315,000 quarterly seats on international routes from the US. However, several carriers have been lost for various reasons. These include Aeroflot, Air Italy, Hainan Airlines, InterJet, Norwegian, Thomas Cook Airlines, Ukraine International Airlines and Virgin Australia.