Valencia passes a million passengers for first time in July; fastest recovering of Spain's 15 busiest airports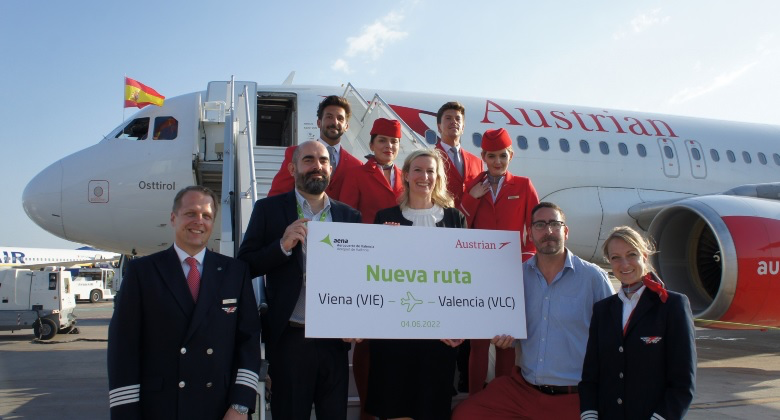 Located nearly halfway down Spain's long coastline, Valencia is the country's third most populous city and metro area. While less 'touristy' than better known cities and destinations, it has grown enormously recently. According to Aena figures, passengers exceeded one million for the first time in the airport's history.
Traffic rose by more than a fifth (20.6%) versus July 2019, meaning it was the best recovered of all of Spain's busiest 15 airports. Total passengers also surpassed the airport's previous record held last year by 17.3%. The international market accounted for seven in ten passengers in July 2023, with Italy, France, the UK, Germany and the Netherlands the most popular markets.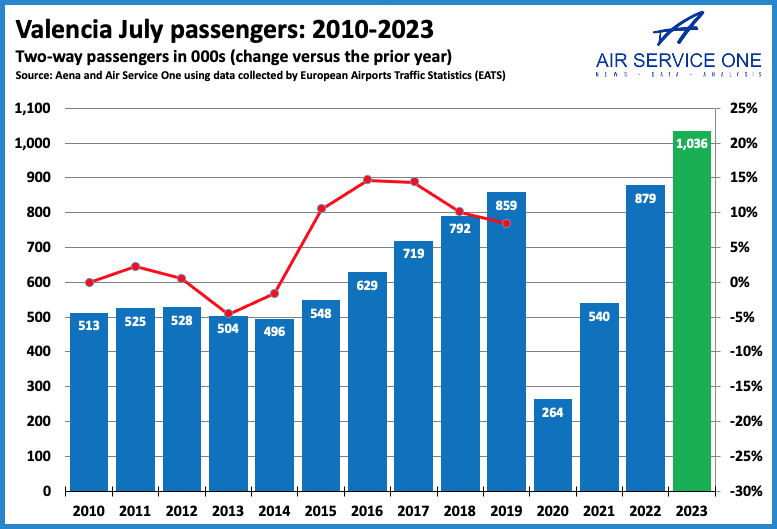 Valencia gains eight airlines and big growth from key incumbents
Using Cirium to compare July-September 2023 with the same three months in 2019 indicates that Valencia has welcomed multiple new carriers in the recent past: Air Arabia Maroc, Air Cairo, Air France, Air Serbia, Austrian, Brussels Airlines, Luxair and brand-new carrier Dan Air. The latter commenced Bucharest-Brasov-Valencia on 13 July (weekly). It is odd that it is a one-stop from the Romanian capital against ULCC Wizz Air's non-stop flights.
Valencia's growth has mainly been from incumbent operators. Various carriers, particularly outside the top 10, have a fifth or more flights than they did last year. However, Cirium informs that Ryanair – Valencia's largest airline since 2012 – is 23.4% larger than it was, based on departing flights in July. The ULCC now accounts for 37.8% of Valencia's departing, up by about three percentage points YOY.
Ryanair's July network comprised 60 routes, including two new to its network this year: Stockholm ARN (8 January; 2-weekly) and Belfast BFS (1 May; 2-weekly). The latter replaced Belfast BHD, served briefly in 2021. It also relaunched Billund (3 May 2023; 2-weekly; last served in 2008) and Frankfurt HHN (1 July; 2-weekly, last served five years ago).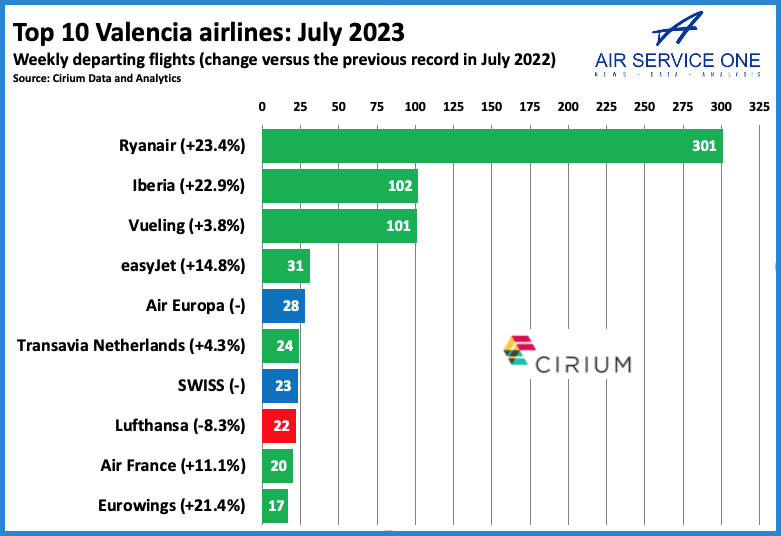 Had 95+ destinations in July; Palma number one
Cirium tells that Valencia had non-stop flights to more than 95 airports in July. All were in Europe and North Africa. Its last long-haul route was by Delta Air Lines' Boeing 757s from New York JFK (it ended in 2012), while its most recent Middle East market was El Al from Tel Aviv (it ended in 2018).
Some 18 of Valencia's 95 destinations are in Spain. Given domestic routes ordinarily have more flights than international, it is not surprising that five feature in most served markets figure. Helped by being the peak summer, Palma had 66-weekly departing flights, more than to anywhere else. They were by Ryanair (20-weekly), Vueling (20), Air Europa (14) and Iberia (12).
It is notable that, despite it taking less than two hours to travel by train to Madrid, the Spanish capital was still Valencia's second destination. It was served by Iberia (25-weekly) and Air Europa (14) primarily, of course, for connecting traffic. In contrast, Valencia-Barcelona – while only around 2.5 hours by train – had only a 4-weekly Iberia service.