Varna beats Burgas as Bulgaria's second-busiest airport so far this year; Wizz Air biggest scheduled carrier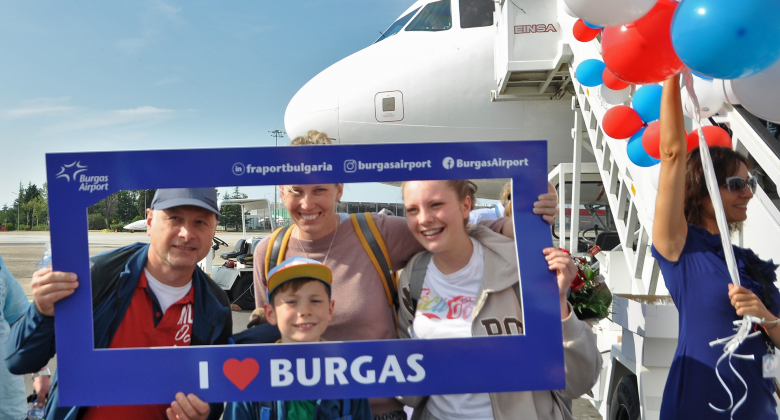 Two airports serve the ever-popular Black Sea area of Bulgaria: Varna and Burgas. Located around 120 kilometres south of Varna, Burgas was the larger of the pair in 2022 – just as it has been in most years. It welcomed 1.64 million passengers against 1.48 million for Varna.
Curiously, the reverse was true of the traffic recovery. Varna passengers remained down by 28.8% over 2019, against 43.0% for Burgas; the lack of Russian tourists did not help. In the first seven months of 2023, Varna traffic overtook Burgas, partly helped by its lower seasonality profile. It contributed to Varna welcoming its one millionth passenger in late July, a week before the more southerly airport.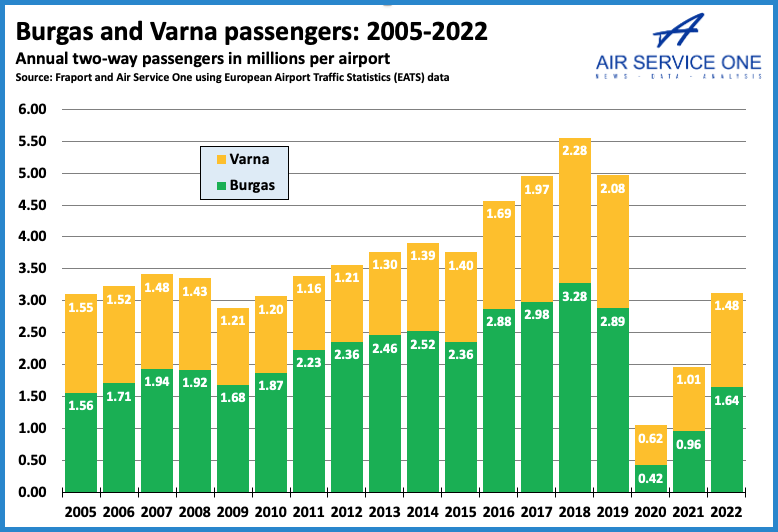 Both heavily seasonal, but Burgas more so
While each airport is massively summer-seasonal, as befits inbound tourist destinations, the difference between the two is notable, including in winter. Varna had 265,000 passengers between January and March this year, surpassing pre-pandemic figures by more than half. It was because of winter growth by Wizz Air. However, Cirium schedules data shows that nearly a third of the ULCC's routes that operated this winter are to end, impacting next year. January-March traffic was 10 times greater than at Burgas.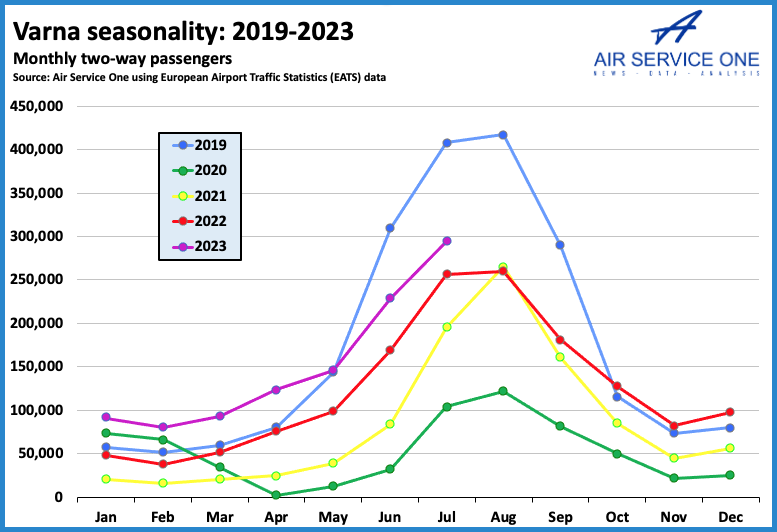 While winter did well, Varna's passenger volume in July had much to recover versus 2019, down as it was by 28.8% – the same as for the whole of last year. The recovery slowed versus June (-26.2%). In contrast, Burgas – even more reliant on the peak summer – welcomed 38.2% fewer passengers in July, but the recovery improved month-on-month.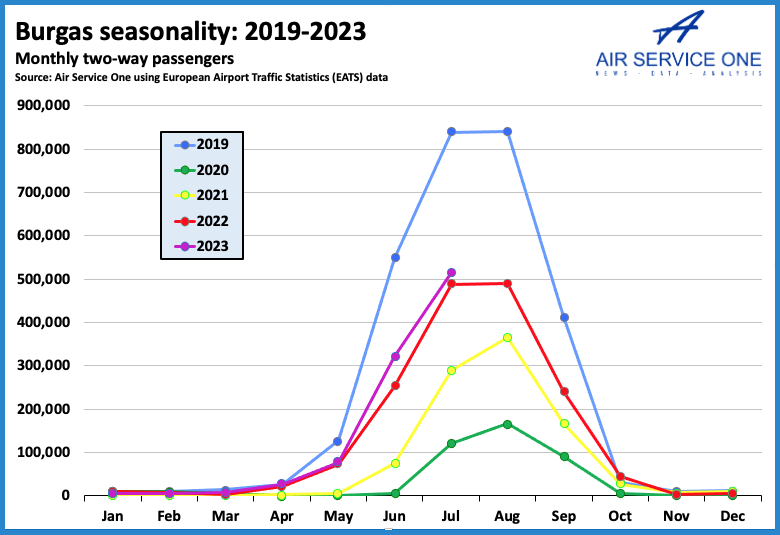 Wizz Air is the top carrier in total, but it varies per airport
If both Bulgarian airports' scheduled seats in July-September 2023 are combined, Wizz Air is the largest operator. However, while the ULCC is first at Varna, it is second at Burgas, behind Smartwings. Ryanair is Burgas' third-largest scheduled carrier and first served the airport in March 2018.
Wizz Air has a base in Varna, which opened in 2017, a decade after first serving the airport. It has 16 routes this Q3, although five end in September, shown with an *. In order of capacity, its network comprises London LTN, Memmingen, Dortmund, Berlin, Hamburg, Tel Aviv, Brussels CRL, Cologne, Eindhoven, Karlsruhe*, Frankfurt HHN*, Larnaca, Liverpool*, Nuremberg, Prague* and Vienna*. Half of its 16 routes are from Germany – Varna's leading source market for tourists.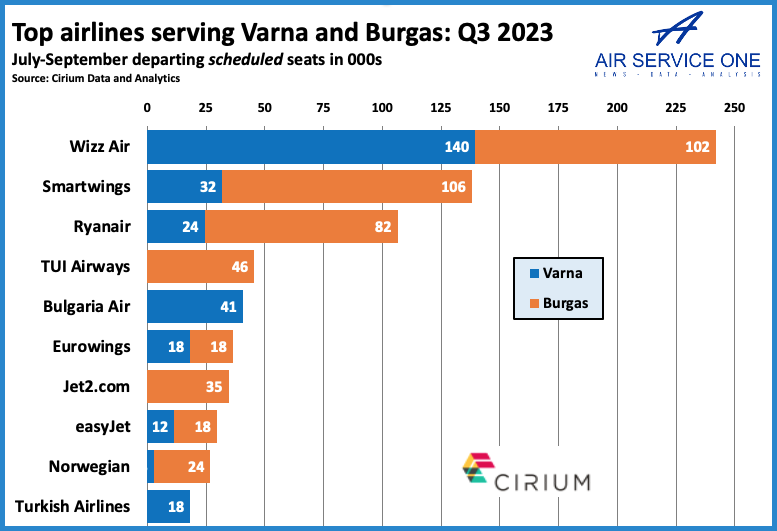 Hub carriers from Varna
While Burgas and Varna inevitably revolve around (U)LCCs and charter carriers, scheduled service by hub airlines – with all their onward connectivity – have a role to play too. Of these, three to Varna are particularly important. Turkish Airlines serves Istanbul IST 9-weekly in August, while Austrian has a daily operation. Air Serbia launched its 3-weekly overnight service from Belgrade to Varna on 5 June 2023.