Viva Aerobus carried 11+ million passengers in 1H 2023, 20% more than its previous record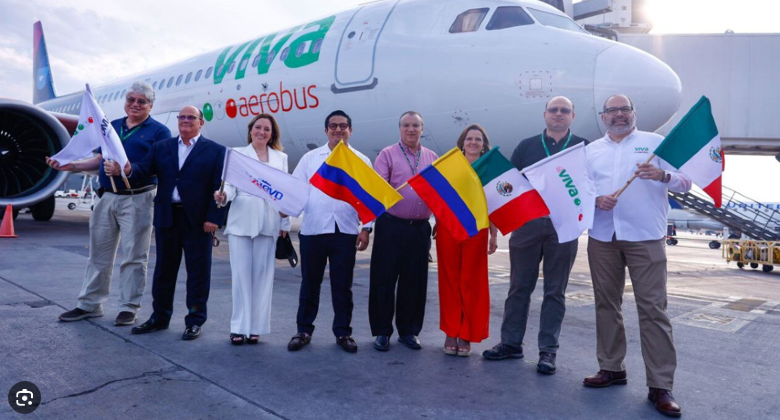 Viva Aerobus carried 11.34 million passengers in the first half of 2023 (January-June). Helped by the cessation of Interjet in 2020, Viva Aerobus has grown enormously. Traffic rose by 20%+ versus 1H 2022 – its previous record – and by 110% over the pre-pandemic 2019.
The huge domestic market remained Viva Aerobus' foundation, with around 90% of passengers in the initial six months of 2023 (10.15 million). Analysis of traffic results shows that the LCC's domestic market share averaged almost a third. It benefited from Volaris' apparent strike-based woes. In June 2023, Viva had nearly 1.85 million domestic passengers, overtaking Volaris to be Mexico's leading domestic operator. Its share rose to 36%.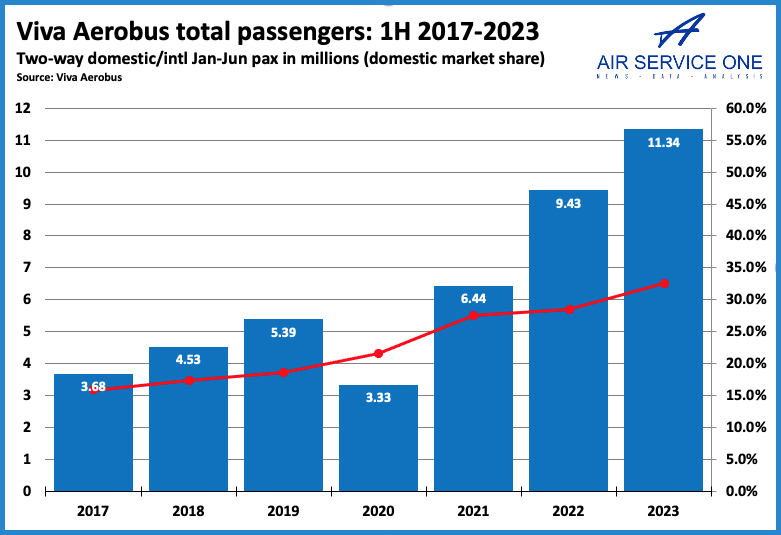 Monterrey remains numero uno – flights at a record level
According to Cirium schedules information, Viva Aerobus serves 54 airports in July, of which 37 are in Mexico. The carrier, which launched operations in 2006, remains focused on Monterrey, its original base. Monterrey now accounts for almost one in five departing flights in July (18.1%).
Mexico City, which the airline has served since April 2010, now accounts for 15.7% of flights. Interestingly, the capital – always extremely hard to access because of a lack of slots – was the LCC's top airport in July 2023, overtaking Monterrey. However, Monterrey has regained the top spot, and has more flights than in any other July.  This is from higher frequencies and its route network rising from 35 to 39. Presumably, Mexico City's fall is partly related to the opening of Mexico City NLU.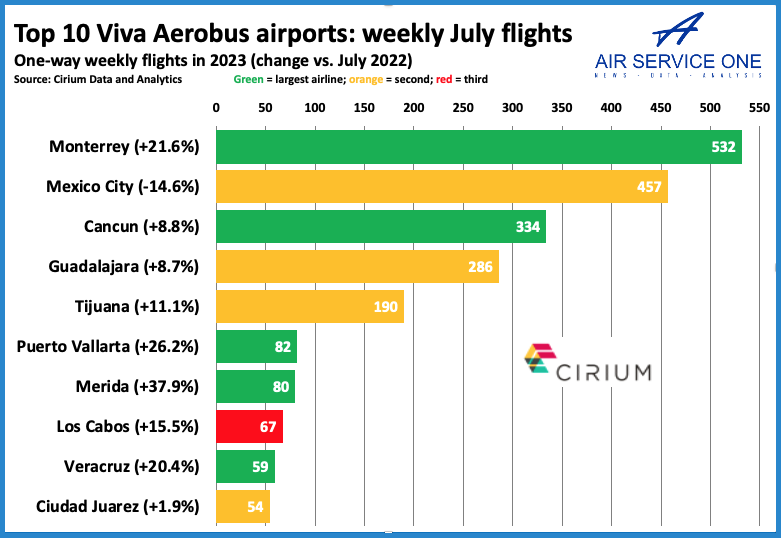 156 routes in July
They comprise 117 domestic and 39 international. Not surprisingly, all the top 10 are domestic, led by Monterrey to Cancun. Viva Aerobus has 83-weekly July flights and competes directly with Volaris (35-weekly). The 1,450-kilometre market is Mexico's sixth most-served this month.
While international routes do not feature, Cirium shows that it serves 17 foreign airports in July. Houston IAH leads (124-weekly), followed by Los Angeles (102) and Havana and San Antonio (98-weekly each). Three routes have 2-daily flights: Guadalajara-Los Angeles (Mexico's third-largest international airport pair), Monterrey-Houston IAH and Monterrey-San Antonio.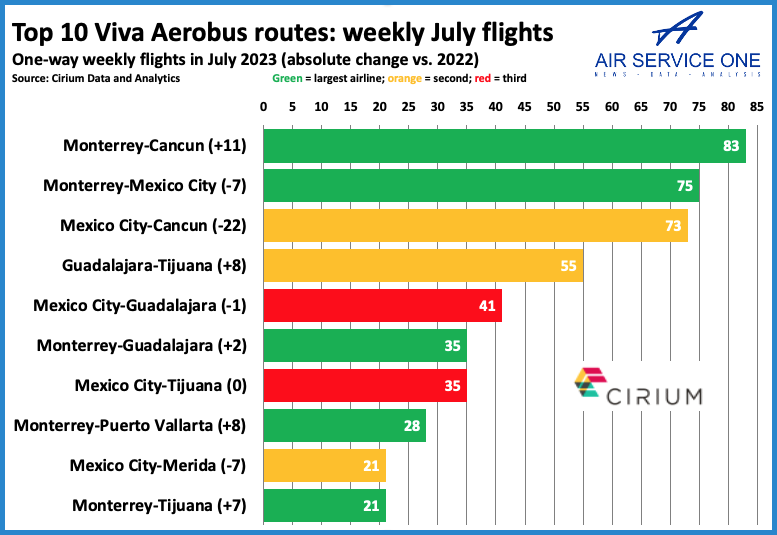 13+ routes introduced
Viva Aerobus plans to continue to exceed its previous traffic record. To help with this, it has added many new routes, not all of which have started. They include the following, none previously operated by the carrier. Note that 'previously unserved' means unserved by airline any since 2004.
8 June 2023: Monterrey to Bogota (2-weekly); previously unserved
16 June 2023: Cancun to Quito (3-weekly); previously unserved
1 July 2023: Ciudad Juarez to Los Cabos (2-weekly); previously unserved
2 July 2023: Queretaro to Los Cabos (3-weekly)
3 July 2023: Ciudad Juarez to Mazatlán (3-weekly)
3 July 2023: Torreon to Los Cabos (2-weekly); previously unserved
4 July 2023: Merida to Managua (weekly to 2-weekly; previously unserved
6 July 2023: Merida to Santa Clara, Cuba (weekly); previously unserved
14 July 2023: Mexico City NLU to Hermosillo (4-weekly); previously unserved
16 July 2023: Mexico City NLU to Mazatlán (3-weekly); previously unserved
16 July 2023: Mexico City NLU to Ixtapa/Zihuatanejo (3-weekly); previously unserved
20 October 2023: Tijuana to Oaxaca (daily)
21 October 2023: Tijuana to Reynosa (2-weekly); previously unserved