Volaris carried record 31 million passengers in 2022; #1 in Mexican domestic market with 40% of demand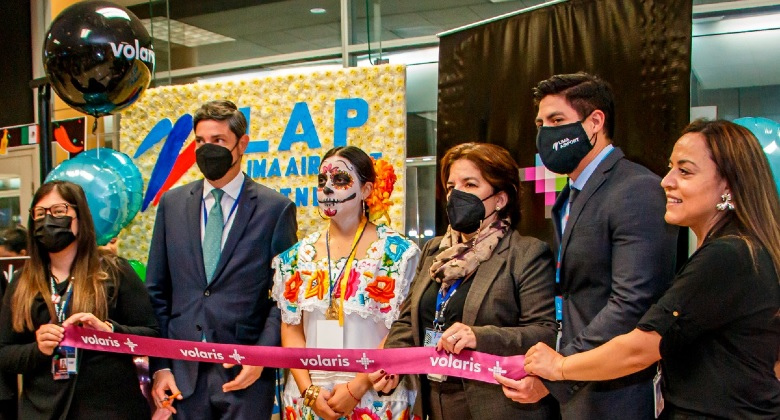 Mexico ended 2022 with 107 million passengers, making it Latin America's biggest aviation market – even beating Brazil. It was helped by the fast growth of ULCC Volaris, which had 31 million passengers last year (at a load factor of over 85%), according to the carrier's own figures. Traffic grew by six million year-on-year, smashing its previous record. Volaris had 29% of Mexico's total passengers in 2022, making it by far the country's biggest airline.
With 23 million of the country's 57 million domestic market (40%), Volaris was particularly dominant domestically. In contrast, it had six million of Mexico's 50 million international passengers, for a much more modest stake (12%). Volaris was the third biggest airline serving Mexico internationally, but it is fast catching up with Aeromexico and leader American Airlines.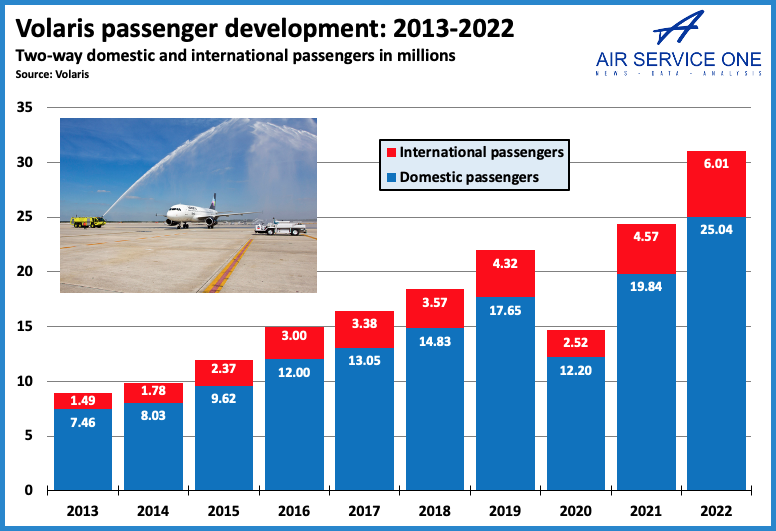 Volaris has 184 routes in Q1/Q2 2023
Between January and June 2023, Volaris' domestic network involves 43 airports, according to Cirium schedules information data. It has 120 domestic routes, of which it has direct competition on 67 (56%). Volaris' most served route is Tijuana to Guadalajara, 1,900 kilometres apart, which has an average of 82 weekly flights in what is Mexico's fourth-biggest domestic market. It is one of only two of Mexico's top 10 domestic markets in which Volaris leads, alongside Tijuana to Culiacan. It is not a coincidence that Tijuana is its number one domestic airport.
Volaris has 64 international routes to the US, Colombia, Peru, Guatemala and Costa Rica using its Mexican AOC (IATA code Y4). It has direct competition on 25 (39%). They are from 14 Mexican airports, of which Guadalajara has over half of the airline's international capacity across 21 routes. Guadalajara to Los Angeles, Oakland, San Jose and Fresno are its top four international routes, followed by Mexico City to Chicago ORD in fifth. It serves 24 non-Mexican airports, of which Los Angeles has more capacity than any other thanks to eight routes and 66 weekly flights.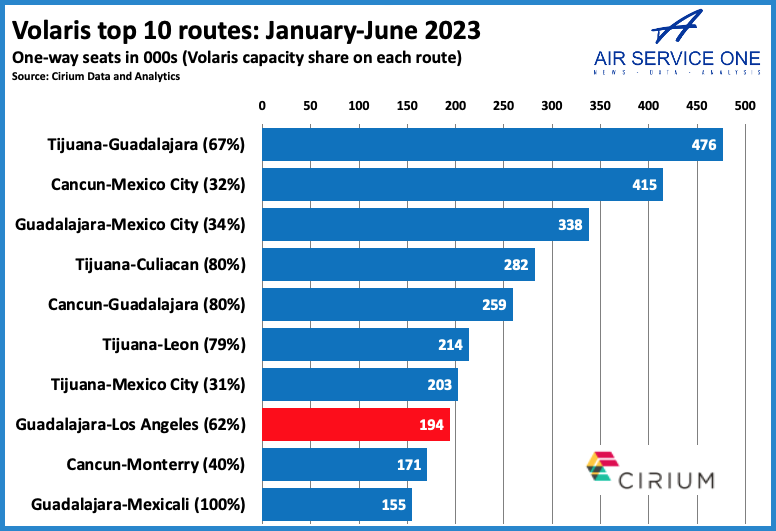 Volaris is number one domestically at 29 of the 43 airports served
Volaris revolves around the domestic market. It has domestic flights from 43 airports in the examined period, with an average of 47% share of intra-Mexico capacity. It is the leading airline at 29, including Cancun, Guadalajara and Tijuana. With 60%+ of one-way seats, it is especially predominant domestically at 11: Uruapan (100%; it is the only airline); Mexicali (83%), Cozumel (78%), Tepic (74%), Tijuana (72%), Morelia (68%), Culiacan (68%), Colima (65%), Zacatecas (63%), Ciudad Obregon (62%) and Los Mochis (61%).
In comparison, it is weak domestically at four: Villahermosa (9%, at which it ranks third domestically); Veracruz (11%, third); Torreon (17%, third) and Monterrey (17%, third). The latter is the spiritual home of fellow ULCC Vivaaerobus.