Volotea adds second aircraft to Lille base; now selling flights to 24 destinations in seven countries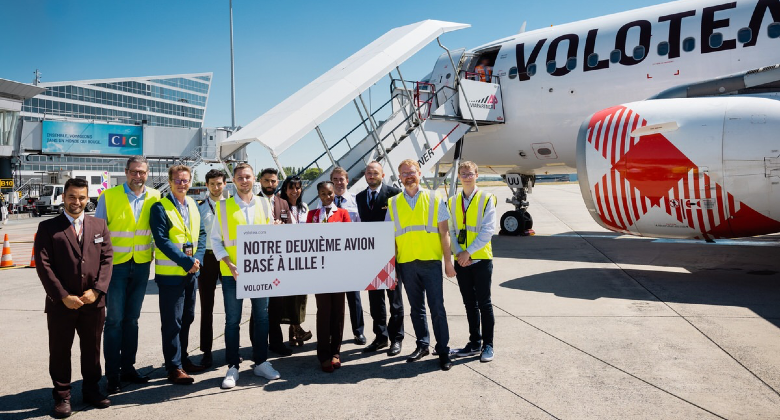 Volotea now has two Airbus aircraft based at Lille. The carrier based its first aircraft at the French airport on 1 April of this year, although it has been serving the airport since June 2012. In the pre-pandemic summer of 2019, it was offering flights to just four domestic destinations; Montpellier, plus three airports in Corsica (Ajaccio, Bastia and Figari).
With a second aircraft now based at the airport, Volotea is offering flights to 24 destinations in seven countries, according to its online booking tool. These are (weekly frequency in August in brackets):
France (10 routes): Ajaccio (6), Bastia (5), Bordeaux (2), Calvi (1), Figari (7), Montpellier (4), Nantes (resumes on 5 September), Nice (6), Perpignan (3), Toulouse (2)
Spain (5 routes): Barcelona (3), Gran Canaria (starts on 12 November), Malaga (1), Menorca (1), Palma de Mallorca (1)
Italy (4 routes): Cagliari (1), Rome FCO (2), Palermo (2), Venice VCE (starts on 21 October)
Greece (2 routes): Athens (2), Heraklion (1)
Bulgaria (1 route): Varna (1)
Croatia (1 route): Split (1)
Portugal (1 route): Faro (1)
However, most of these routes are served at low frequency. Nine routes operate just weekly, while a further five are flown 2-weekly. Figari (daily), Ajaccio and Nice (6-weekly) and Bastia (5-weekly) are the highest frequency routes. Service to Nantes is not offered in July and August.
53 weekly flights across 21 routes in August
Cirium schedule data for August shows Volotea offering 53 weekly departures across 21 routes. The busiest day is Monday (10 departures) followed by Thursday, Friday and Sunday (eight each), Tuesday (seven), and Wednesday and Saturday (six each).
Volotea faces direct competition on 13 of the 21 routes at Lille in August from three carriers (weekly frequency in brackets):
Air France: Ajaccio (2), Bastia (1), Calvi (1), Figari (2), Nice (4)
easyJet: Bordeaux (7), Nice (12), Palma de Mallorca (2), Toulouse (7)
TUIfly: Athens (2), Faro (1), Heraklion (1), Malaga (2), Palermo (1), Palma de Mallorca (1)
Nice and Palma de Mallorca are the only routes served by Volotea and two other carriers.