Volotea opens new Olbia base consolidating its position at the airport; now offering 20 routes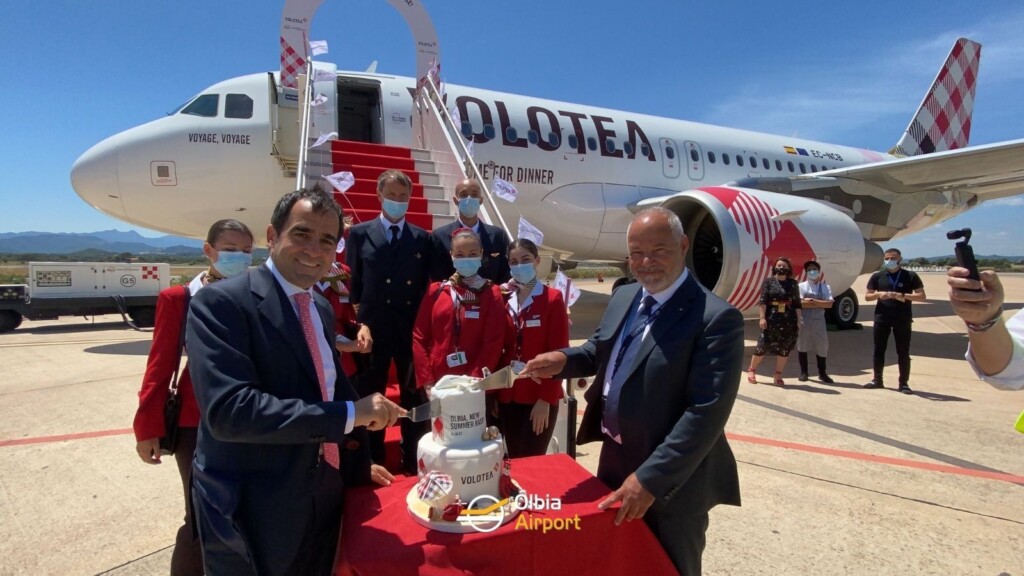 Volotea opened a new base on Thursday 3 June in Olbia, on the Italian island of Sardinia. It is the airline's seventh base in Italy joining Cagliari, Genoa, Naples, Palermo, Venice VCE and Verona. Volotea began serving Olbia the day after the carrier launched operations in April 2012, with a flight from Venice VCE. Thanks to the launch of this seasonal base, Volotea is offering flights from Olbia to 20 destinations, 15 to other airports in Italy and five in France. The airline has gradually grown its network at the airport and, impressively, has not dropped any of the routes it has launched in the last nine years. The start dates for the routes are (weekly frequencies planned for August 2021 shown in brackets along with other airlines currently planning service on these routes in August 2021 according to Cirium Data and Analytics):
April 2012: Venice VCE (14, easyJet)
June 2012: Bordeaux (1, easyJet), Palermo (4, none)
August 2012: Nantes (2, easyJet)
June 2013: Genoa (7, none)
May 2014: Naples (7, easyJet), Turin (14, Blue Air/easyJet)
April 2015: Strasbourg (1, none)
May 2016: Bari (7, easyJet), Verona (21, easyJet/Neos/Wizz Air)
May 2018: Milan BGY (21, easyJet/AlbaStar)
July 2020: Ancona (3, none), Bologna (17, Alitalia/easyJet/Wizz Air), Pescara (2, none), Pisa (6, Alitalia), Trieste (2, none)
June 2021: Catania (2, Danish Air Transport), Cuneo (2, none)
July 2021: Lyon (1, easyJet/Transavia)
May 2022: Marseille (none in S21)
When it first launched, Volotea focussed primarily on offering flights between airports where no service existed. As the airline has grown it has increasingly found itself competing with other carriers and in Olbia this summer it will face competition on 12 of the 19 routes flown. The main competitor on the higher volume domestic routes is easyJet, with Wizz Air providing competition on the Bologna and Verona routes.
Volotea #2 carrier in Olbia after collapse of Air Italy
Based on current schedule data for August 2021, Volotea will be the second biggest carrier at the airport in terms of seat capacity after easyJet. Back in the summer of 2019 that title belonged to Air Italy, with Volotea third and Eurowings fourth. Sadly, Air Italy ceased most of its operations in February 2020, even before the start of the pandemic.
Apart from Volotea's three new routes this summer, the airport has already this year welcomed new services by Blue Air (to Turin), easyJet (to Milan BGY) and Wizz Air (to Bologna, Milan MXP, Venice TSF and Verona). Additional new routes are set to launch this summer operated by Condor (to Zurich), easyJet (to Bari, Turin and Verona), EGO Airways (to Florence and Forli), Lumiwings (to Parma), Transavia (to Lyon), Vueling (to Florence) and Wizz Air (to Rome CIA, Vienna and Warsaw WAW). Looking further ahead, Jet2.com plans to add Olbia to its route network next summer and will serve the Sardinian airport from Birmingham, Leeds Bradford, London STN and Manchester.