Volotea opens newest base at Tarbes/Lourdes in France; will operate five routes including Paris ORY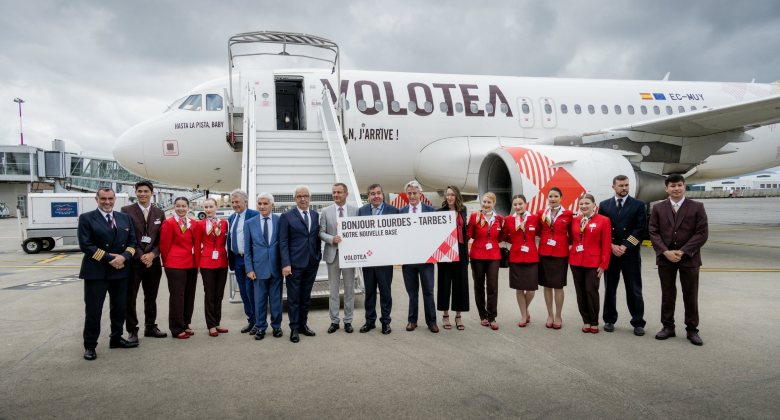 Tarbes Lourdes Pyrénées Airport (IATA code LDE) has become the latest French base for Volotea. On Friday 1 July the airline based a single A319 at the airport and launched routes to Paris ORY (2-daily) and Strasbourg (2-weekly). The following day saw the start of service to Naples and Palermo (both 2-weekly), with 2-weekly service to Venice VCE beginning on Sunday 3 July. None of these routes face direct competition. Although Paris ORY is not a base, the other destinations served are all Volotea bases, enabling aircraft to easily rotate in and out of the base. All five routes were launched using the aircraft registered EC-MUY.
Replacing Air France on Orly route
The 645-kilometre Paris ORY route had previously been flown by Air France until 31 May 2022 with 19-weekly flights using ERJ-145s operated on its behalf by Amelia. The link is a Public Service Obligation (PSO) route and the latest contract was award to Volotea for a four-year period back in February, beating Amelia and Chalair. According to local news reports, Volotea will receive around €5 million per annum for operating the route. Given that it is using 156-seat aircraft on the route, capacity will be more than doubled compared with Air France's previous offering.
The airport is just 40 kilometres from Pau Airport, which has non-stop service to Paris CDG with Air France (3-daily) and Paris ORY with Transavia (12-weekly for most of the summer). Transavia took over the Orly route from Air France on 27 March 2022.
What they said
Carlos Munoz, Founder and CEO of Volotea, said: "At a time when we are witnessing the strong return of travel, we feel enormously proud of announcing the launch of our new base at Lourdes airport, our 8th base in France. We are especially happy to inaugurate the Lourdes-Paris Orly route and to be able to ensure the continuity of connectivity with Paris this summer. We also see great opportunities for growth in the region, and we are additionally offering four new exclusive flights for the summer season from Tarbes-Lourdes-Pyrenees, with direct connections to Strasbourg and Italy."
Ryanair offers several routes
Pre-pandemic, the airport was typically handling between 400,000 and 500,000 annual passengers. Apart from Volotea, Ryanair also serves the airport with year-round services from its bases at Brussels CRL, Dublin, London STN, Malta, Milan BGY and Rome CIA. In addition, AlbaStar serves Milan BGY. With a 3,000-metre runway, the airport can handle all aircraft types, which helps in serving the charter flights operated to bring Catholic pilgrims to nearby Lourdes.