Volotea reaches 50 million passenger landmark; biggest European carrier not serving UK regularly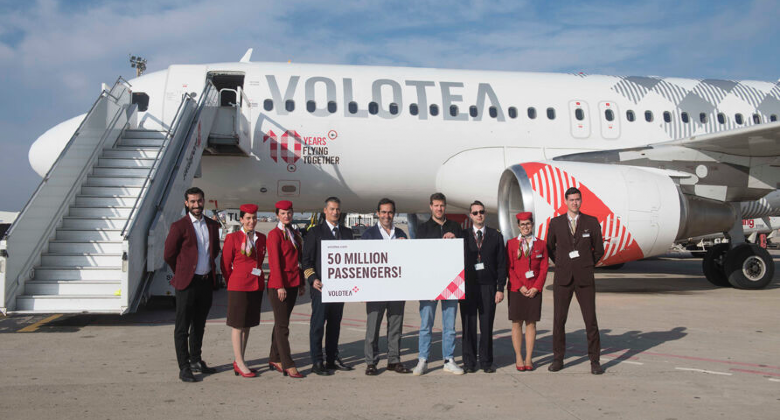 Spanish headquartered Volotea operated its first commercial flights on 5 April 2012, from its first base at Venice VCE to Brindisi, Cagliari and Palermo. It just celebrated its 11th birthday and recently announced that it had carried 50 million passengers. It reached 40 million passengers in March 2022, 25 million in July 2019 and 15 million in February 2018. It is, arguably, the last successful all-new airline to have been launched in Europe. Many airlines have been launched since 2012 but none of significance are still operating that have been going for at least three years.
Focussed on connecting small and medium-sized cities across primarily southern Europe, the airline initially deployed cheap-to-buy Boeing 717s and concentrated heavily on summer operations and even on more popular days of the week. This was similar to the business model operated at the time in the US by Allegiant. Volotea phased out its 717s and replaced them with used 156-seat A319s and 180-seat A320s. It now has 41 A320-series aircraft according to planespotters.net, with an average age of around 16 years. This is considerably older than the average fleet age at Wizz Air, Ryanair and easyJet.
Focus on domestic operations
Unlike major (U)LCCs such as easyJet, Ryanair and, in particular, Wizz Air, which all offered primarily international flights, Volotea focussed on domestic routes. Up until 2017, it typically offered three times as many seats on domestic routes as it did on international routes. Thereafter (with the exception of 2020 and 2021 during the pandemic) the ratio was closer to two to one.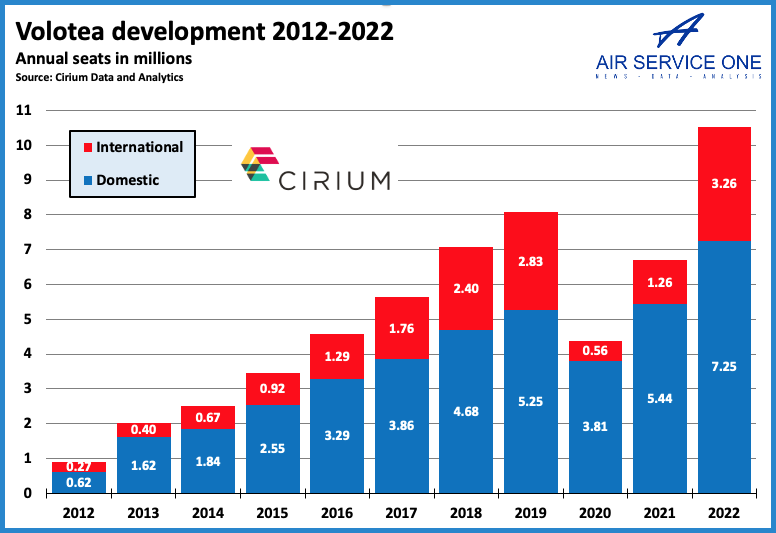 As can be seen from the graph, the airline's growth trajectory has been impressive despite the pandemic. According to analysis of Cirium schedules data, its capacity in 2022 was already 30% higher than in 2019.
Growth slows in 2023
However, planned capacity growth in 2023 is much more modest and is currently forecast to be just 4% versus 2022 over the first 10 months of the year. Seasonality remains a key factor with summer capacity of around 1.5 million seats per month almost five times higher than that offered during February and March. The ratio between August and March seats (both have 31 days) is 4.7 this year, compared with 4.2 in 2022 and 3.7 in 2019, suggesting that seasonality is actually increasing at the airline.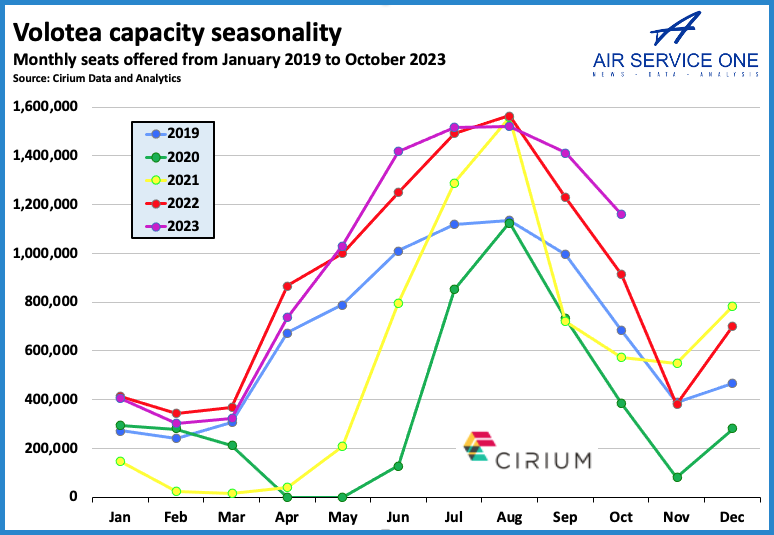 France overtakes Italy as #1 market
Analysis of Cirium data for the third quarter of 2023 (July to September) shows that France (capacity up 18%) has overtaken Italy (capacity down 18%) to become Volotea's top country market for departing seats. Spain (+23%) and Greece (+2%) are the airline's other major markets. Airports in these four countries account for 95% of all departures in the airline's planned late summer network. In total, Volotea will be operating regular flights in 15 countries in Q3, the same as in 2022 Q3, with Belgium having replaced Malta.
In addition, there are a few flights from Cardiff in Wales to Lyon (in September) and Nantes (in October) to cater for Welsh rugby enthusiasts as their team plays in the tenth men's Rugby World Cup. The Lyon service is for a match against Australia and the Nantes service is for a match against Georgia.
Volotea has conspicuously avoided serving the UK apart from a brief flirtation in 2016 and 2017, when it offered peak summer flights from Southampton to Palma de Mallorca and Ibiza (2017 only). As a result, Volotea is the largest airline offering intra-European services (it ranks 23rd among all carriers) that does not serve the UK with regular scheduled services (apart from Aeroflot).
Nantes now #1 airport replacing Olbia
The airline's leading airport this Q3 is also different from last Q3 with Nantes overtaking Olbia for top spot. These two airports have almost twice as many available seats as the next busiest Volotea airport, Athens. Fourteen of the top 15 airports have seen capacity growth versus last year, the exception being Verona. Among the top 15 airports the fastest growth has been at Marseille (+50%), Asturias (+43%), Lyon and Palermo (both +37%) and Bordeaux (+31%).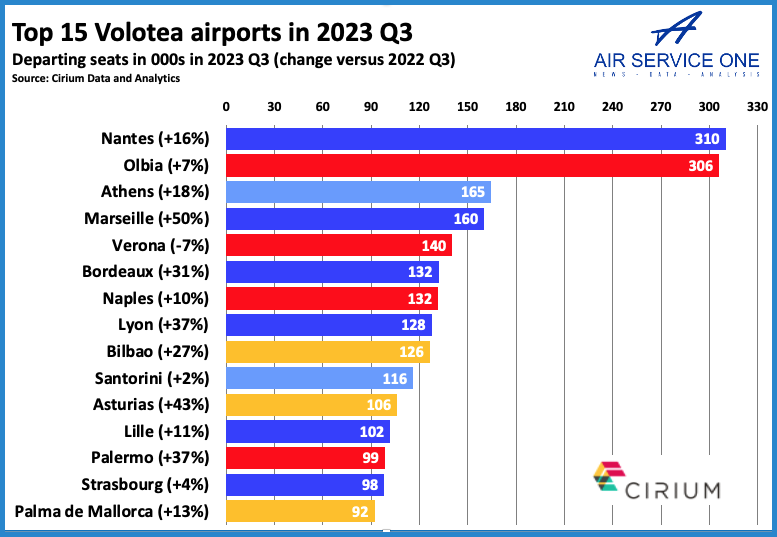 So if capacity is up so much at the airline's busiest airports, how come overall capacity is up only 3.9% in Q3? The answer to that apparent contradiction lies in the performance of three Italian airports; Cagliari, Venice VCE and Rome FCO. These airports ranked third, fourth and sixth in 2022 Q3, but have seen capacity cut by 64%, 51% and 41% respectively.
Last summer, Volotea had been operating from Cagliari to Rome FCO (5-daily) and Milan LIN (2-daily). These were Public Service Obligation (PSO) routes, the contract for which had been awarded to Volotea for a period from October 2021 onwards, while Alitalia's successor ITA Airways was still establishing itself properly. ITA Airways began operating both routes in mid-May 2022, and the two carriers competed head-to-head for customers. Volotea withdrew from these routes in mid-February 2023 leaving ITA Airways as the sole service provider on the routes.
The situation in Venice VCE is somewhat different. Despite having offered non-stop service from the airport to over 50 destinations in the last 11 years, Volotea's network from the Italian airport this summer comprises just 18 routes according to Cirium data with several not operated during the peak period. In Q3, Volotea is now Venice VCE's fifth biggest airline, whereas a year earlier it ranked third behind Ryanair and easyJet. Now it has also slipped below Wizz Air and Air France.
Comparing 2023 Q3 with 2022 Q3, Volotea has added nine airports and lost eight. The nine new airports (ranked by flights in 2023 Q3) are Copenhagen, Annaba, Bejaia, Lisbon, Berlin, Düsseldorf, Brussels CRL, Stuttgart and Marrakech. The three German airports are being served as part of a new cooperation agreement with Eurowings. Volotea will serve the Eurowings bases in Düsseldorf and Stuttgart from Bordeaux, and Berlin from Verona. Other new routes to Germany will start in Q4.
The eight airports not served in Q3 (but served last year) are:
Castellon: no longer served from Bilbao
Limoges: no longer served from Ajaccio
Malta: no longer served from Verona
Paris CDG: no longer served from Figari, Genoa and Verona
Pescara: no longer served from Cagliari and Catania
Samos: no longer served from Venice VCE
Tangier: no longer served from Nantes
Trieste: no longer served from Olbia
As a result, Volotea is operating regularly from 100 airports across Europe and North Africa this summer.
Italian and French domestic markets
Further analysis of Q3 schedules data reveals that the airline's leading country-pair markets are Italy-Italy (Italian domestic) and France-France (French domestic). Someway behind comes the Spanish domestic market with France-Italy (combined with Italy-France) being the leading international market.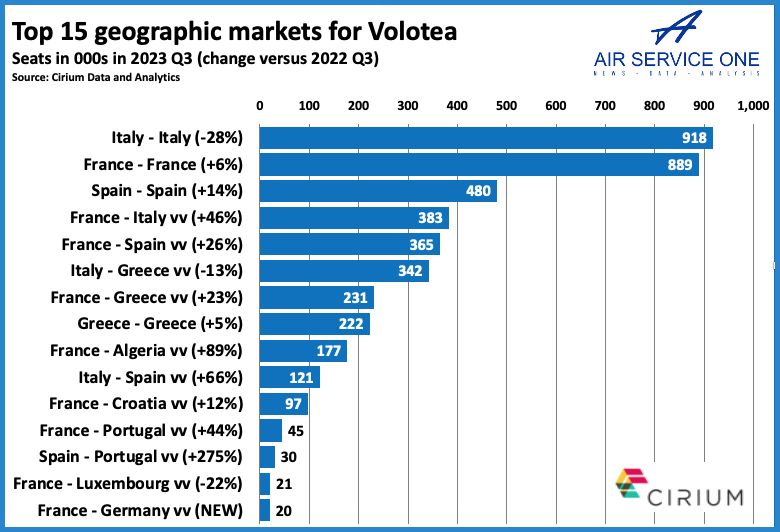 Among the top 10 geographic markets the biggest growth since 2022 Q3 has come in the France-Algeria market (+89%), the Italy-Spain market (+66%) and the France-Italy market (+46%). Thanks to the collaboration with Eurowings the new France-Germany market enters the ranking at number 15.
Short sector lengths …
As a pan-European low-cost airline with operating bases in multiple countries, Volotea can be compared with seven other airlines; easyJet, Eurowings, Norwegian, Ryanair, Transavia, Vueling and Wizz Air. In two key metrics, Volotea comes top, or bottom, depending on how you look at it.
Given its strong focus on domestic routes, it will come as no great surprise that Volotea has the shortest average sector length in Q3 of the eight carriers analysed. At 879 kilometres it is the only one with an average sector length of less than 1,000 kilometres. Vueling, with its strong presence in the Spanish domestic market has the next shortest average sector length. For a while, Wizz Air had no domestic routes at all, but has recently established itself in the Italian domestic market. Similarly, Transavia's only domestic routes are in France which are relatively new for the airline. These two carriers have the longest average sector lengths, both at over 1,500 kilometres.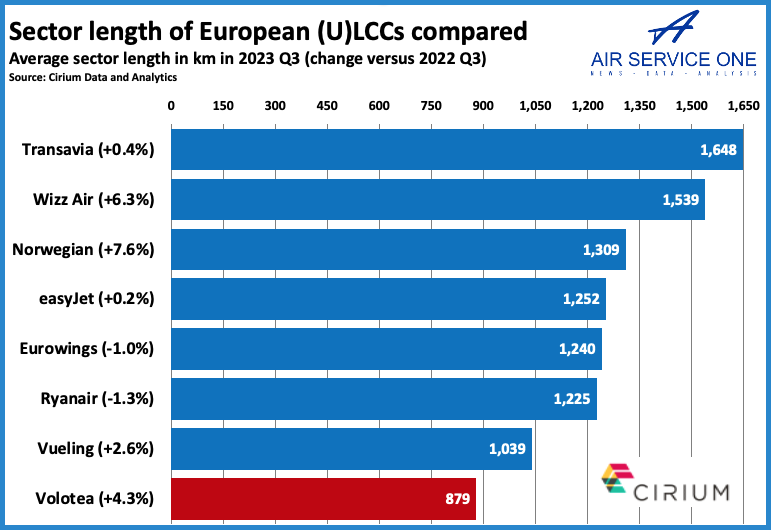 Impacted by the loss of some of its Italian domestic routes, Volotea's average sector length has actually increased by 4.3% during the last 12 months. Only Eurowings and Ryanair have seen a reduction in their average sector length. Eurowings has been ramping up frequency on a number of German domestic routes, while Ryanair has added some high-frequency, domestic sectors from its revived base at Belfast BFS.
… and low average weekly frequency
The other notable feature of Volotea is how low the average weekly frequency (AWF) is across its route network this summer. Having given up its high frequency (multiple-daily) routes from Cagliari to Rome and Milan, it's not surprising that its AWF has actually fallen from 3.28 flights per week in 2022 Q3 to 3.13 flights per week in 2023 Q3.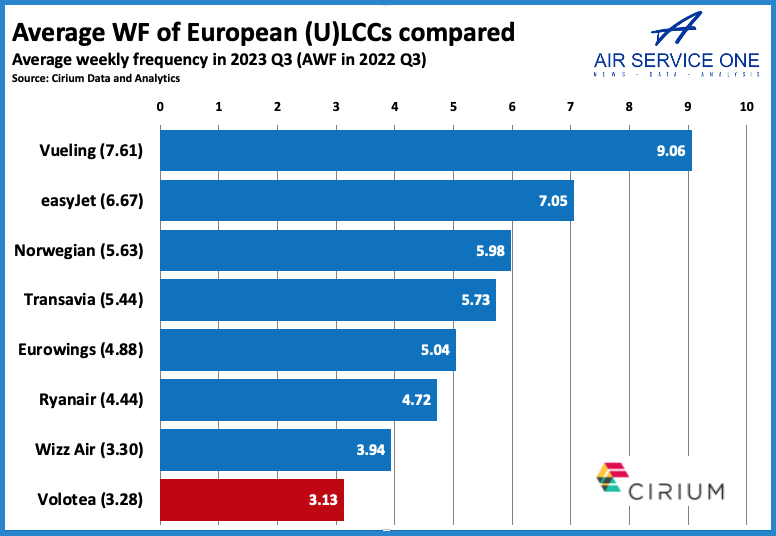 Wizz Air has the next lowest AWF score of just under four, while easyJet and Vueling have AWFs of more than seven, meaning that on average their routes operate at least daily. Interestingly, all carriers apart from Volotea have seen their AWF increase during the last 12 months, suggesting an element of network densification.