Volotea replaces easyJet as Nantes' top carrier; (U)LCCs now account for 81% of seats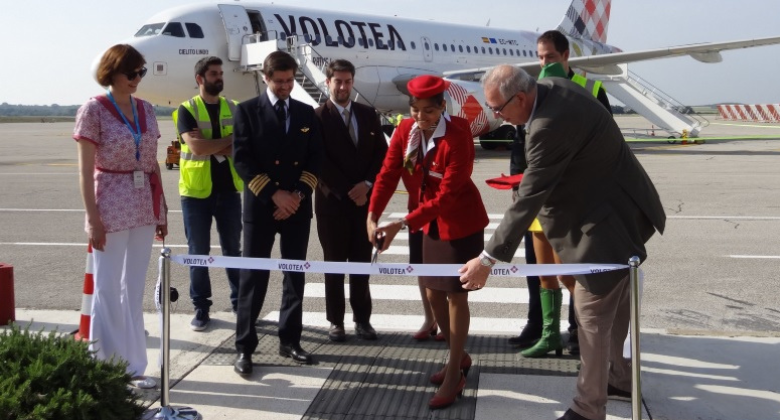 Located in Northwest France, Nantes has the country's sixth most populous metro area. The airport welcomed 4.34 million passengers in the first eight months of 2023. While traffic was up by 13% versus last year but down by 12% versus 2019, it was still the second-best year on record.
According to Cirium schedules information, Nantes has lost various carriers since 2019. They include ASL, Air Corsica, British Airways, Brussels Airlines, Chalair, Flybe (defunct), Iberia Express (replaced by Iberia), SunExpress and Tunsair. However, it has gained Sky Express (2021), Air Montengro (2022) and SWISS (2022).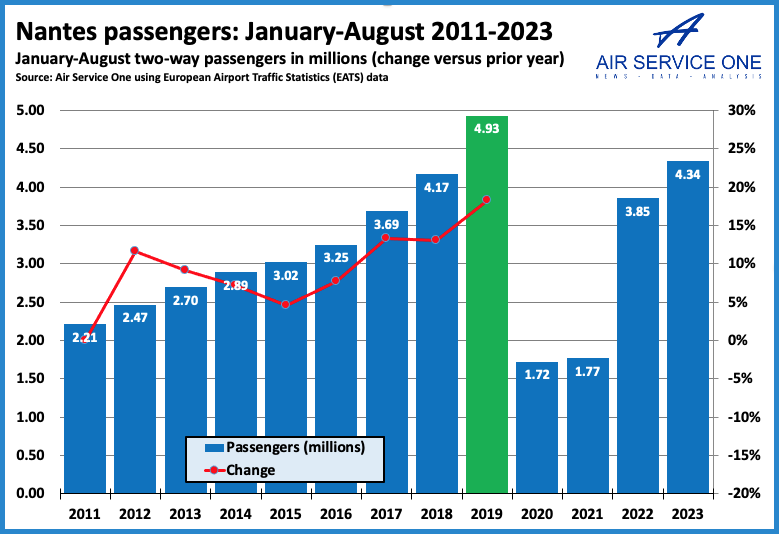 Volotea overtakes easyJet as the leading airline in Q3
Cirium data tells that Nantes has 1.2 million departing seats in July-September (Q3) 2023, of which (U)LCCs account for about 81%. That is about 30 percentage points higher than France's short-haul market generally. Nantes' top four airlines are all (U)LCCs, not helped by Air France's decline.
While easyJet is normally Nantes' largest carrier, it has been toing and froing with Volotea for the top spot, aided by their divergent recoveries and the seasons. easyJet's slow recovery (Q3 seats are down by 13% versus 2019) has pushed it to second place. In contrast, Volotea has added 63% more seats and is now number one. The battle continues, with the pair losing and regaining the number one spot in the coming quarters, influenced by Volotea's much greater summer seasonality.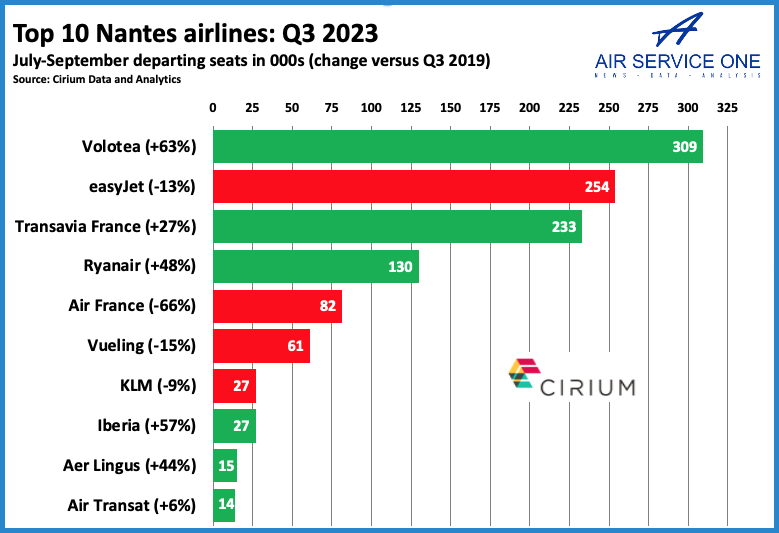 Hub link to Paris is still the top destination
Despite a network of more than 90 non-stop destinations in Q3 – including Montreal with Air Transat – Nantes' leading destination remains Paris CDG. Served by Air France 36-weekly in September, it exists to feed its onward flights. Paris ORY, which has historically been the capital's main domestic airport, lost Nantes flights in 2020 as city-to-city trains can take as little as 120 minutes.
The French domestic market accounts for about a third of Nantes' capacity, with four destinations making the top 10. Perhaps surprisingly, no UK airport makes the top 10, with London LGW in 20th place and London STN in 21st. It is very different from many of France's other airports. The UK is only Nantes' sixth-largest country market with less than 6% of seats. From France generally, the UK is the fourth largest market with about 8% of seats.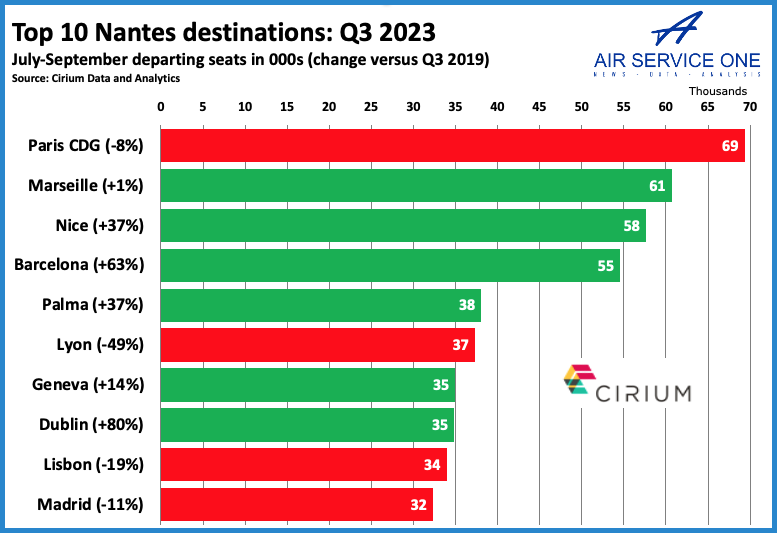 15+ new routes since March
The following routes have started since the start of S23 or will launch later this year. Nearly all were not previously served by the stated carrier and some destinations – like Rabat and Stuttgart – are new from Nantes. Almost all are low frequency additions by Volotea. They include Rhodes which, like many of the carrier's Greece routes, operates overnight. It departs from Nantes at 21:50 and arrives back at 06:15 the next day.
31 March: Volotea, Copenhagen (2-weekly)
13 April: Volotea, Florence (2-weekly); last served by the airline in 2014
13 April: Volotea, Milan BGY (2-weekly); last served by the airline in 2014
15 April: Transavia France, Antalya (weekly); last served by the airline in 2011
15 April: Volotea, Rhodes (weekly)
18 April: Volotea, Varna (weekly)
26 May: Volotea, Catania (2-weekly)
30 May: Volotea, Kalamata (weekly)
5 July: Transavia France, Constantine (2-weekly)
22 September: Volotea, Porto (4-weekly)
23 September: Volotea, Marrakech (2-weekly)
24 September: Volotea, Lisbon (2-weekly)
12 October: Volotea, Stuttgart
30 October: easyJet, Lanzarote (2-weekly)
1 November: easyJet, Rabat (2-weekly)
11 November: Transavia France, Hurghada