Volotea turns 10: 125 airports served including 18 bases mostly in France and Italy; 41 Airbus in S22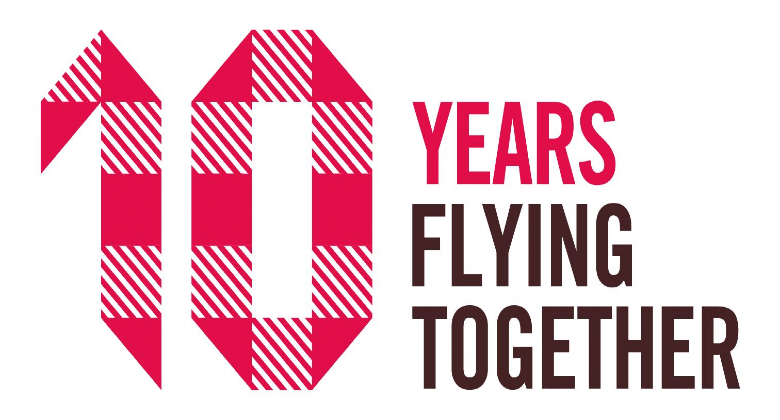 On 5 April 2022, Volotea celebrated ten years of successfully flying people between Europe's medium-sized cities. Despite being headquartered in Barcelona, the airline's first base was at Venice Marco Polo Airport in Italy, with the first flights on 5 April 2012 being to Brindisi, Cagliari and Palermo. Since then, the carrier has gone on to establish 17 further bases in France, Greece, Italy and Spain. Last week, Lille became the airline's seventh base in France.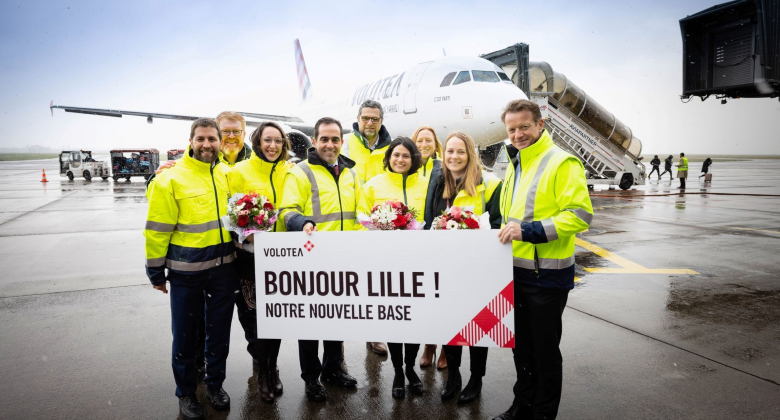 When the carrier launched a decade ago it was unusual in using older 125-seat Boeing 717s which it only flew when demand was sufficiently high. As a result, the airline had one of the most extreme seasonality profiles of any European scheduled carrier. This summer the airline is expected to operate a fleet of 41 Airbus aircraft, a mix of 20 156-seat A319s (which the airline first started using in 2016) and 21 180-seat A320s. The combined fleet has an estimated average age of around 16 years according to planespotters.net.
Nantes and Venice have been busiest airports
Analysis of Cirium data from April 2012 to December 2022 reveals which have been Volotea's busiest airports since it launched. Two airports are well clear of all others. The airline's original base at Venice VCE and Nantes, which was the airline's second base in June 2012. Among the all-time top 15 airports for Volotea, nine are in Italy and six are in France. Just outside the top 15 in 17th place is Athens (the airline's busiest airport in Greece), while Palma de Mallorca in 19th place has been the airline's busiest airport in Spain.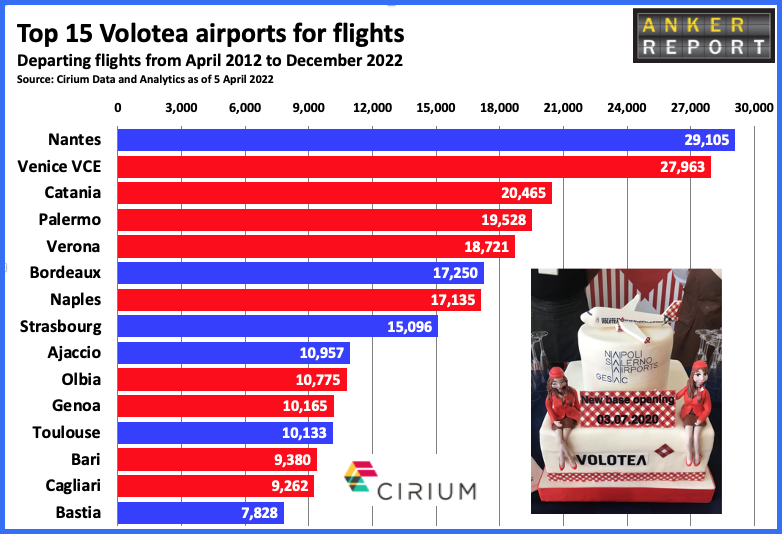 125 airports served in 21 countries but only one in UK
A total of 125 airports should have welcomed at least 10 Volotea flights by the end of this year. Although most the 21 countries served are in Europe, Volotea is also currently serving airports in Algeria and Morocco. It also served Tel Aviv in Israel in 2014 and 2015. One new country for this summer is Denmark. Aalborg will welcome flights from Naples starting in May. Another new market is Bulgaria with Volotea planning to start serving the coastal resort of Varna from Lille and Nantes this summer.
Despite serving so many airports during its first decade the carrier has only briefly served one airport in the UK. In 2016 Volotea served Palma de Mallorca from Southampton with 2-weekly flights. The following summer frequency was increased and a second route to Ibiza was added. But that was it. Similarly, Volotea only dabbled briefly in the Irish market, connecting Verona with Cork in S17, S18 and S19. Other country markets previously served but not in 2022 include Albania and Moldova.
Summer capacity up almost 30% compared with 2019
Looking at capacity data since 2018 highlights the airline's highly seasonal business model. This summer's planned capacity follows a very similar pattern to the pre-pandemic years of 2018 and 2019 with seat capacity between April and October this summer almost 30% higher than in 2019.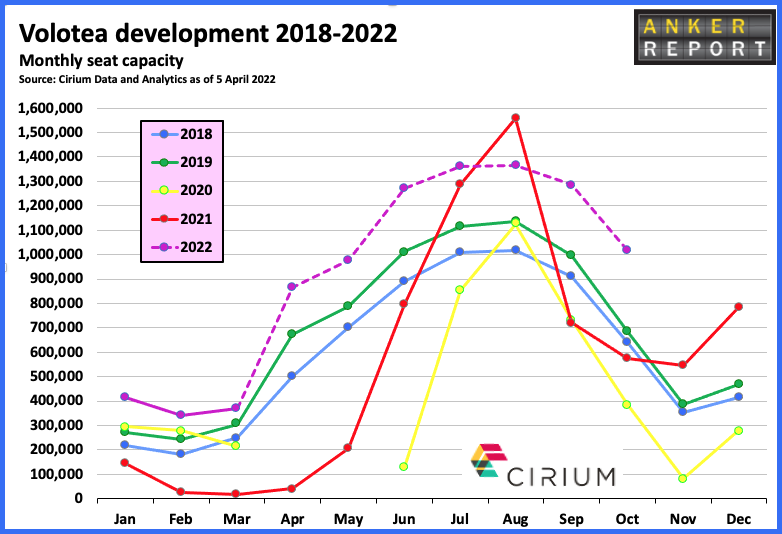 Volotea's impressively quick recovery after the pandemic was achieved by a rapid reorientation away from more vulnerable international services (where COVID restrictions could be implemented at short notice) to more reliable domestic services. Pre-pandemic in August 2019 the airline was operating 56% of its flights on domestic routes. In August 2020, when it was offering almost exactly the same number of flights as the year before, this had risen to 86%. The leading international markets in August 2020 were Italy-Greece (5% of flights) and France-Spain (4% of flights). All other international services made up the remaining 5%.
Focus shifts away from Italy towards France
Analysis of schedule data for S22 (April to October) reveals a strategic change in geographic focus for Volotea. In Q3 2019 the airline operated 40% more seats from Italian airports than from French airports with Greece and Spain some way behind. In Q3 2022, France is now the leading country market, just ahead of Italy. Whereas Italian capacity is down 2%, French capacity is up 44%. Spanish capacity is up 66% and Greek capacity has grown by 30%. It would seem that the on-going battle between Ryanair and Wizz Air in the Italian market has encouraged Volotea to focus more on the French market where Ryanair, and in particular Wizz Air, are less active at present.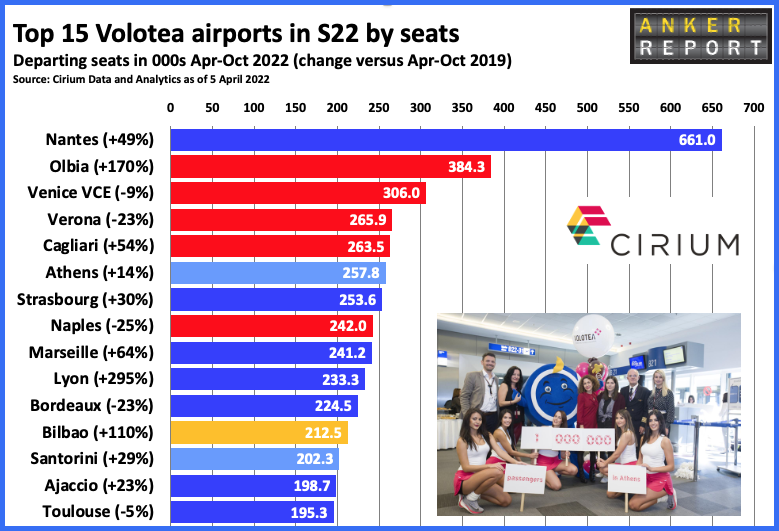 As a result, Nantes is this summer by far Volotea's busiest airport, one of seven French airports in the top 15. The remaining eight airports include five Italian airports, two Greek airports (Athens and Santorini) and Bilbao in Spain.
21 airports added since summer of 2019
Comparing the airline's network in S22 with what was offered in S19, seven airports are no longer served. These are Cork in Ireland, Kos in Greece, Lamezia Terme in Italy, Munich in Germany, Paris BVA in France, Pula and Rijeka, both in Croatia. However, 21 airports are served this summer that were not in 2019. These are spread across eight countries in Europe and North Africa:
Algeria: Algiers, Constantine, Oran, Setif, Tlemcen
Bulgaria: Varna
Denmark: Aalborg
France: Calvi, Deauville, Limoges, Paris CDG
Germany: Hannover
Greece: Kalamata, Thessaloniki
Italy: Bologna, Florence, Milan LIN, Rome FCO
Spain: Barcelona, Castellon, Salamanca, San Sebastian
Milan LIN and Rome FCO were added to the network when Volotea was awarded a contract to connect these airports with Alghero, Cagliari and Olbia (all on the island of Sardinia) after Alitalia was shut down and reborn as ITA Airways. Initially this was to be just for seven months until mid-May 2022, when it was envisaged that ITA Airways would once again take over the route. However, Volotea recently confirmed that although ITA Airways would indeed start/resume operating these routes in mid-May, Volotea would also continue to offer flights. The two airlines have, it seems, agreed to coordinate schedules and work together to serve the market, at least for another 12 months. Neither airline it seems will receive any state subsidy for the service.
40 million passenger milestone passed
On 9 March, Volotea celebrated another milestone when it reached the 40 million passenger mark, just a month before its 10th birthday. The event was celebrated in Nantes, which is the airline's biggest base this summer.