Volotea was western Europe's fastest growing airline in the second half of 2021; Lille is latest base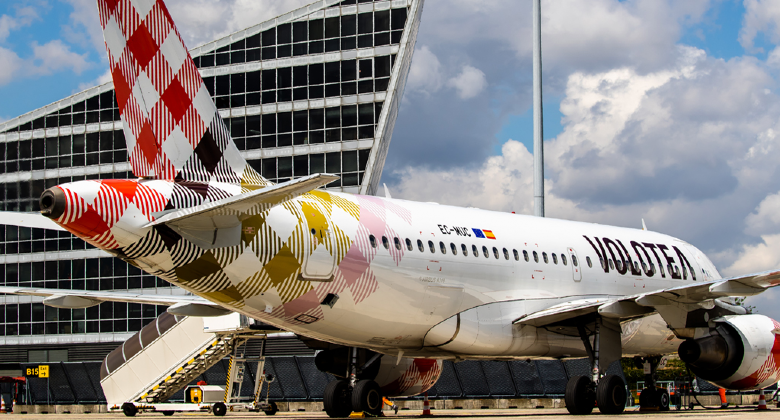 According to analysis of Cirium data, Volotea's scheduled seat capacity during the second half of 2021 was up 14% compared with the second half of 2019. This equates to an additional 685,000 seats. For comparison, among Europe's top 50 airlines, the next best performing carrier in western Europe was Transavia (the Dutch and French parts combined), which grew by 5% during the same period and offered an additional 458,000 seats. Even Wizz Air's capacity was down 1% when comparing these two periods.
Headquartered in Barcelona (from where it currently offers just four routes), Volotea recently announced that it would be making Lille its seventh French base starting in April and would soon be announcing five new routes from the airport. At present, nine of the airline's 10 routes from Lille are domestic, with Cagliari in Sardinia the only other route currently on sale. Volotea already has bases in Bordeaux, Lyon, Marseille, Nantes, Strasbourg and Toulouse. As a result, France may overtake Italy in 2022 as the airline's leading country market by departing seats.
Volotea also revealed that it would be opening another base this summer and that it would be adding between 40 and 45 new routes. Furthermore, it plans to offer around 11 million seats in 2022, compared with 8.1 million in 2019. While capacity is set to rise by almost 40% compared with three years ago, the number of flights will increase by less than 20%, as a result of transitioning to larger aircraft.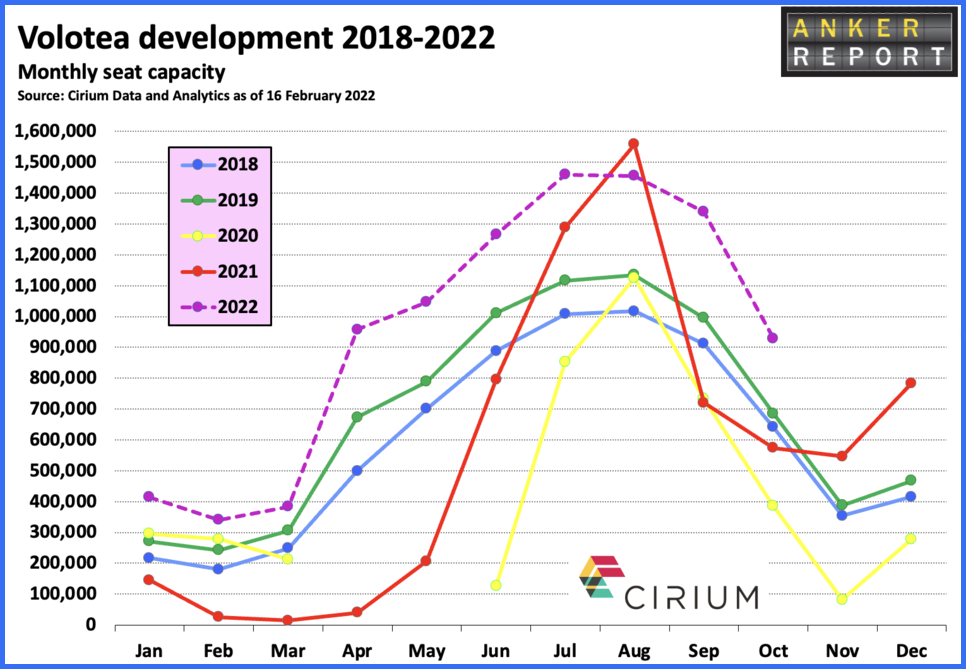 Nantes and Olbia were leading airports last summer
Last summer, Volotea's top 12 airports were all in either France (four) or Italy (eight). The busiest airports outside of France and Italy were Athens, Palma de Mallorca and Bilbao. Although Nantes and Olbia had a similar number of weekly departures, Nantes's network generated more than twice as many ASKs (Available Seat Kilometres) as Olbia's network due to the significantly longer average sector length from the French airport. Olbia's network featured just one route (out of 18) of more than 1,000 kilometres (to Nantes ironically), while Nantes's network of 31 routes included 20 that were over 1,000 kilometres, with four being over 2,000 kilometres.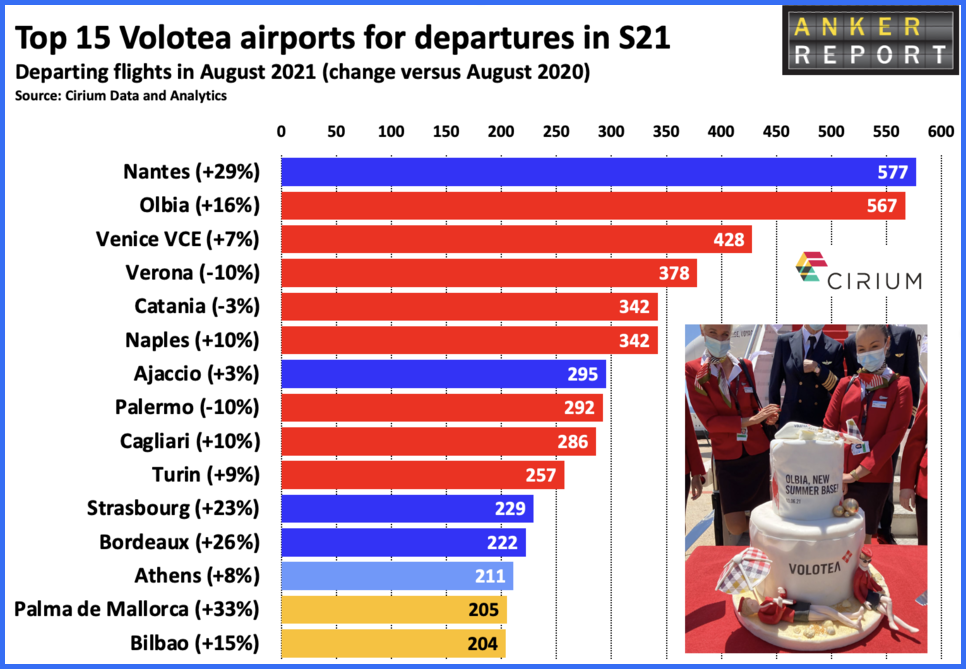 In total, Volotea was operating from 89 airports last August, up from 75 in August 2020. In 2020 the airline had added seven new airports to its route network. Four of these were in Spain (Barcelona, Castellon, Granada and Santiago de Compostela), with the others being Bologna (Italy), Deauville (France) and Thessaloniki (Greece).
Last year saw several more airports welcome regular Volotea flights for the first time, including four more in Spain (Badajoz, Reus, Salamanca and San Sebastian), three in France (Calvi, Limoges and Paris CDG) and two in Italy (Milan LIN and Rome FCO). The addition of Milan LIN and Rome FCO was thanks to the airline being awarded a contract for seven months to operate multiple-daily flights to Alghero, Cagliari and Olbia in Sardinia, after Alitalia re-invented itself as ITA Airways.
Algeria service started in December
Right at the end of 2021, Volotea finally began serving Algeria for the first time. Service to Oran (from Marseille) began on 16 December, while the capital Algiers welcomed its first Volotea service (from Bordeaux) on 23 December. Three more Algerian airports (Constantine, Setif and Tlemcen) are preparing to greet Volotea services for the first time in 2022, while Florence returns to the airline's network (served from Bordeaux). Also new for 2022 are Hannover in Germany (to be served from Cagliari), Kalamata in Greece (to be served from Venice VCE) and Varna in Bulgaria (to be served from Nantes). Hannover becomes Volotea's only current destination in Germany, although it previously served Munich from a number of airports.
Current schedule data indicates considerable expansion at airports in Greece, with Athens, Mykonos, Santorini and Zakynthos all seeing a significant increase in the number of Volotea flights expected this summer. Four airports served in 2021 are not currently being served in 2022. These are Badajoz (was served from Palma de Mallorca), Granada (served from Menorca) and Reus (served from Menorca and Palma de Mallorca) in Spain, and Paris BVA in France (served from Ajaccio).
Fleet set to grow to over 40 aircraft this summer
According to planespotters.net, Volotea currently has a fleet of 36 aircraft; 20 156-seat A319s and 16 180-seat A320s, although 10 of these are currently parked due to this being the low-season for demand. The average age of the fleet is around 15 years. The airline's recent press release indicates that it plans to operate between 41 and 45 aircraft this summer.