Vueling is Europe's fourth biggest (U)LCC; over half of all flights still involve Barcelona; Bilbao to grow in S23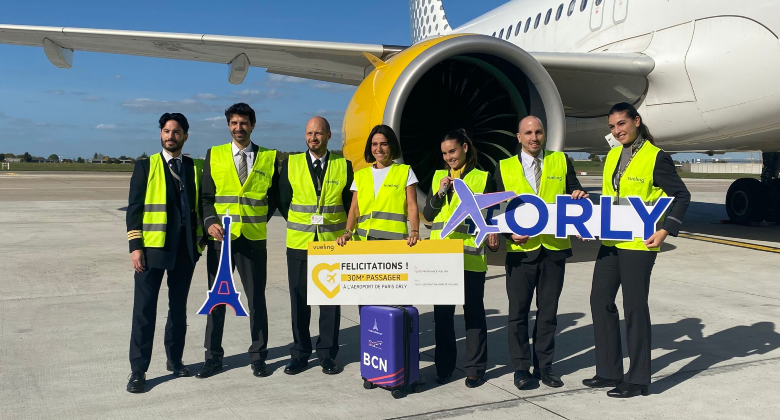 Vueling is Europe's fourth biggest (U)LCC, behind Ryanair, easyJet and Wizz Air, but around 50% larger than Eurowings, Norwegian and Transavia who are in a tight battle for fifth place. However, it seems to get very little media coverage compared to its rivals. One of the reasons for this may be that while many of its rivals have very diverse networks, with no one airport dominating too much, Vueling is still very much focussed on Barcelona.
Analysis of Cirium data for all of 2022 reveals that almost 56% of Vueling's flights either take off from or land at the Catalan airport. Its Barcelona base is almost five times bigger than its second biggest base at Paris ORY. For comparison, London STN is involved in only 12% of all Ryanair flights, while London LGW is involved in 23% of easyJet's flights. For Wizz Air, London LTN leads the way at 14%. The major (U)LCCs that come closest to Vueling's figure at Barcelona are Norwegian (52% from Oslo) and Transavia (46% from Paris ORY), while Eurowings has 34% of its flights involving Düsseldorf.
Leading carrier in Barcelona
Not only is Barcelona Vueling's busiest airport, but, not surprisingly, Vueling is also the leading airline in Barcelona. Based on analysis of Cirium data for all of 2022, Vueling accounted for 42% of the airport's seat capacity well ahead of its nearest rival Ryanair with 17%.
Based on analysis of weekly data in November, 11 of Vueling's top 15 airports this winter are in Spain. The four non-Spanish airports (shown in red) are Paris ORY, London LGW, Rome FCO and Amsterdam. Overall capacity across the airline's network of almost 90 airports in November was down just 2% versus 2019.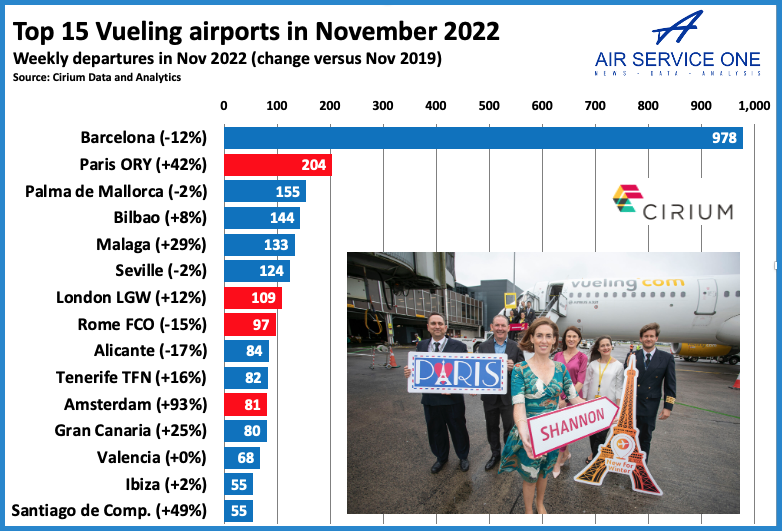 Airports added to Vueling's network since November 2019 include Agadir, Billund, Cairo, Cork, Faro, Genoa, Gothenburg, Helsinki, Reykjavik and Shannon. Airports not served by Vueling this month, but were served three years ago include Budapest, Dubrovnik, London LHR, London LTN, Moscow DME, Olbia, Oran, Pisa, Rennes, St. Petersburg and Toulouse. Of these, Dubrovnik and Olbia are still served during the summer.
Just over 30 new routes in 2022
Vueling's network development this year has been relatively modest compared with its (U)LCC rivals. So far it has launched 26 new routes, with at least five more set to start before the end of the year. Air Service One has identified the following routes that launched in 2022 (launch date and weekly frequency at launch in brackets):
Amsterdam: to Asturias (30 October, 2), Copenhagen (27 March, 7)
Barcelona: to Amman (starting 3 December, 2), Cairo (31 October, 2), Sal Island (18 June, 1)
Bilbao: to Almeria (18 June, 2), Copenhagen (17 June, 2), Malta (18 June, 2)
Ibiza: to Geneva (17 June, 3), Porto (18 June, 2)
London LGW: to A Coruna (1 April, 4), Almeria (3 April, 3), Genoa (3 July, 3), Gran Canaria (7 December, 2), Granada (2 April, 3), Jerez (1 July, 2), Lanzarote (8 December, 2), Malaga (1 April, 14), Menorca (2 April, 4), Seville (1 April, 4), Tenerife TFS (6 December, 3)
Paris ORY: to Alexandria (2 April, 1), Cairo (1 November, 2), La Palma (6 February, 1), Marrakech (starting 12 December, 3), Shannon (12 September, 2), Split (17 June, 2)
Santander: to Alicante (19 June, 2)
Tenerife TFS: to Billund (16 October, 1), Copenhagen (15 October, 1)
Zaragoza: to Lanzarote (17 June, 1)
Looking ahead, it was recently revealed that Vueling plans to add seven new routes from its Bilbao base next summer. These are Brussels BRU, Florence, Hamburg, Marrakech, Prague, Rome FCO and Zurich. These will all begin in July with the exception of Marrakech which will launch in March. Technically, not all of these are completely new routes as Brussels, Marrakech and Rome have all been previously served by Vueling from Bilbao.
In addition, a new route linking Paris ORY and Reus is set to launch at the end of March.