Vueling to operate 320 routes across 30 countries this summer; five new Gatwick routes announced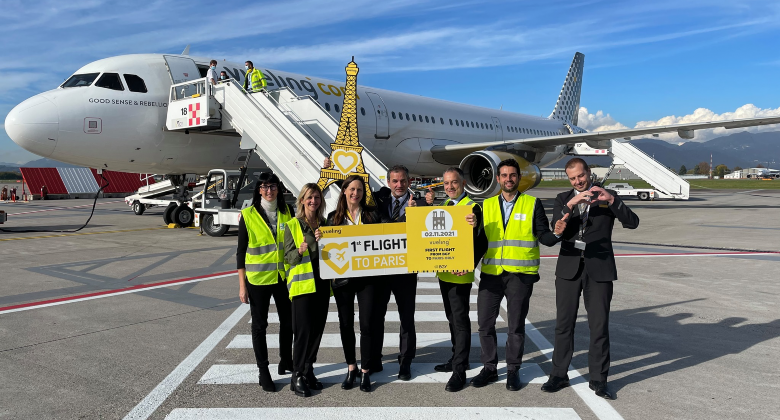 During a presentation at FITUR 22 in Madrid earlier this week, Vueling confirmed that its summer 2022 capacity will be comparable with that offered in summer 2019, and that it will be operating over 320 routes (100 domestic and 220 international) across 30 countries. The airline also revealed that it would be launching five additional routes from London LGW in collaboration with fellow IAG member British Airways.
Cirium data for March already shows Vueling's seat capacity as being 2% higher than in March 2019. Interestingly, ASKs (Available Seat Kilometres) are up 8% indicating a significant increase in average sector length. Destinations served in March that were not served in March 2019 include Agadir, Belfast BFS, Bergen, Billund, Cork, Glasgow, Kiev KBP, Leipzig, Milan BGY, Newcastle and Reykjavik.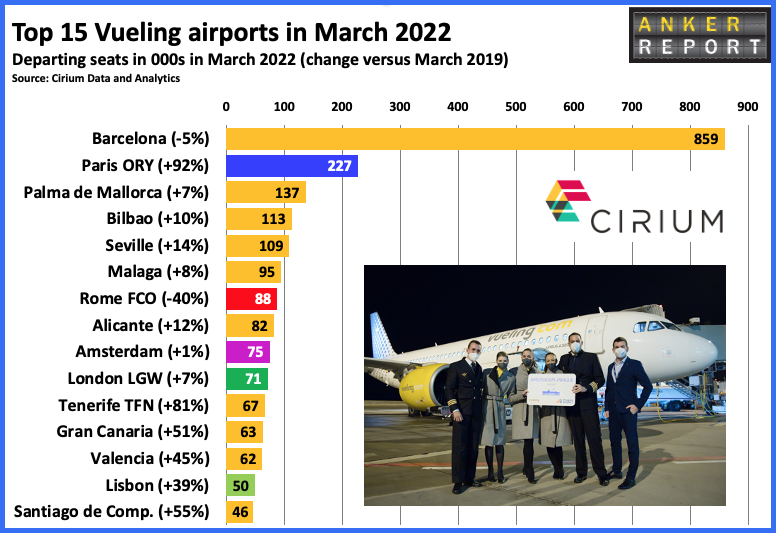 Barcelona remains the airline's busiest airport by far, with almost four times as many seats offered in March as the next busiest airport Paris ORY. The airport serving the French capital has seen significant growth from Vueling after the airline was awarded slots there as part of an agreement between Air France and the French government regarding financial support.
Of the airline's top 15 airports in March, 10 are in Spain (shown in yellow), with Amsterdam, Lisbon, London LGW and Rome FCO, joining Paris ORY as other non-Spanish airports high up in the rankings. While Orly capacity is up an impressive 92%, Rome FCO capacity has been cut by 40%. The arrival of Wizz Air in the Italian capital with a multi-aircraft base last summer has possibly encouraged Vueling to focus growth at airports where it faces less rigorous competition.
Five new Spanish routes for Gatwick
Wizz Air's recently announced new routes to/from Gatwick all start in early April. As a result, they do not show up in this data. The new services announced yesterday are:
A Coruna: 4-weekly, no competition
Granada: 3-weekly, no competition
Malaga: 14-weekly, competing with British Airways, easyJet, TUI Airways and Wizz Air
Menorca: 4-weekly, competing with British Airways and easyJet
Seville: 3-weekly, competing with British Airways and easyJet
In addition, Vueling will also be operating from Gatwick to Barcelona, Bilbao, Florence, Paris CDG, Paris ORY, Rome FCO, Santiago de Compostela and Valencia, making a total of 13 routes in total. Apart from Gatwick, Vueling also operates from Belfast BFS, Birmingham, Cardiff, Edinburgh, Glasgow, Manchester and Newcastle. However, it appears that Belfast BFS will lose its 2-weekly (Tuesdays and Saturdays) Paris ORY service, with the last flight apparently operating on 26 March.
Domestic routes in Spain lead the way
Looking at Vueling's leading country-pair markets in March, highlights the importance of the Spanish domestic market to the carrier. It is four times bigger than the Spain-France market, the second biggest country-pair market. Of the top 15 country-pair markets, 11 involved Spain. The biggest country-pair markets that don't involve Spain are France-Italy (up 8% versus March 2019), France-UK (+145%), Italy-UK (+13%) and France-Portugal (+40%).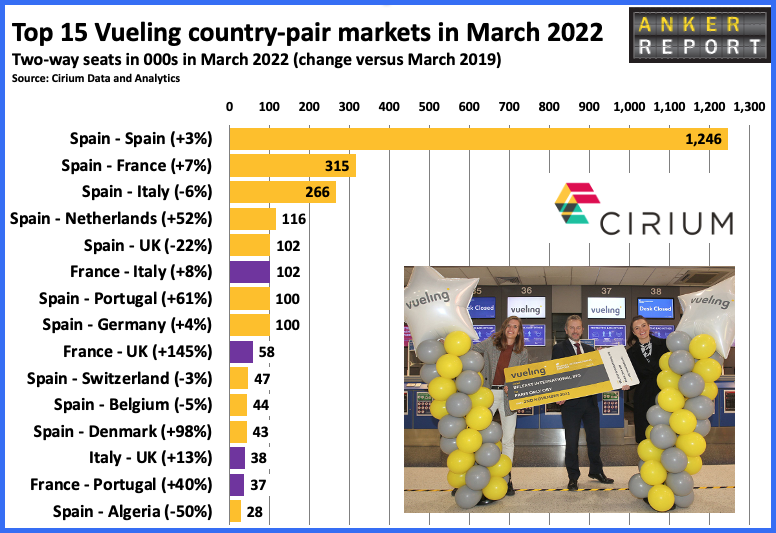 There are five major players in the Spanish domestic market. This March, Vueling leads the way with 34.3% of capacity, followed by Iberia (and Iberia Express) with 25.2%, Ryanair 17.6%, Air Europa 11.7% and Binter Canarias with 9.7%. If the acquisition of Air Europa by IAG had gone ahead, IAG carriers would have had over 70% of the Spanish domestic market.
Vueling carried more passengers than BA and Iberia combined in 2021 Q3
Data released by IAG on the performance of its airlines during the third quarter of 2021, shows that Vueling transported 7.40 million passengers (down 33% compared with 2019) at a load factor of 80%. For comparison, British Airways carried 3.63 million passengers (down 72%) at a load factor of 61%, while Iberia welcomed 3.62 million passengers (down 42%) at a load factor of 74%. When the figures for Aer Lingus and LEVEL are included, it means that Vueling was responsible for 48% of the passengers carried on IAG airlines between July and September 2021.