Vueling's Q3 seats down versus 2022; 15 airports exited network in past year; Barcelona remains vital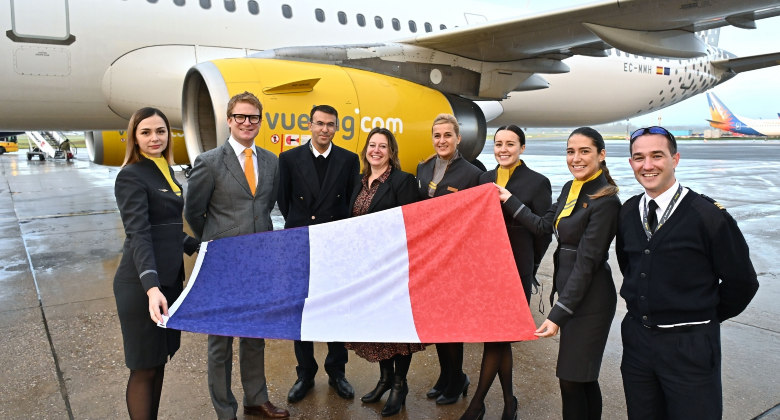 Vueling is Europe's fourth largest (U)LCC, behind Ryanair, easyJet and Wizz Air. Vueling has 11.7 million seats in July-September 2023 (Q3), and about 3.4% of the European short-haul market. According to Cirium data, the carrier's capacity has fallen by 1.7% versus the same three months last year, despite opening a base at London LGW in 2022. It is partly from big cuts in France and Italy. The lack of development is contrast to the three larger and many smaller (U)LCCs, many of which have grown strongly.
Barcelona remains the leading airport
Vueling has focused on Barcelona for many years as Iberia and Iberia Express concentrated on Madrid. Analysis of Cirium data shows that Vueling has 3.3 million departing seats from the Catalan airport this Q3. The 'base'– through which Vueling has many transfer passengers – is more than four times larger than number two, Paris ORY.
Barcelona accounts for about 28% of Vueling's capacity. This is much more than the leading airports of larger (U)LCCs: Ryanair at London STN (6%), Wizz Air at London LTN (6%) and easyJet at London LGW (12%). Vueling remains very highly concentrated on its primary airport.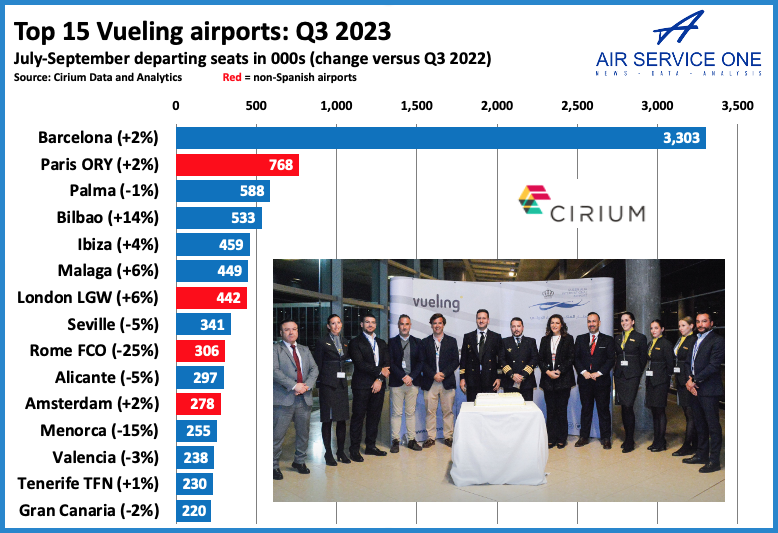 Two-thirds of capacity is in Spain
While Vueling serves 30 countries in Europe, North Africa, West Africa, and the Middle East, it continues to revolve around Spain. Around 7.8 million seats – two-thirds of what is available in Q3 – is deployed to/from/in Spain, making it the largest operator serving in the country after Ryanair. While Ryanair is larger internationally, Vueling leads domestically. Vueling serves 28 airports in Spain, with 11 of its top 15 airports in the country. It is notable that France and Italy, with around 16% of capacity, reduced year-on-year.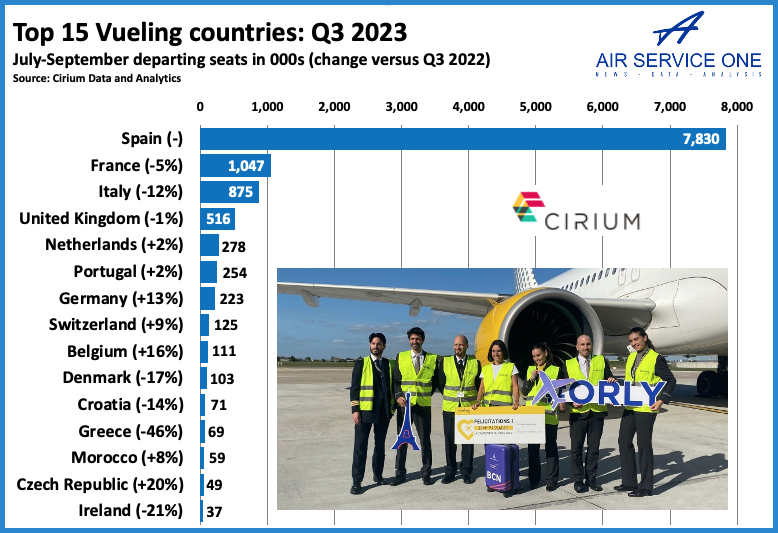 Gained four airports but lost 15 since 2022
Vueling serves 104 airports this peak summer, down from 115 in Q3 2022. Four were added since last summer: Cairo (October 2022); Amman (rejoined network in December 2022), Reus (March 2023); and Toulouse (rejoined network in July 2023). However, comparing July-September 2023 to shows that 11 airports are no longer served. One of these – Helsinki – returns this winter but is unserved in Q3. More than half of airports cut were served from ORY, an airport that grew quickly during the pandemic.
Alexandria: from Paris ORY until October 2022
Belgrade: from Barcelona until October 2022
Bergen: from Barcelona and Paris ORY until October 2022
Cork: from Paris ORY until June 2023
Glasgow: from Paris ORY until October 2022
Helsinki: from Barcelona until March 2023 (returns this winter)
Kefalonia: from Rome FCO until September 2022
Leipzig: from Paris ORY until October 2022
London STN: from Paris ORY until July 2022
Milan BGY: from Paris ORY until March 2023
Murica: from Bilbao until September 2022
Newcastle: from Paris ORY until September 2022
Preveza: from Rome FCO until September 2022
Rhodes: from Rome FCO until September 2022
Shannon: from Paris ORY until June 2023
10 routes introduced this summer
Despite Vueling's capacity remaining lower year-on-year, it has introduced 10 routes this summer, particularly from Bilbao, hence that airport's big capacity growth (+14%). Six routes have not previously seen the carrier:
26 March 2023: Paris ORY to Reus
1 May 2023: Seville to Brussels BRU (last served in 2010)
16 June 2023: Florence to Düsseldorf
18 June 2023: Florence to Bari (last served in 2016)
1 July 2023: Bilbao to Zurich
2 July 2023: Bilbao to Faro
2 July 2023: Bilbao to Marrakech (last served regularly in 2013)
2 July 2023: Bilbao to Prague
3 July 2023: Bilbao to Brussels BRU (last served in 2016)
3 July 2023: Bilbao to Hamburg