Washington DCA has 100+ destinations this year, with American by far the leading carrier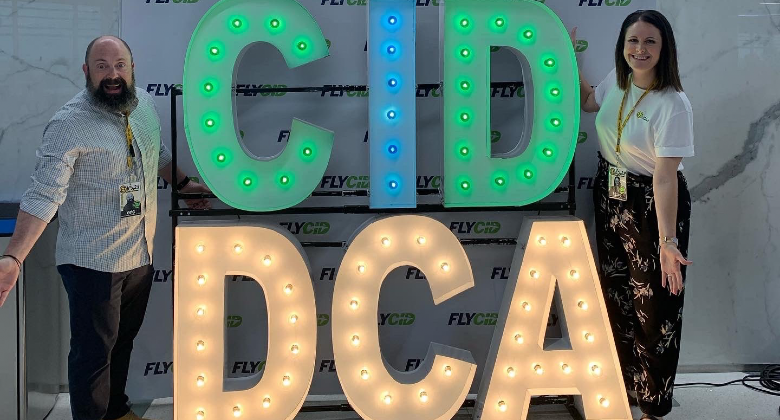 Located less than eight kilometres from the White House, Washington DCA is by far the closest airport to downtown DC. It has a crucial role to play in the greater Washington metro area, which – with six-plus million people – is the nation's sixth largest.
According to Cirium schedules data, DCA has 15.9 million departing seats this year, making it the USA's 23rd-largest airport. While it has slightly less than Baltimore (ranking 22nd), it is bigger than Washington IAD (26th). Limited in hourly slots and with a well-known perimeter rule, DCA is not particularly large but is extremely popular.
American is more than three times as big as number two
While eight carriers serve DCA (including regional partners), the airport is very much the domain of American. Inherited from US Airways, it has more than one in two available seats (54%), about three and a half times as much as number two, Southwest.American's fast growth – and the shallow recoveries or declines of others – has pushed its dominance up from just under half in 2019.
In recent times, American has reoriented itself to carrying far more transit passengers at DCA, and the growth seems part of it. DCA is American's seventh-busiest airport, one place behind Philadelphia but one place ahead of Los Angeles. Cirium shows that it has 90 non-stop routes from the DC airport.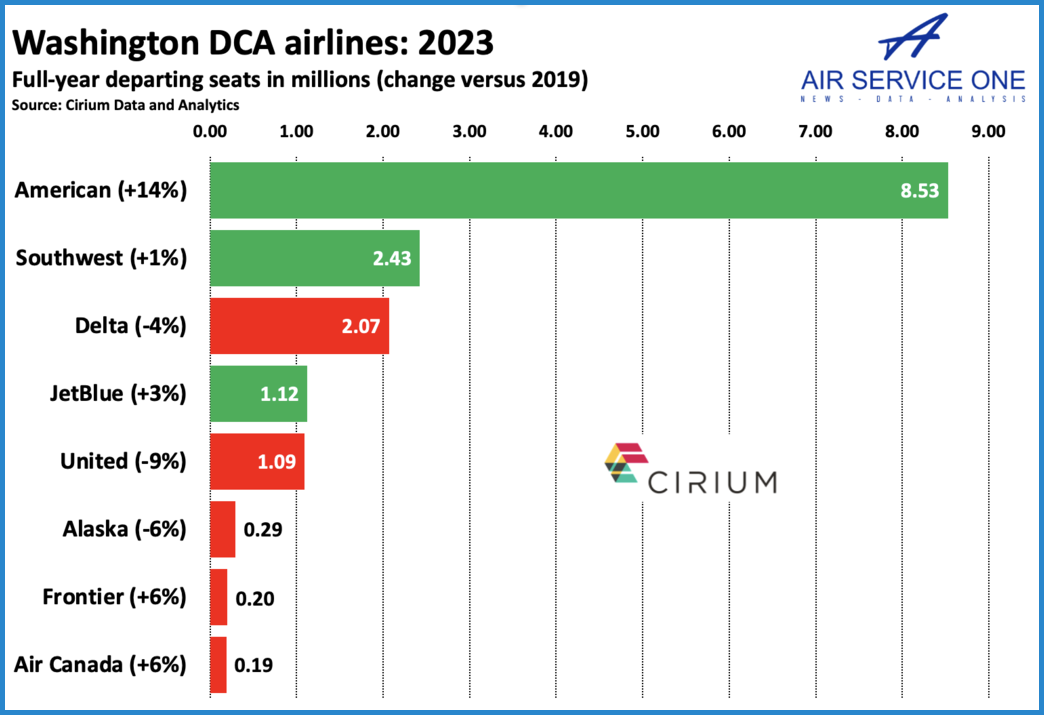 Almost three-quarters of seats are by the US3
About 74% of DCA's seats are provided by American, Delta and United, versus 55% for the US domestic market generally. The various restrictions help relegate others, especially ULCCs, less costly and more accessible Baltimore. The only ULCC is Frontier, which has one route (Denver) and barely 1% of capacity. However, Spirit served DCA until 2012. When LCCs are added, (U)LCCs have more than one in six seats.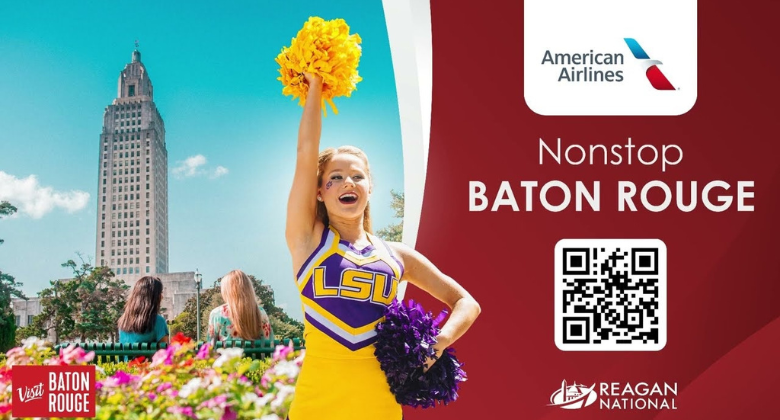 More than 100 non-stop destinations
With only five international destinations – Halifax (summer only), Montreal, Nassau, Ottawa and Toronto YYZ – nearly all of DCA's extensive network is domestic. The 100+ destinations are in 40 US states, with Florida, Texas, Illinois, New York and Georgia the top five; almost half of the airport's domestic capacity is to them.
Driven by the closeness to the political heart of the nation, DCA's network includes a raft of smaller cities and state capitals, many not connected to other major cities in the Northeast. They include Baton Rouge, introduced by American on 1 June 2023 (daily) having last been served by Delta in 2008. That same summer day, American also launched Cedar Rapids (2-daily), the first time the Iowa airport has had DCA service.
While still classified as a short-haul airport, beyond-perimeter exceptions mean multiple longer services, including routes to destinations in Washington, Oregon, California, Arizona, Nevada, Colorado and Utah, and the US territory of Puerto Rico. Still, DCA's top 10 destinations remain driven by major hubs, leisure destinations and Boston and New York LGA, part of the once-enormous Northeast Corridor.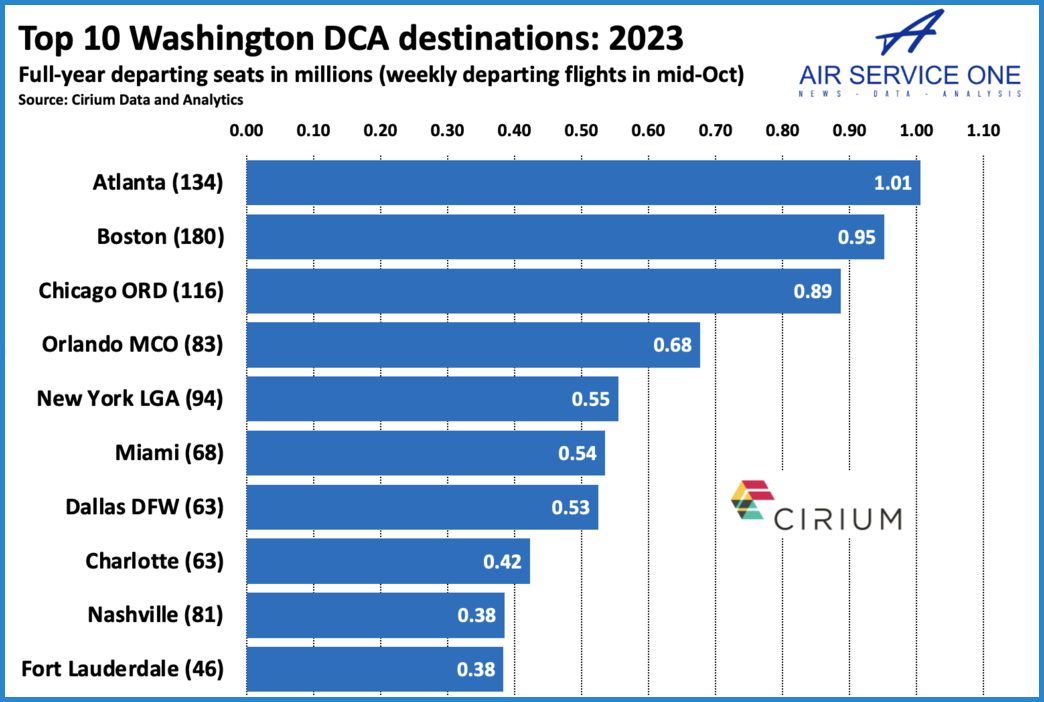 Atlanta is the top destination
Atlanta is DCA's only destination with more than one million departing seats. It has three carriers. Based on mid-October, Delta has 74-weekly flights, American 32 and Southwest 28. Regional jets have fewer than one in five flights. Still, Cirium tells that DCA-Atlanta only ranks 19th for the most seats per flight.