Washington IAD's international traffic has recovered faster than domestic; 59 destinations in Q3 2023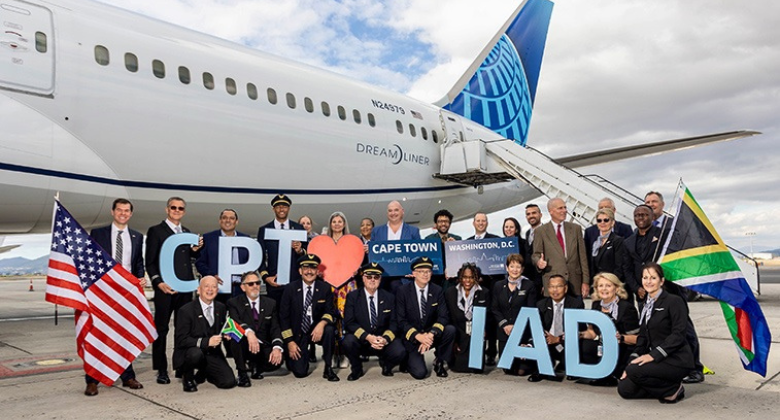 Washington IAD celebrated its 60th anniversary last year. Serving the District of Columbia, Virginia and more, Dulles is renowned for being a United hub and an important Star Alliance airport.
According to Dulles' own statistics, it welcomed 21.3 passengers in 2022, of which international traffic accounted for more than a third (34.7%). Despite the pandemic, the share of international passengers rose versus 2019 (34.0%). It was because international recovered faster (88.1% of 2019 traffic) than domestic (85.3%).
33 airlines have international flights
Washington IAD has a typical 623 international flights a week, based on Cirium data for the first week of August. Obviously, United is heavily dominant, as shown below. It has 44.3% of IAD's international flights; when all Star Alliance carriers are added, they have almost three quarters (73.1%).
IAD's international network involves 33 carriers, 32 of which are foreign. These include PLAY, which launched Keflavik (daily) on 26 April, becoming the second Icelandic carrier to serve IAD. On 1 June, Norse Atlantic will begin London LGW (5-weekly, reducing in winter). It is one of the carrier's very few routes that was not previously served by Norwegian. According to DOT data, the airport pair has not been served in 30+ years, if ever. It will be joined by WestJet from Calgary (3-weekly) on 2 June, the same day that ITA Airways (Alitalia's successor) will begin Rome FCO (up to daily).
These carriers build on various other launches. Most notably, Iberia started Madrid on 1 June 2022. While it was to begin in 2020, coronavirus put paid to that. Cirium data tells that it returned to IAD after last being between 2007 and 2010. LOT Polish Airlines and SWISS – both Star Alliance members – also announced IAD for commencement in S20, but they did not materialise. Despite these developments, IAD is no longer served by Aeroflot, Air China, Cabo Verde, Cathay Pacific or South African Airways, some for much deeper reasons than the pandemic.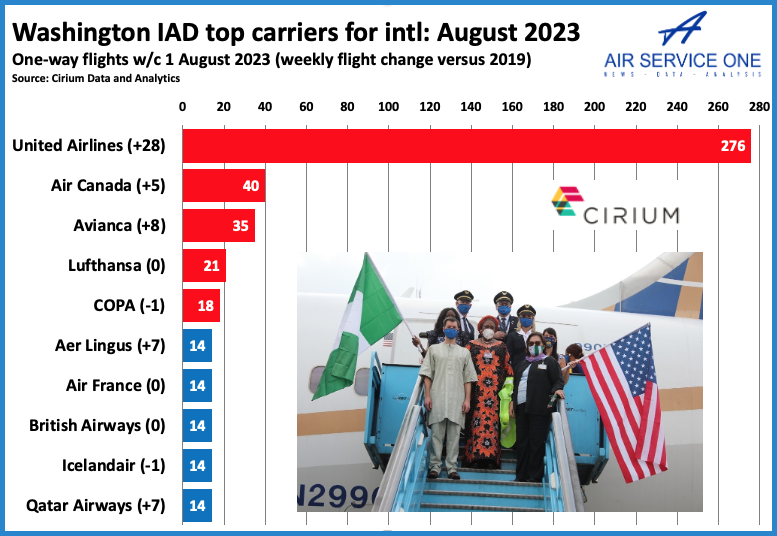 59 international destinations in 45 countries
Washington IAD has non-stop flights to 59 international destinations in Q3 2023. It has flights to 21 European airports, eight to North America (Canada/Mexico), seven each to Africa, the Caribbean and Middle East, four to Central America, three to Asia and two to South America.
Some 45 countries are served, with Canada having six destinations, the most. These include Air Canada to Vancouver (beginning 1 June; 4-weekly). Vancouver was last served by United in 2019 and by Air Canada 19 years ago.
London LHR and Toronto YYZ are joint first for the most served destination by flights, as the figure shows. (It would, of course, be different if seats and ASKs were examined.) In the first week of August, Heathrow has United (21-weekly), British Airways (14-weekly; including by the A380) and Virgin Atlantic (daily). Toronto YYZ, a Star Alliance market, has Air Canada (21-weekly) and United (21-weekly). If city-pairs were considered instead, Toronto would be first.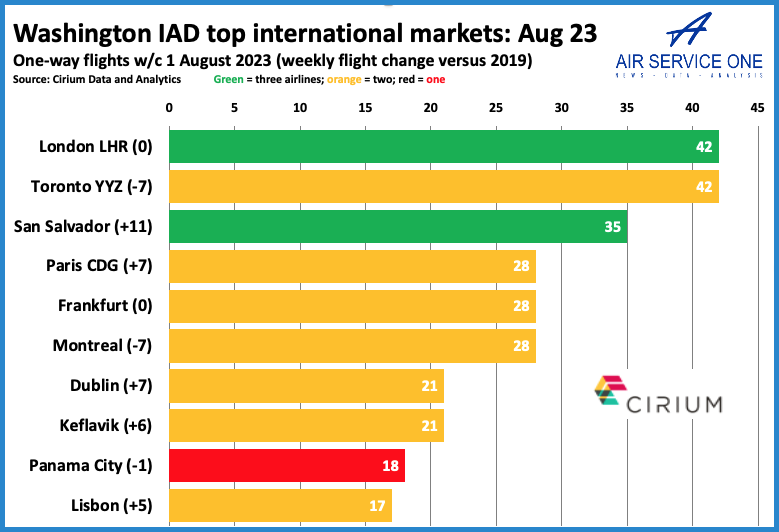 Destinations are up by eight
Washington IAD's 59-strong network is eight more than it had in the same quarter in 2019. Using Cirium to compare the same three months shows that it has added 13 destinations but no longer serves five. Gone are Beijing PEK, Dakar, Hong Kong, Moscow SVO (due to sanctions) and Tokyo Narita (replaced by Haneda). The 13 that have started (or will do so) include these long-haul markets, with frequencies based on Q3 2023:
1 June 2023: Norse Atlantic, London LGW (5-weekly)
23 May 2023: United, Berlin (daily)
25 March 2023: United, Tokyo HND (daily)
17 November 2022: United, Cape Town (3-weekly)
1 June 2022: Ethiopian Airlines, Lomé (3-weekly; Addis Ababa-Lomé-IAD and vice-versa)
5 May 2022: United, Amman (3-weekly)
29 November 2021: United, Lagos (3-weekly)
1 July 2021: United, Athens (daily)
18 August 2022: All Nippon, Tokyo HND (daily)
New destinations, located closer to IAD, include Calgary, never served before. Now it has WestJet (3-weekly; from 1 June) and United (daily; from 2 June).