WestJet turns 27; home base of Calgary is only top 10 airport to grow; Tokyo to become first Asian route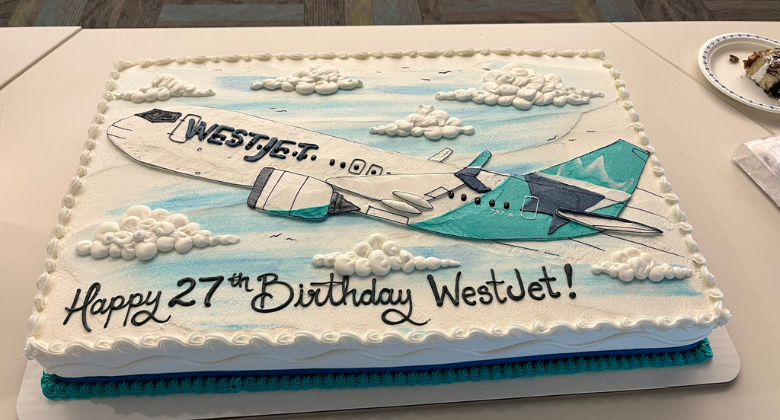 WestJet celebrated its 27th birthday at the end of February having taken to the sky on 29 February 1996 (yes, a leap day!). The carrier has undertaken a huge network transformation. Most recently, it ended all long-haul routes except from Calgary, its original and biggest airport – a real retreat-to-core. Over the past few years, it carved up its operation into distinct units, each with different aircraft, cost platforms, and products best suited to each specific role. There is Swoop with 16 737-800s for low-cost leisure; regional airline WestJet Encore with almost 50 Dash-8-Q400s; and WestJet Link using Pacific Coastal Saab 340s on thin, often rural routes in Western Canada. Mainline WestJet itself operates just over 100 737s and seven 787s and mainly focuses on long-haul, thicker and/or premium short-haul routes.
Mainline has 79% of Q2 capacity
Excluding Swoop, WestJet has just under five million two-way seats in Q2 (April-June) 2023, according to Cirium schedules information data. Of this, 79% is by mainline, 20% by Encore and 1% by Link; results would inevitably be different if flights or ASKs were examined instead.
Some 80% of WestJet's capacity is domestic. It has a 27% share of the vast yet sparsely populated country's domestic market behind Air Canada with 41%. Of all Canadian and foreign airlines, WestJet is also the second-biggest serving internationally. It has an 11% share of seats, behind Air Canada's 40%.
Calgary jumps ahead, while Toronto drops to third
WestJet serves 107 airports in Q2, including 38 throughout Canada. With 1.6 million seats, it is naturally mainly about Calgary, as shown in the figure below. Analysis of Cirium information reveals that Calgary capacity has risen by 13% versus its previous record, held in Q2 2019 – clearly indicating the refocus on its core. It has 84 Calgary routes, up from 67. Excluding the pandemic, Calgary's capacity share within WestJet's network has never been higher.
The airline's emphasis on Calgary necessarily means cuts elsewhere. Of its three busiest airports, seats at Toronto – Air Canada's stronghold – have fallen by 47%; routes in Q2 have dropped from 64 to 47. Toronto was previously an important long-haul airport for WestJet. While the airline's capacity at Vancouver is 11% lower than in 2019, routes have increased from 34 to 37. Vancouver has overtaken Toronto to become WestJet's second busiest airport.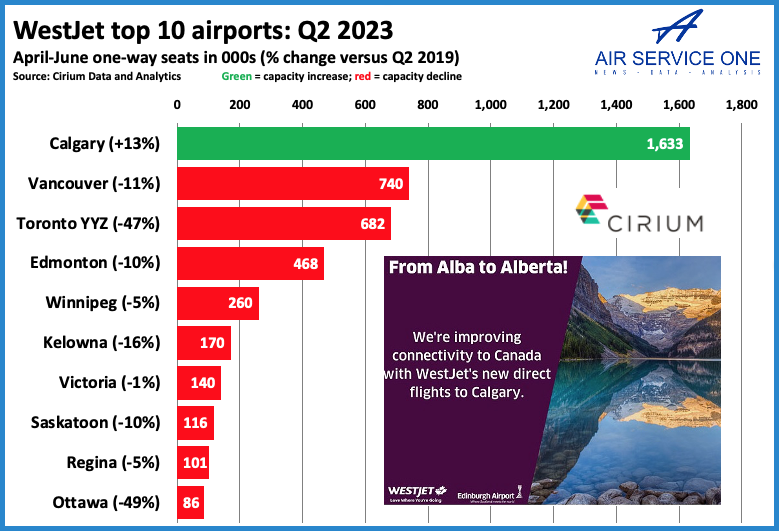 Calgary-Vancouver is the most served route
Seven of WestJet's top 10 routes involve Calgary, as shown in the following figure. WestJet is the market leader on six of the top 10 routes, including all from Calgary – except Toronto. With 177,000 one-way seats in Q2, the 690-kilometre route between Calgary and Vancouver its most served, just as has been for numerous years. WestJet has almost half of the market (47%), ahead of Air Canada (34%), Flair (11%), Lynx Air (7%), and Sunwing (1%).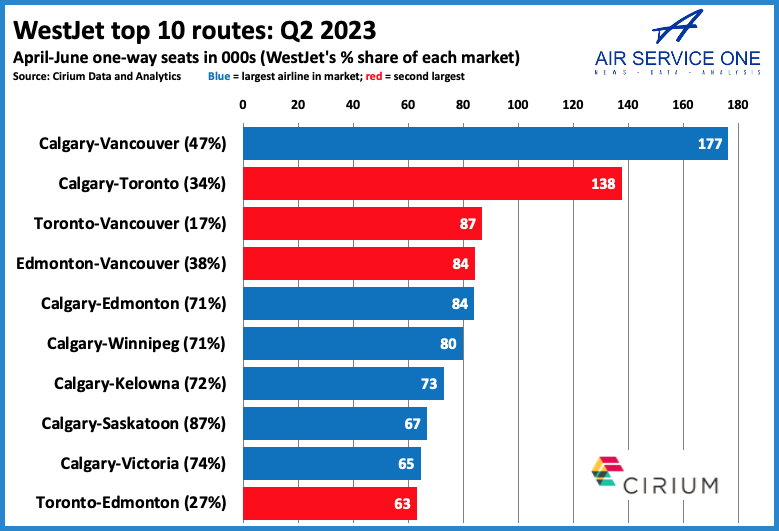 14 routes are coming
Just because WestJet has consolidated around its Calgary hub does not mean it is not expanding from other Canadian cities. Indeed, more than half of its coming 14 new routes are not from Calgary, as shown below. Notice that three of the 14 are long-haul routes, including Calgary to Tokyo – WestJet's first Asian route. It will also begin five new links across four US airports – Atlanta, Detroit, Minneapolis and Seattle – hubs of partner Delta, which it will feed. New European routes from Calgary include Barcelona and Edinburgh.
30 April: Calgary to Tokyo NRT (3-weekly)
6 May: Calgary to Barcelona (3)
17 May: Calgary to Edinburgh (3)
17 May: Vancouver to Atlanta (4, later daily)
19 May: Vancouver to Nashville (2)
19 May: Edmonton to Seattle (4, later 5)
19 May: Edmonton to London (Ontario; 2)
26 May: Calgary to Detroit (3, later 5)
2 June: Calgary to Washington IAD (3)
2 June: Edmonton to Minneapolis (5)
14 June: Edmonton to Charlottetown (1)
14 June: Calgary to Moncton (3)
19 June: Saskatoon to Minneapolis (3)
29 June: Edmonton to Moncton (2)