Winter 2021 – Not the New Normal
The pandemic has certainly been challenging for airlines for a number of reasons, and the session titled 'Winter 2021 – Not the New Normal' at the 148th IATA Slot Conference brought together some of the industry's experts to discuss why these times are still challenging, and that the sector has a number of factors to consider that will continue to make the road to recovery challenging. The session was moderated by John Grant, Chief Analyst, OAG, who was joined by Rikke Munk Christensen, VP of Networks, Alliances and Commercial Planning, Virgin Atlantic Airways; Steve Rowe, Head of Scheduling and Publication, Air New Zealand; and Anthony Chan, Manager, Network Planning, Hong Kong Express.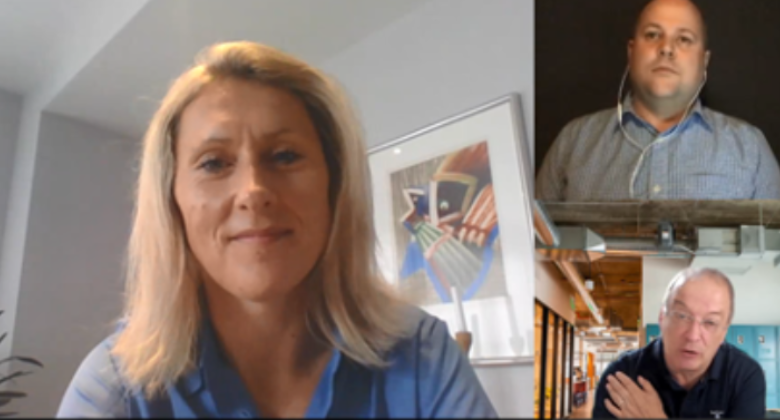 Grant commenced the discussion by putting into context 'just how awful the past 18 months have been, but also some of the most intellectually stimulating times we've ever faced in the aviation industry'. He first started by discussing the continued impact on aviation capacity and how it is far off pre-pandemic levels. "This week, we will be lucky if we see 68 million seats being operated around the world. Not all of those are going to be full, and load factors will be much lower than they usually are for this time of the year. That compares to 118 million seats in the same week pre-pandemic," highlights Grant. "At the moment, the industry is running around 36% below January 2020, but if we look week-on-week compared to 2019, we're looking at about 41% below, and that's not a great space to be in." He then went on to break the sector down further. "18 months ago there were 48 million international seats, and this week there will be only 14.8 million. Most of you know, cash and profit for your company is mainly made on the international network rather than domestic. That's 70% below the historic base." Further statistics presented during the session, further showed the impact that is continuing to be felt by the pandemic, focused on lost revenue. "In July and August, on the transatlantic market between the UK and US, airlines typically generate $3.3 billion dollars of revenue in those two months, and at the moment that is not going to be there. Airlines around the world remain virtually grounded. Last year the industry lost $126.4 billion, and this year we forecast $47.7 billion as a loss." However optimism was also shared. "Most of you will have done network experimentation in the past 18 months. You'll have tried and done different things, innovated and been creative in what you do," added Grant as he also mentioned other imaginative ways that airlines have looked to generate revenue in the past 18 months, including flights to nowhere and on the ground business class dining experiences. "We have new airlines emerging such as Avelo Airlines, Breeze Airways, Flyr, Norse Atlantic Airways and PLAY."
Airlines become more cargo-focussed
A theme that was picked up on was how airlines have had to be creative in generating revenue, and for many wide-body operators that has been to create new cargo-only services. "We currently operate roughly 50% of our sectors compared to what we did in 2019, which may sound good, but what is important here is that only around 25% are passenger services," informed Christensen as she spoke of how Virgin has had to flip its strategy since the start of the pandemic. "Virgin is a long-haul carrier only, and we have been focused mainly on cargo flying and the strength of where you can fly cargo and passengers. We've had periods as well where up to 70% of our flying was cargo only." Supporting Christensen, Rowe confirmed that Air New Zealand has made significant investments for cargo services, so much so that it has opened cargo routes not involving its home market. "Long-haul is 40% pre-COVID levels, and that is predominantly all-cargo focused," Rowe informs. "So much so, we've launched two new routes, from Christchurch to Guangzhou, and Brisbane to Los Angeles." Virgin too has added new cargo routes, with it operating short-haul cargo sectors to Brussels and Frankfurt. "The challenge is this new element of looking at cargo logistics and working on the connectivity of linking short-haul cargo flying into the long-haul cargo network. It's a lot more short-term and fragile than passenger flying, and that's resulting in a lot more work with schedule optimising than we did pre-COVID," adds Christensen.
More than just airline operational constraints
It was put forward by Grant asking how airlines would be able to get back to normal, pre-pandemic operational levels, and what the challenges would be in order to achieve that. Chan stated that based on getting aircraft in the air again: "Operationally if the demand is there, we can do so very quickly, certainly quicker than the ACI and IATA forecasts that have been put out, certainly before 2024 for international flying." However, Chan also pointed out the time it would take for Hong Kong Express to get all aircraft back into service, and the bottlenecks in other parts of the market. "It is dependent on what you had pre-COVID," spoke Christensen. "Virgin was retiring its 747-400s and A340-600s, and therefore pilots need to be trained on new fleet equipment, pilots who have been on furlough since March 2020. This takes time and it comes with an investment. With that, when there is a restart, you have to be confident that it will happen in order to justify that cost. With every changing restriction, you don't want to do it. This is a challenge for all airlines, and particularly when you look at W21/22, and it will take longer than that to get everybody back." She also added that it is also dependent on whether corporate demand climbs back at predicted rates. "The answer to that is we don't know yet. We don't think it will come back to 2019 levels before 2024. However, with that there could be strong pent-up demand for VFR, but we want to get it back to the network strengths we had pre-pandemic. How that happens is dependent on how restrictions and the recovery phase out." Adding further comment, Rowe mentioned that: "Issues with third party operators and how they have been impacted by the pandemic also have a knock on effect for the airline operation. When New Zealand opened up again, we had engineers fly on the aircraft, and we also had to look at redesigning catering as other airports' catering facilities have been closed, and for some, one flight a day does not justify opening up." It was discussed about how different parts of the world have opened at different rates, and the impact on airlines from that. "To date, we are currently flying 90% of our pre-COVID domestic network, which has been performing really well and we're slowly building up the Tasman network again," highlighted Rowe when asked to see if this is something that could be mirrored in other parts of the world. "People are very nervous and weary about jumping on a plane. When the bubble between Australia and New Zealand opened on the first day, we were operating at high 90% load factors. But after those first flights things fizzled out very quickly, and within a week of having the bubble open, it was temporarily suspended for Perth at the time, and automatically that sent shockwaves. Originally the three carriers on the bubble were all planning wide-body capacity, and now if you look it's a lot less flights and on the smallest possible gauge. People are afraid to go," informed Rowe.
Understanding the needs when it comes to slots
The final main talking point was about how airlines have been impacted by the regulations surrounding slots, and how they have worked with airports during the crisis. "Industry has to be careful with how they set their slot alleviation threshold. It cannot be too stringent, too early, because that has a risk on smaller airports where slots are not a problem, or controlled, because if the slot utilisation rules are too stringent too early, airlines will focus all of their resources into flying into big, slot-congested airports," comments Chan. "This is because they want to focus their resources on saving as many slots as possible." It was also mentioned that some airlines will have greater advantages over slot utilisation due to the nature of the market and how sectors are opened up. "Certain markets are bouncing back at greater rates, and for airlines with bespoke networks focused on long-haul, being able to maintain slots by operating long-haul ghost flights for the purpose of saving slots is expensive," added Chan. "Set the utilisation rule to stringently too early, then you start losing long-haul connectivity, and that's something that consumers will not want to see." Christensen added that: "Airports need to understand that there is demand, and airlines really want to fly, but right now we're not operating our normal metric. It's about how you build back that long-term infrastructure, and I think big key hubs understand that it takes time, versus the short-term opportunities that are there. That's where the flexibility needs to be in the slot world. Airports need to understand that airlines are trying to find out where the new demand is." Rowe also commented that: "You can't do everything that worked previously, as you just don't know if it will work again."