Wizz Air adds Dammam to Vienna network; 30 routes this winter, fewer than in winter 2019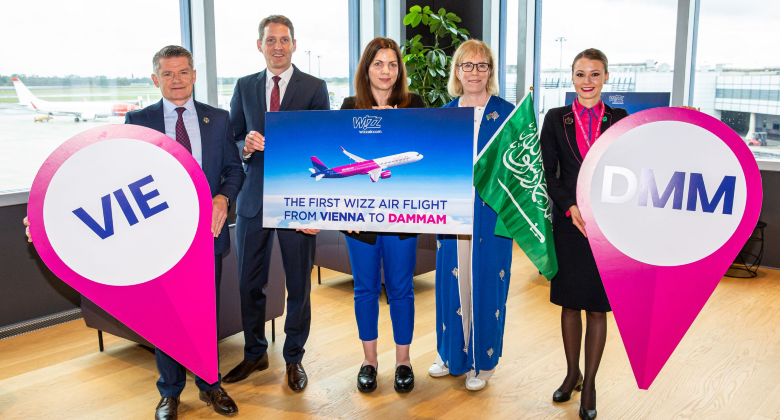 Wizz Air began its first route to Vienna (from Gdansk) on 27 April 2018, just a few weeks before the airport became a designated base in mid-June 2018. Up until that point it had never operated any flights to/from the Austrian capital. The launch announcement promised 30 low-fare routes to 22 countries. That first summer the ULCC offered flights to 11 destinations. Four of these were to Central/Eastern European destinations (Cluj-Napoca, Gdansk, Tuzla and Varna), but the other seven (Bari, Eindhoven, Malaga, Malta, Rome FCO, Tel Aviv and Valencia) were spread across four countries in western Europe and Israel in the Middle East.
For the winter 18/19 season, the number of weekly departures almost doubled from 38 to 73, while the destinations served jumped from 11 to 26. Of those 26 routes, just 13 are being flown by Wizz Air this coming winter, a failure rate of 50%.
Almost 40 routes from Vienna pre-pandemic
With the addition of more new routes in the early part of 2019 (Madrid, Malmo, Milan MXP, Reykjavik and Stockholm NYO), and further new routes in winter 19/20, Wizz Air was serving 38 destinations non-stop from Vienna in early 2020. At that point it was already the third biggest carrier in Vienna after Austrian and Ryanair/Lauda and accounted for 8.5% of seat capacity at the airport.
The summer of 2020 was set to see Wizz Air add over 20 new destinations from Vienna. Amazingly, given the pandemic, many of these routes did launch and operate for at least part of the summer. However, by the following summer several routes had been dropped and others had seen significant frequency reductions.
This year saw Wizz Air add new routes from Vienna to Sharm el-Sheikh, Dubai (briefly), London LGW, Amman, Abu Dhabi, Kukes (Albania) and, most recently, Dammam in Saudi Arabia. Looking ahead, December will see the addition of three more new routes to Funchal, Jeddah and Riyadh. The three Saudi Arabian routes are all being supported by the Saudi Air Connectivity Program.
Gatwick and Abu Dhabi are top routes by ASKs
Looking at Cirium schedule data for October reveals that Wizz Air is currently operating 28 routes from Vienna. Analysis of the airline's biggest routes as measured by ASKs (Available Seat Kilometres) which takes into account sector length, aircraft seats and weekly frequency, reveals that London LGW and Abu Dhabi top the rankings. Gatwick is the only route served more than daily by Wizz Air from Vienna. At 4,245 kilometres, Abu Dhabi in the UAE is the airline's longest route from Vienna.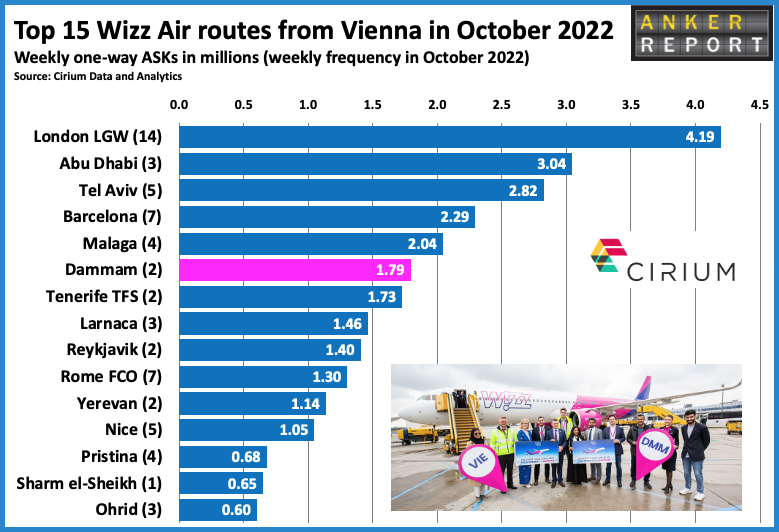 In total, by the end of this year, Wizz Air will have launched almost 80 routes from Vienna in less than five years. The fact that well under half that number are still bookable on the airline's website highlights the dynamic nature of the airline business in recent years and the intense competition being provided by other carriers, notably Ryanair, in Vienna.