Wizz Air announces four aircraft base at Rome FCO as Italian growth continues in 2021; Vueling and Ryanair still bigger at Fiumicino in S21
The news that Wizz Air was going to announce a major new base at Rome's main airport might have sent waves of panic through the corridors of Alitalia's head office. The Italian flag-carrier may have been concerned that the aggressive ULCC might do what it did when it announced its base in Oslo last year, and focus on high-density domestic routes. However, that is not the strategy that Wizz Air has chosen to adopt in Rome.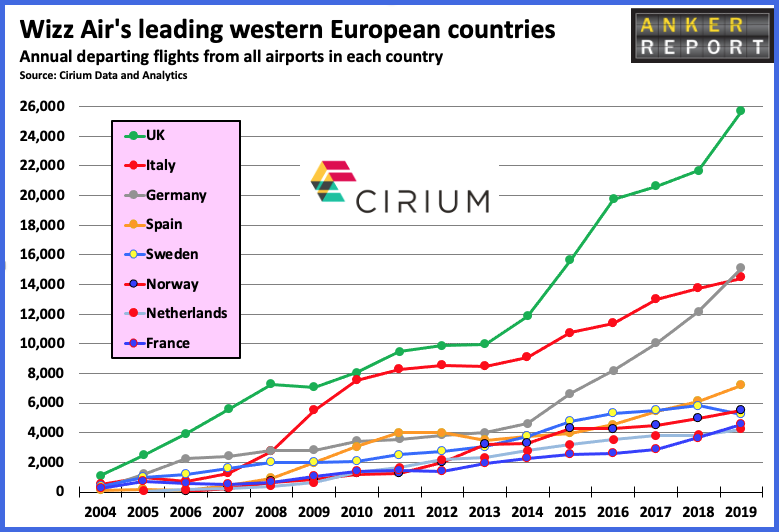 The four aircraft base, starting in July, will add 32 new routes and 88 weekly flights, but none will be to destinations in Italy. All routes will be served at least 2-weekly but the average weekly frequency is less than three. The new destinations by country are:
Bulgaria: Sofia
Croatia: Dubrovnik, Split
Cyprus: Larnaca
Czech Republic: Prague
Egypt: Alexandria, Hurghada, Sharm El-Sheikh
Estonia: Tallinn
France: Nice
Greece: Corfu, Heraklion, Mykonos, Santorini, Zakynthos
Iceland: Reykjavik KEF
Israel: Tel Aviv
Kosovo: Pristina
Morocco: Casablanca, Marrakech
Netherlands: Eindhoven
Portugal: Faro
Romania: Constanta, Satu Mare, Targu Mures
Spain: Fuerteventura, Tenerife TFS
Turkey: Antalya, Bodrum
UK: Liverpool, London LTN
Ukraine: Kharkiv
Of these 32 routes, 12 have not been served by any other scheduled carrier since the beginning of 2019, according to analysis of Cirium Data and Analytics schedule information. Those airports are Alexandria, Antalya, Bodrum, Constanta, Eindhoven, Faro, Hurghada, Marrakech, Pristina, Satu Mare, Tallinn and Targu Mures. Back in August 2019, the routes with the most carriers competing from Rome FCO were Tel Aviv with five carriers, followed by Heraklion and Mykonos with four each, and Corfu, Dubrovnik, Prague and Split with three each. The only two routes of Wizz Air's 32 new routes on which Alitalia is currently set to operate at least daily service in July are Nice and Tel Aviv.
Wizz Air targets outbound leisure traffic
 At a press conference announcing the new base, the airline's CCO talked about supporting Italy's economic recovery and offering a wide range of affordable destinations at low fares. The network, at least in summer, seems to be focussed on taking Italians out of the country to enjoy holidays in Croatia, Cyprus, Egypt, Greece, Morocco, Portugal, Spain and the south of France. The nearest thing to a business route is a daily service to London LTN. Although the Luton route faces no direct competition, Alitalia and British Airways connect Fiumicino with Heathrow, while easyJet and Vueling offer flights to Gatwick. In addition, Ryanair connects Rome CIA with Stansted.
Wizz Air served Rome CIA on its first day of operation
Unusually in Europe, Rome's second airport at Ciampino is actually closer to downtown (around 12 kilometres), than its main airport at Fiumicino (around 20 kilometres). However, Ciampino's operations are severely constrained. Wizz Air has been serving Rome since the very first day of operations back on 19 May 2004, when one of the airline's first flights was from Katowice to Rome CIA. Budapest service to Rome CIA began the following month. By the end of 2020 a further dozen routes had been launched at some point. Flights from Ciampino to Tirana began last week on 14 May.
Wizz Air began serving Rome FCO in late 2007 when it began flights from Budapest, Cluj-Napoca, Sofia and Targu Mures. Subsequently it has served the airport from a further 20 airports. Since the start of the pandemic it has launched four routes to Rome FCO; Iasi (in June 2020), Bacau and Catania (both last October, with Catania Wizz Air's only Rome domestic route) and Kiev IEV, which launched as recently as 28 April this year.
 Still behind Ryanair and Vueling at Fiumicino
With international travel rules and regulations within Europe changing on an almost daily basis, airline schedule data for July is still subject to significant changes. However, at present, with over 90 planned weekly departures (including on routes that were already operating from Rome FCO before this latest announcement), Wizz Air would rank fourth for weekly departures, behind not only Alitalia, but also Vueling (over 200 planned weekly departures) and Ryanair (around 130).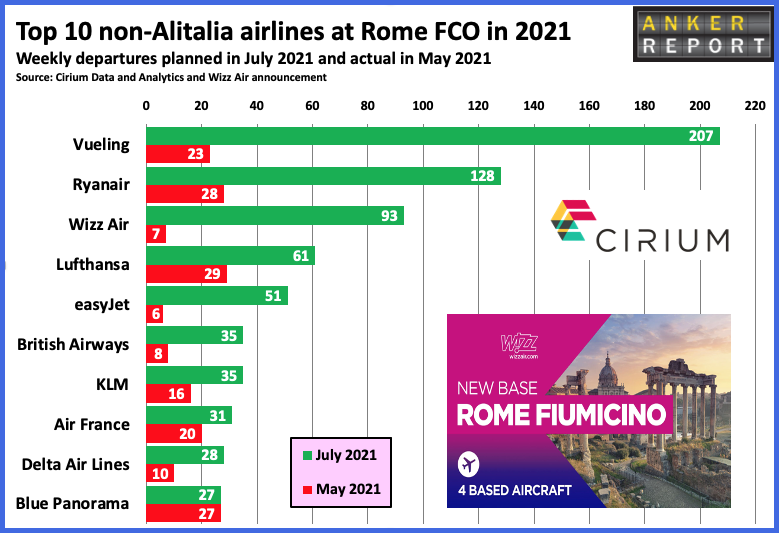 However, as we have all experienced during the last 14 months, plans can change, especially when it comes to border controls and travel rules. Alitalia's future remains unclear, so it seems likely that other carriers may sense an opportunity to expand in the Italian capital. We'll see.