Wizz Air bases two aircraft in Palermo and launches seven new routes of which five are domestic
Wizz Air on 1 June opened another new base, this time in Palermo, on the Italian island of Sicily. Two A321s will be stationed at the airport. Wizz Air began serving the airport only last October when it began multiple-daily flights from its new base at Milan MXP, competing directly with easyJet and Ryanair. On the first day of based operations, four new domestic routes were started to Bologna (daily), Pisa (daily), Turin (4-weekly) and Verona (3-weekly). Ryanair provides competition on all four of these routes, Volotea competes on the Turin and Verona routes, while Blue Air is also an option on the Turin route.
International routes starting in July
The following day, a fifth new route was opened to Venice TSF (5-weekly). This route faces no direct competition though both Ryanair and Volotea serve Venice VCE. Two further new routes to Basel and London LTN are currently scheduled to start on 6 July and 5 July respectively. The Luton service will compete directly with easyJet and indirectly with British Airways (serving Heathrow), easyJet (serving Gatwick) and Ryanair (serving Stansted).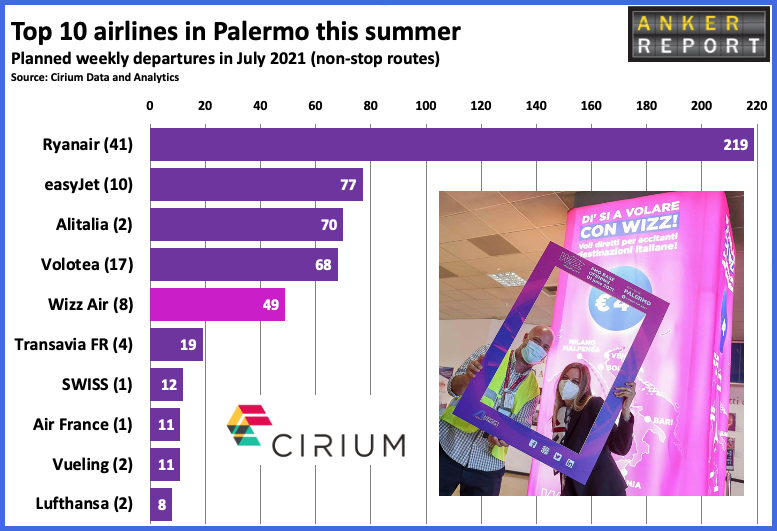 Wizz Air's new base will make the carrier the fifth biggest in Palermo this summer based on current schedule data for July from Cirium Data and Analytics. Ryanair is by far the busiest carrier with well over 200 weekly departures planned, spread across 41 routes. easyJet, Alitalia (serving only Rome FCO and Milan LIN) and Volotea are closely matched in second place.