Wizz Air capacity up 20% in Q2 v 2022; Italy is leading country market, big growth in Poland and Romania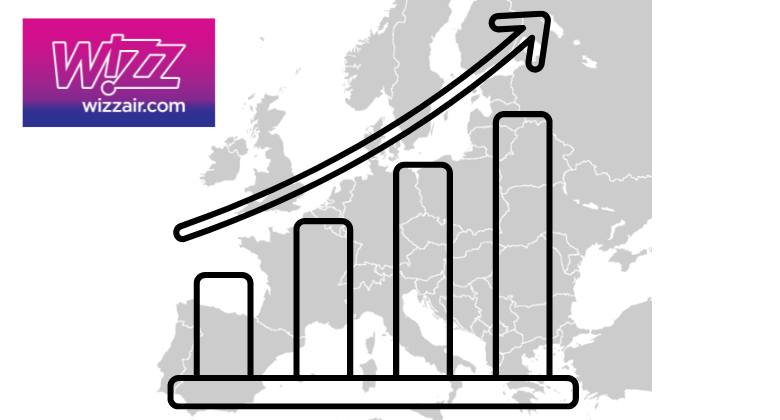 It has been a busy week for Wizz Air. During the last week (7-13 January) the carrier has, according to our research, launched 12 new routes including five to Saudi Arabia, two to Tel Aviv, two ski routes (to Grenoble and Lyon) and new routes to Malaga, Marsa Alam (first ever service) and Yerevan. Another two new routes to Verona (from Gdansk and Poznan) are set to start tomorrow (14 January). In less positive news the ULCC has confirmed the closing of its bases at Bacau in Romania, Bari in Italy and Cardiff in the UK.
Bacau will continue to be served directly from London LTN and Milan MXP. The airline's website is still showing many other destinations as being bookable from Bacau, but when these flights are selected it reveals that service will operate from Chisinau in nearby Moldova. Eight Bari routes will continue to be served by aircraft based elsewhere across Europe. This winter Cardiff was only served from Bucharest OTP and Milan MXP. These last two routes will cease by the end of January.
Italian growth
Wizz Air also revealed that it plans to add two more aircraft to its Rome FCO base (making 11 in total) and one more aircraft to its Milan MXP base (seven in total). This summer it will offer 67 routes from Fiumicino (including recently announced Funchal, Memmingen and Vilnius) and 37 from Malpensa (including newly revealed Abu Dhabi and Madrid).
Having ranked only fifth in 2019, Italy is now by far Wizz Air's leading country market for seat capacity, well ahead of the UK and Romania. Poland, which was Wizz Air's biggest country market in 2019 slipped to fourth in 2022.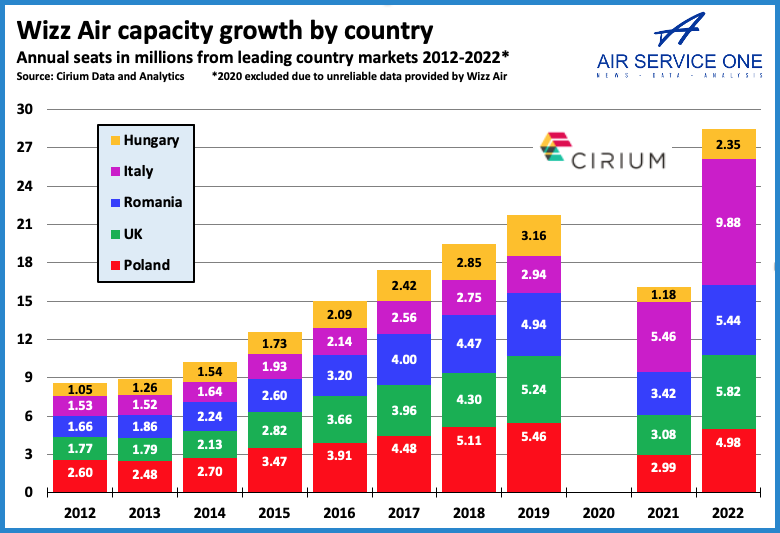 Romania and Poland seeing most growth
As an airline that takes a very dynamic approach to network planning, it is dangerous to look too far ahead at the airline's planned schedules. However, if we compare current schedule data for 2023 Q2 (April to June) and compare it with the same period in 2022, we can get a good idea of which country markets the airline is currently focussing on for growth. As measured by additional seat capacity, Romania and Poland are seeing the biggest capacity growth in Q2, followed by Albania, Germany and Italy. The UK ranks only 13th. In percentage terms total seat capacity across the airline's network is expected to be 20% higher than in 2022 Q2.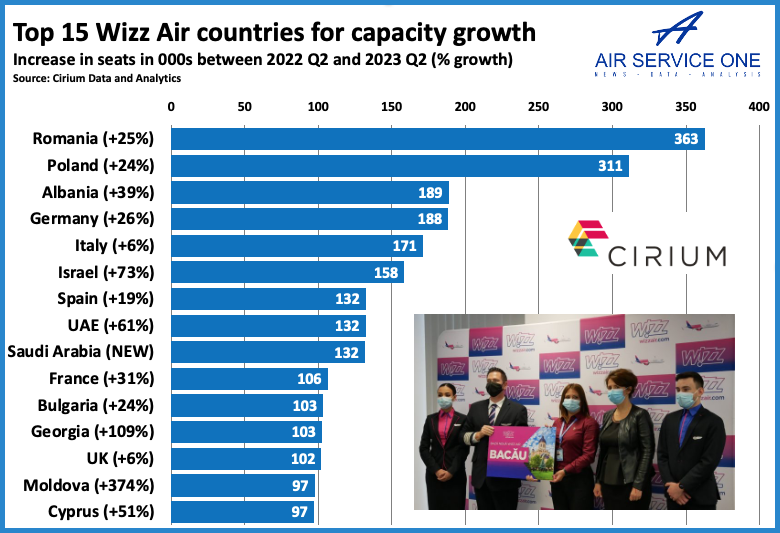 Romania's growth may take a hit from the recently confirmed closure of the airline's base at Bacau, while Italy's position may be understated as the Rome and Milan expansion will not yet be included in the data. Four new country markets have been added since 2022 Q2; Kuwait, Maldives, Saudi Arabia and Sri Lanka.
The country markets showing the biggest decline in seat capacity are Bosnia & Herzegovina (down 65k seats, down 30%) and Lithuania (down 43k seats, down 25%).
Rome is top airport for capacity growth
At an airport level the airports welcoming the most additional seat capacity are Rome FCO, Tirana and Tel Aviv. Impressively, the top 15 airports for capacity growth are spread across 13 different countries. Only Poland (Gdansk and Warsaw WAW) and Romania (Bucharest and Cluj-Napoca) have more than one airport each in the top 15. Wizz Air is now serving over 180 airports in total.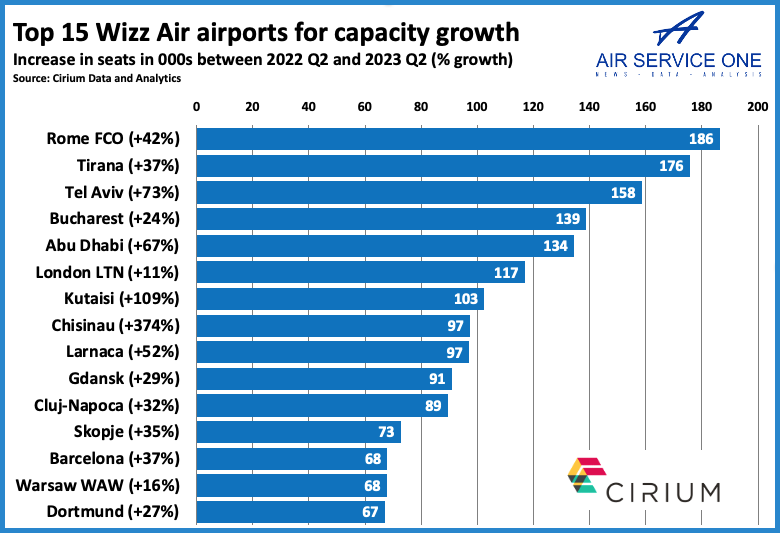 One airport no longer served is Doncaster/Sheffield in the UK. Instead, Wizz Air has reallocated about 60% of its capacity from that airport to nearby Leeds Bradford, which is the airline's busiest 'new' airport in 2023 Q2. With almost 57,000 departing seats, the Yorkshire airport beats Riyadh (54,000) and Jeddah (43,000).
Other airports that have been added to Wizz Air's network since 2022 Q2 include Aarhus, Ankara (from 19 January), Bilbao (from 27 March), Dammam, Kuwait City, Lodz and Perugia.