Wizz Air capacity up almost 70% at Bucharest since 2019; now serving 60 destinations with 18 aircraft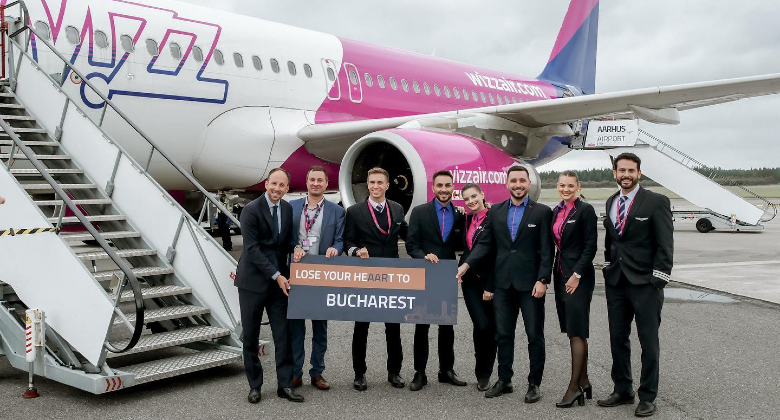 When Blue Air ceased operations in early September it presented an opportunity for Wizz Air to further expand its presence in Romania, particularly in Bucharest. Analysis of Cirium schedule data for December shows that the Romanian capital is now Wizz Air's second biggest base, behind only London LTN. Since December 2019, Wizz Air flights have increased by 48% at the airport.
This week sees the (re-)launch of three routes from Bucharest to Athens, Larnaca and Prague. In addition, there have been new services in recent months to Aarhus (29 September), Cardiff (1 November), Leeds Bradford (1 November, replacing Doncaster Sheffield flights) and Rimini (29 September). Coming up are new connections to Ancona (13 December), Jeddah and Riyadh (both set to start in January 2023). By then Wizz Air will be serving almost 60 destinations non-stop from Bucharest.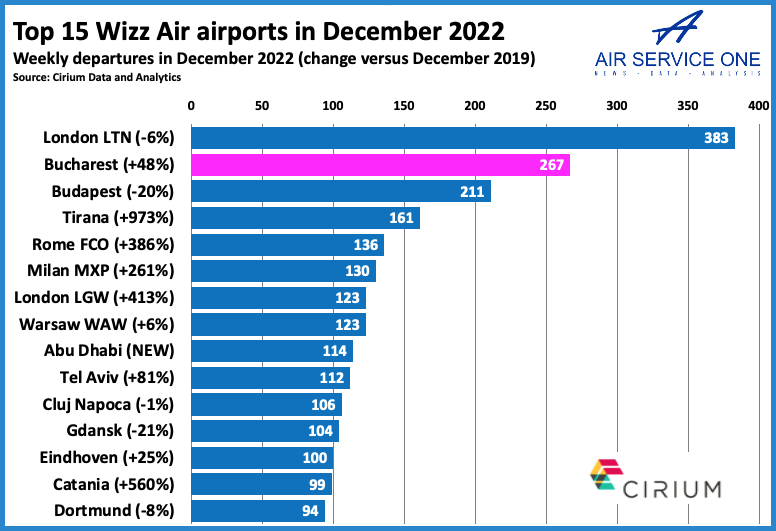 It is worth noting that of Wizz Air's top 10 airports in December, just four are in Central/Eastern Europe, the airline's historic heartland. Two of the top 10 are in the UK, two more in Italy and two in the Middle East (Abu Dhabi and Tel Aviv).
Over 40% of seats at Bucharest
Wizz Air is now easily the biggest provider of seat capacity in Bucharest. Back in December 2019 it accounted for around 24% of seats. However, seat capacity has since increased by 67% (partly as a result of the use of bigger aircraft) and the ULCC is now responsible for 45% of seats at the airport. According to the airport, Wizz Air currently has 18 aircraft based in Bucharest.
A closer look at the schedule data for Monday 5 December shows that six Wizz Air flights are set to depart Bucharest before 07:00. These are Venice TSF (05:45), Tel Aviv (05:55), Barcelona (06:05), Brussels CRL (06:10), London LTN (06:30) and Dortmund (06:35). Looking at arrivals, 12 flights are scheduled to return after midnight including seven after 01:30; London LTN (01:35), Paris BVA (01:40), Bologna (01:40), Lisbon (01:50), Dubai (02:35), London LTN (03:05) and London LGW (03:05).
Luton is leading route
Maybe not surprisingly, London LTN is the leading Wizz Air route from Bucharest in terms of both weekly frequency and ASKs (Available Seat Kilometres). There are on average 4-daily flights to Luton with a further 5-weekly service to London LGW. Among the top 15 routes in December for ASKs are three to the UK, three to Spain, three to Italy and the three to the Middle East (Abu Dhabi, Dubai and Tel Aviv). The remaining three are Brussels CRL, Eindhoven and Paris BVA.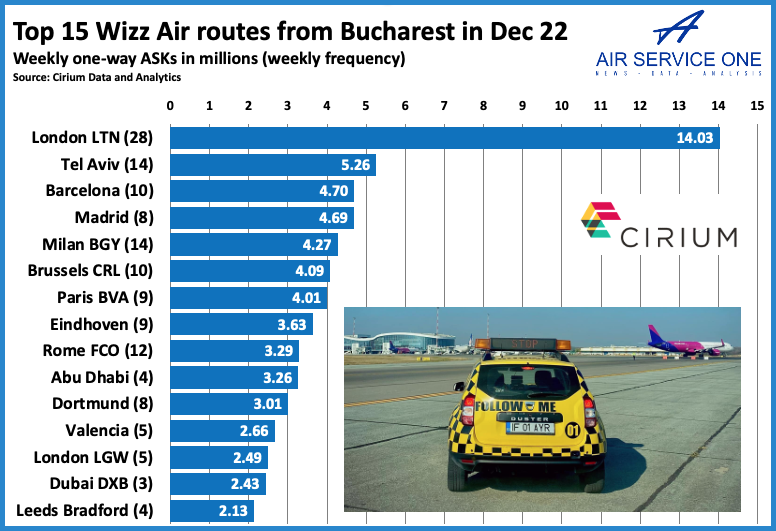 Among destinations no longer served by Wizz Air from Bucharest are Budapest, Cluj-Napoca, Geneva, Glasgow, Hannover, Milan MXP, Perugia, Pescara, Verona and Warsaw WAW. In total, Wizz Air has operated non-stop flights to almost 100 destinations from Bucharest since launching service from the city in January 2007.