Wizz Air has 102 UK routes in August, down by a fifth YOY; three airports no longer served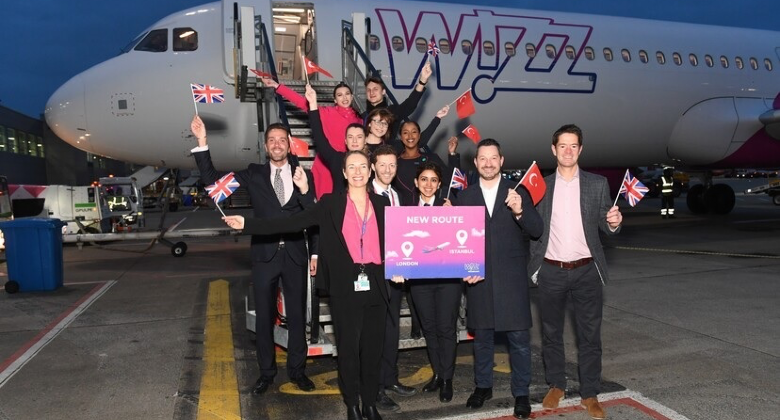 If all the units that comprise Wizz Air are combined, the Group is the eighth-largest operator serving the UK in August, based on Cirium schedule information. Wizz Air has 613 weekly one-way flights in this vitally important month, most by its original Hungary unit (289), then Wizz Air UK (245) and finally its Maltese AOC (79).
Curiously given the ULCC's renowned enormous growth since COVID, Cirium indicates that UK flights are virtually unchanged versus August 2022. This is against a 1.4% year-on-year increase in its network-wide operation. Perhaps this will help with its well-publicised UK punctuality and reliability problems.
Serves eight UK airports – Luton remains number one
The ULCC's airport portfolio in the country continues to revolve around London LTN. The Bedfordshire airport was served on the carrier's very first revenue-generating flight in May 2004, although it only became a base in 2017. It has 405 weekly flights in August, still the carrier's most-served airport across its entire system.
Its second London base – at Gatwick – opened in the pandemic-impacted 2020. There is a big network difference/focus at the two airports. In August 2023, 80% of its Luton flights are to Central and Eastern Europe, mainly using its Hungary non-based unit. In comparison, barely a fifth of Gatwick flights are to CEE, which is instead primarily focused on Western Europe.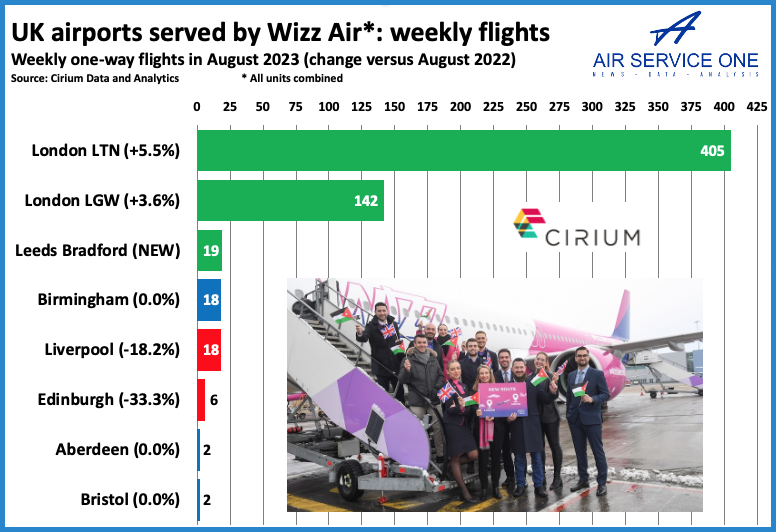 Three UK airports dropped since 2022, as one added
Using Cirium to compare August 2023 to 2022 tells that it no longer serves Belfast BFS, Cardiff or Doncaster Sheffield. While Doncaster became Wizz Air's third UK base in winter 2020, it served the Yorkshire airport since 2006. After its one aircraft base closed in June 2022, it continued to fly to Doncaster using non-based equipment until the airport's permanent closure later in the year. It had 29 routes in total, with Katowice number one.
While Cardiff opened as a base in April 2022 with seven sun routes, it was quickly announced that it would become summer seasonal. The base did not return, with the Welsh capital exiting its network after less than a year.
Given Doncaster's closure, Wizz Air moved seven routes – all using non-based aircraft – to Leeds Bradford. In August 2023, it serves the West Yorkshire airport 19 weekly from Bucharest (4-weekly), Cluj Napoca (3), Gdansk (3), Katowice (3), Krakow (2), Warsaw WAW (2) and Wroclaw (2). While it had no direct competition on these routes from Doncaster, it does on three from Leeds, along with indirect competition with Ryanair to Warsaw WMI.
102 UK routes in August
Across all units, Wizz Air has 102 UK routes in August, broken down by airport as follows. They involve 27 countries. Interestingly, flights to its bread and butter CEE have risen by 1.2% but reduced to Western Europe and elsewhere (-2.9%), somewhat offset by greater aircraft gauge. With 26-weekly flights, Luton-Bucharest is its leading route.
Luton: 55 routes (down by seven versus 2022)
Gatwick: 20 (down by four)
Liverpool: eight (down by two)
Birmingham: seven (same)
Leeds Bradford: seven (new)
Edinburgh: three (down by one)
Aberdeen: one (same)
Bristol: one (same)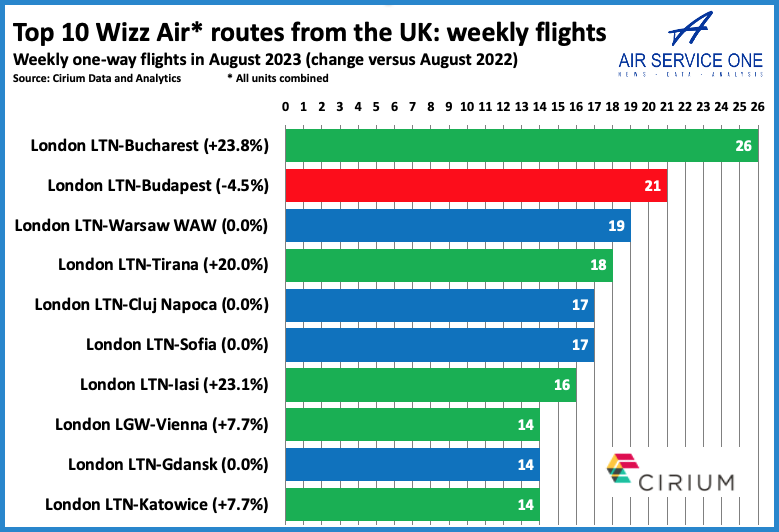 UK routes are down by almost a fifth versus 2022
Wizz Air had 125 UK routes in August 2022, meaning its network has reduced by 18.4%. Aside from ULCC's exit from Belfast, Cardiff and Doncaster, half of its airports have fewer routes than they did. In all, it has introduced 21 but cut 44, down by a net of 23.
Some may end or reappear later this year. 
Routes now served that were not in August 2022: 
Luton-Amman
Luton-Athens
Luton-Brasov (a new airport in Wizz Air's network)
Luton-Bydgoszcz
Luton-Hurghada
Luton-Istanbul IST
Luton-Lodz (ends in October)
Luton-Prague
Luton-Tallinn
Gatwick-Antalya
Gatwick-Dalaman
Gatwick-Istanbul IST
Gatwick-Marrakech
Gatwick-Nice
Leeds Bradford-Bucharest
Leeds Bradford-Cluj Napoca
Leeds Bradford-Gdansk
Leeds Bradford-Katowice
Leeds Bradford-Krakow
Leeds Bradford-Warsaw WAW
Leeds Bradford-Wrocaw
Routes served in August 2022 but no longer operate: 
Belfast BFS-Vilnius
Cardiff-Alicante
Cardiff-Corfu
Cardiff-Faro
Cardiff-Heraklion
Cardiff-Larnaca
Cardiff-Palma
Cardiff-Tenerife TFS
Doncaster Sheffield-Bucharest
Doncaster Sheffield-Cluj Napoca
Doncaster Sheffield-Gdansk
Doncaster Sheffield-Katowice
Doncaster Sheffield-Krakow
Doncaster Sheffield-Vilnius
Doncaster Sheffield-Warsaw WAW
Doncaster Sheffield-Wrocaw
Luton-Castellon
Luton-Chisinau (will likely return post-Ukraine war) 
Luton-Corfu
Luton-Fuerteventura
Luton-Funchal
Luton-Gran Canaria
Luton-Keflavik
Luton-Malaga
Luton-Ohrid
Luton-Palanga
Luton-Porto
Luton-Rzeszow
Luton-Santorini
Luton-Sarajevo (returns in September)
Luton-Tenerife TFS
Luton-Zakynthos
Gatwick-Bari
Gatwick-Burgas
Gatwick-Chania
Gatwick-Funchal
Gatwick-Palma
Gatwick-Palermo
Gatwick-Sofia
Gatwick-Tenerife TFS
Gatwick-Varna
Edinburgh-Warsaw WAW
Liverpool-Bacau
Liverpool-Tirana (returns in December)