Wizz Air has more than half of Romania's S23 seats; TAROM's share fallen to just 13.8%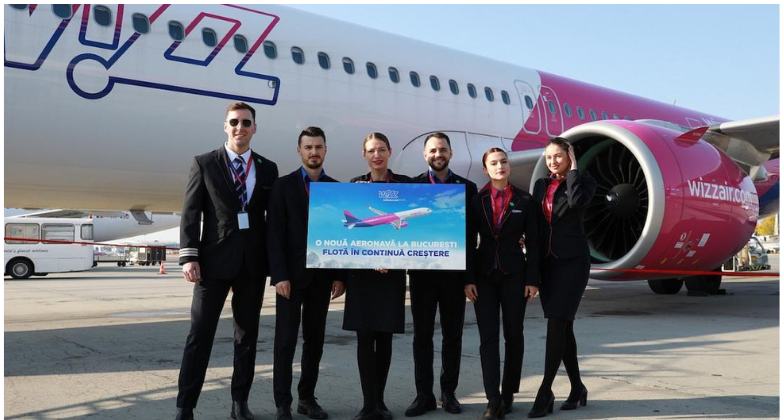 Romania is Europe's 19th largest country market in S23. According to Cirium schedules information data, it has 8.28 million one-way seats, making it less than half the size of the Poland market. Romania's S23 capacity is the highest to date and is up from 8.26 million (+0.24%) in S22, the previous record. While the growth is undeniably very modest, it was achieved amid much change.
Once-important Blue Air ceased to exist, while Ryanair – Romania's second-largest operator last summer – has removed four airports from its network. These changes were offset by considerable growth by already-dominant Wizz Air and the entry of AirConnect and Dan Air. However, TAROM's recovery remains slow.
Blue Air is out, AirConnect and Dan Air are in
As the following figure indicates, Blue Air was Romania second-largest individual airline as recently as pandemic-hit S21. It had 1.28 million one-way seats and 22% of the country's capacity. Problems afflicting the carrier, along with the recovery and/or growth of others, meant Blue Air slipped to fourth in S22. It suspended services in September 2022. In simple capacity terms, its exit has been more than compensated by Wizz Air's growth. However, only 78 of Blue Air's 111 S22 routes are served by another carrier. Just two in 14 Iasi routes remain served.
Having operated charter flights in S22, Romania's AirConnect launched scheduled services on 27 March 2023. It has 11 routes, six summer-seasonal. Its network is mainly domestic, of which 64% have direct competition. AirConnect plans various domestic routes previously operated by Blue Air.
Another new carrier to scheduled flying is Dan Air. Previously known as Just Us Air, a wet-lease operator, Dan Air has 18 scheduled routes from Bucharest and the brand-new Brasov. Beginning on 1 June, almost all routes are served weekly. AirConnect and Dan Air have about 1.2% of Romania's S23 seats.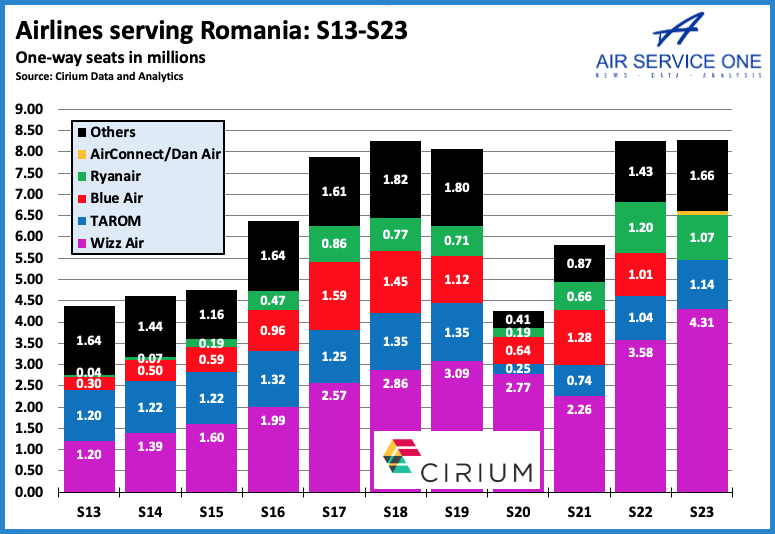 Wizz Air has 52.0% of capacity
If the domestic and international markets are combined, ULCC Wizz Air has more than half of Romania's seats, as shown in the following figure. Its 52.0% share is greater than in any other summer (except during the pandemic). It is has risen by almost 14 percentage points versus the pre-pandemic S19, driven by its very swift growth and the end of Blue Air. Indeed, if S23 versus S22 is examined, Wizz Air has grown especially strongly at Bucharest (+29.3%), Blue Air's previous main airport.
As Wizz Air does not operate domestically in Romania, it is even more dominant internationally. Examining Cirium schedules tells that the ULCC is responsible for 56.5% of Romania's international seats. Historically, while Romania was always Wizz Air's most-served country, it is now second to Italy. Despite this, it remains hugely important to the carrier and vice-versa.
Wizz Air has 186 routes from Romania this summer, with 23 countries served. Italy, the UK, Spain, France and Germany are the top five by available seats. It will serve 12 airports in Romania, of which Bucharest is inevitably by far the most served (44.2% of capacity). The latest airport to join its network is Brasov, with flights London LTN (3-weekly) from 1 September and Dortmund (2-weekly) from 2 September.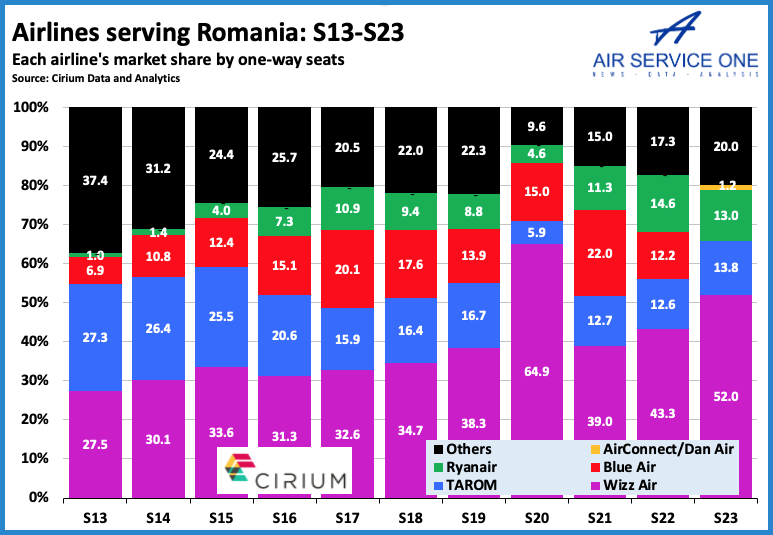 Ryanair falls behind TAROM for third place
Ryanair first served Romania 15 years ago in 2008. The country has always been far less significant to the ULCC than Poland. Indeed, Romania is Ryanair's fourth largest country in Central and Eastern Europe in S23, behind Poland, Hungary and Croatia.
As the first figure showed, Ryanair's Romania capacity fell to 1.07 million in S23, a 10.8% drop year-on-year. This is from removing Oradea, Sibiu and Suceava and Timisoara from its network in March 2023, presumably because of underperformance (or airport charges, as it might say). Two of these started in S21: Sibiu on 1 June and Suceava on 4 June.
Now Ryanair has a 13.0% share in Romania, back behind TAROM (13.8%). As ULCCs have grown from the country, TAROM invariably remains a shadow of itself. Its share is down by nearly three percentage points versus S19 and is about half what it was in S13.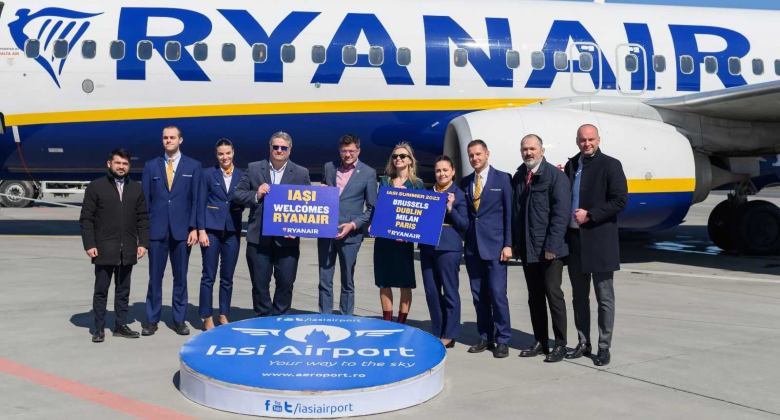 Ryanair has started Iasi and grown Cluj-Napoca
Ryanair now serves Bucharest, Cluj Napoca and Iasi. Iasi joined its network on 26 March 2023, while summer seats from Cluj Napoca grew by 428% year-on-year. Ryanair first served Cluj in April 2019 with only one route: London SEN (later Stansted). It was joined by Dublin – previously served by Blue Air – on 1 November 2022.
The following routes started recently. Blue Air served other airports for the same cities, with Ryanair only replacing it directly to Dublin. Wizz Air and Ryanair now compete on all routes except Dublin:
26 March 2023: Cluj Napoca-Brussels CRL (4-weekly)
26 March 2023: Cluj Napoca-Milan BGY (daily)
26 March 2023: Cluj Napoca-Paris BVA (4-weekly)
26 March 2023: Iasi-Brussels CRL (3-weekly)
26 March 2023: Iasi-Milan BGY (5-weekly)
26 March 2023: Iasi-Paris BVA (4-weekly)
26 March 2023: Iasi-Dublin (2-weekly)