Wizz Air is Cyprus' biggest airline despite Ryanair's record summer; Q3 capacity 12% above 2019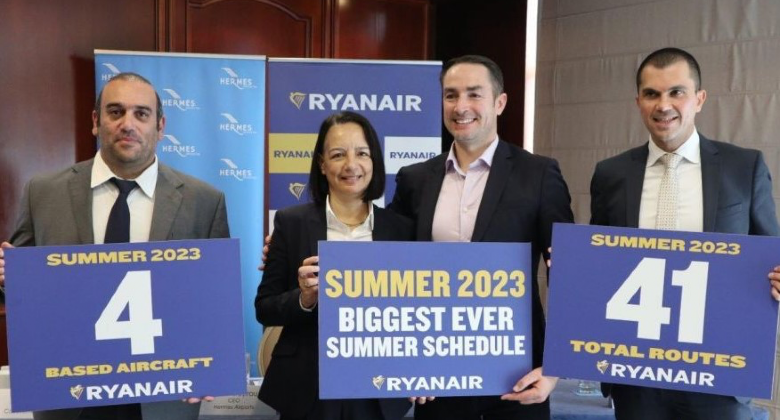 Larnaca and Paphos welcomed 9.22 million passengers in 2022, based on data collected by Air Service One. While traffic at Larnaca – by far the busiest airport – remained down by more than a quarter, Paphos was up by nearly 5%, its best year to date.
The all-important Q3 2023 (July-September) is now here, with Cirium schedules data showing that Cyprus has 2.25 million departing seats – 12% above Q3 2019. Larnaca capacity has risen by 6%, while Paphos has grown by more than a quarter. This is despite the loss of Russia – Cyprus' second-largest tourist source market in 2019.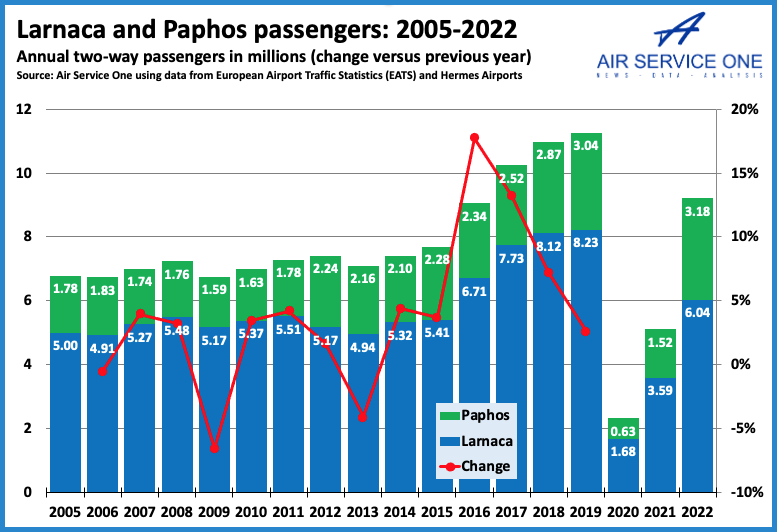 A ULCC is now the top carrier at both airports
Wizz Air has more Cyprus scheduled seats in Q3 than any other airline. It only serves Larnaca, which joined its network in 2010 and became a base in S20. With three based aircraft, the ULCC now provides about 18% of the country's seats and a quarter of Larnaca's.
It has 31 peak summer routes, including to Armenia, Saudi Arabia and the UAE. Three routes are new this year: Riyadh (17 April; 2-weekly); Dammam (4 July; weekly); and Jeddah (5 July; weekly). Based on August flights, London LGW and Yerevan are its joint most-served at 11-weekly.
Fellow ULCC Ryanair became the largest airline serving Cyprus in S19 but is now second. That is despite having a record Q3 (and summer generally) by capacity and routes. As it only has a token presence at Larnaca with one route (Vienna), it is virtually all about Paphos. Indeed, Ryanair's provides virtually half of the airport's scheduled seats.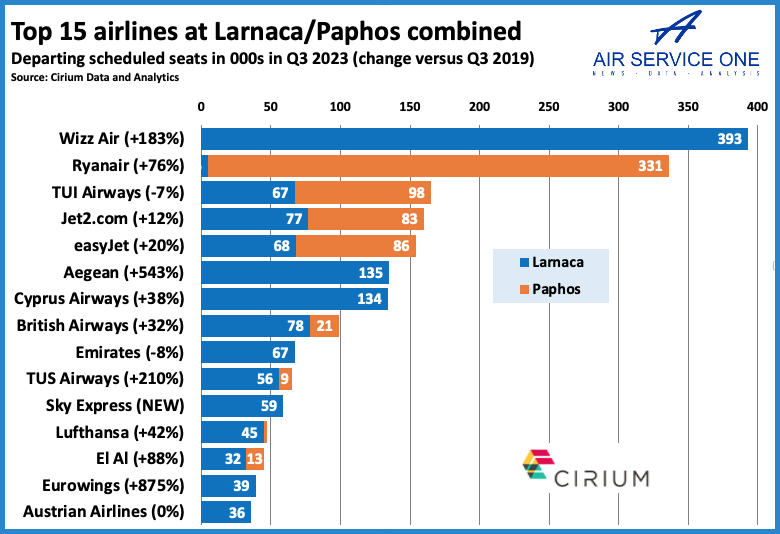 Ryanair's 41 Paphos routes
While Ryanair is no longer Cyprus' leading carrier by capacity, it is by the number of routes. It has 41 from Paphos, including four new for S23:
Warsaw WAW (31 March; weekly); supplementing Warsaw WMI
Bordeaux (1 April; 2-weekly); never served before
Toulouse (1 May; 2-weekly); never served before
Naples (2 May; 2-weekly); never served before
Tel Aviv is the leading route by available seats, followed by Thessaloniki, Amman, Budapest and London STN. At 3,670 kilometres, Paphos-Dublin is the carrier's sixth longest route network-wide. Excluding Ukraine and airports that have shut, Ryanair has ended 13 routes from the Cypriot airport.
UK extends lead as biggest market; Russia had big impact
Inevitably, the UK is by far the biggest source of tourists, with 1.21 million in 2022. Due to EU sanctions because of the Ukraine war, Russia had just 52,000 tourists in 2022 (at the start of the year before the war), down from 789,000 in 2019, when it was the second-largest market. It meant that Israel jumped to second place. It is notable that tourists from Poland more than doubled versus, while France was close behind.