Wizz Air launched Sarajevo base on 21 May with nine routes and 21 weekly departures; Stockholm already set to replace London route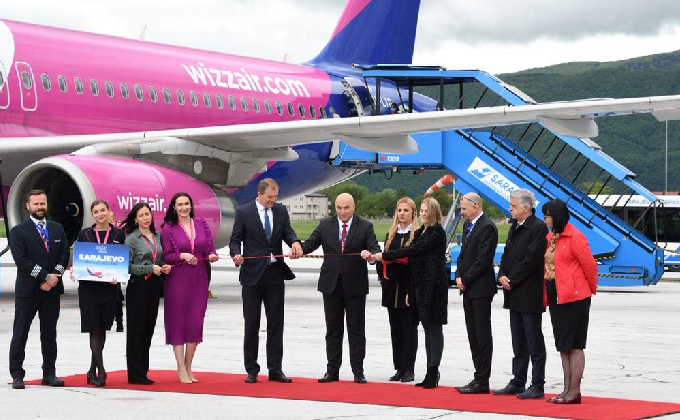 Sarajevo in Bosnia & Herzegovina last week became the latest airport in Europe to celebrate the launch of a Wizz Air base, when the ULCC stationed its first aircraft at the airport. On Thursday 20 May the airline launched service from Sarajevo to Dortmund and Memmingen in Germany, with Basel/Mulhouse service starting on 21 May, followed by Copenhagen (22 May), Eindhoven (23 May) and Gothenburg (23 May). Further new routes are set to begin in mid-June to Brussels CRL, London LTN and Paris BVA. Another new service is set to begin on 16 July to Stockholm NYO. However, this route appears to be replacing the yet to launch Luton service, which is only on sale until 12 July.
21 weekly departures on one aircraft
All routes are served 2-weekly, apart from Basel/Mulhouse, Copenhagen and Dortmund which will be served 3-weekly. Analysis of the airline's on-line booking tool for the first week in July, reveals how a single aircraft can be used to operate all 21 weekly departures. Each day the first flight departs at 06:10 and is back in Sarajevo by 23:00. Three rotations are performed each day.

Sarajevo traffic doubles in seven years
In 2019, Sarajevo handled 1.14 million passengers, with Turkish Airlines being the leading airline for scheduled seat capacity, ahead of Austrian Airlines and Pegasus Airlines. Demand had doubled since 2012 when just 580,000 passengers used the airport. In 2020, demand fell by 78% to just 250,000 passengers. Wizz Air already has a base in Bosnia & Herzegovina at Tuzla, located some 80 kilometres north-north-east of Sarajevo. Wizz Air's website shows it is still serving 15 destinations from Tuzla, including seven in Germany and four in Sweden. Routes served by Wizz Air from both Sarajevo and Tuzla are Basel/Mulhouse, Dortmund, Eindhoven, Gothenburg and Memmingen.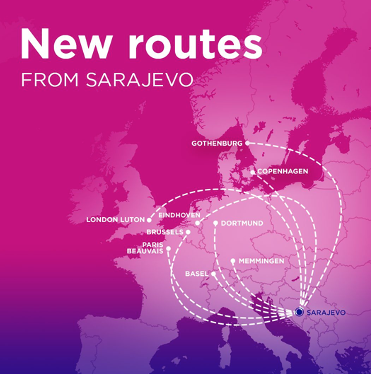 Banja Luka flights start in June
Wizz Air is set to start flying from a third airport in Bosnia & Herzegovina in early June, when it launches its first flights from Banja Luka in the north of the country, not far from the Croatian border. Between 3 June and 11 June the carrier is set to launch service to Basel/Mulhouse, Dortmund, Eindhoven, Malmö and Stockholm NYO, with all services planned to operate 2-weekly.