Wizz Air launches Cardiff base; six routes already operating, two more coming in June, one in W22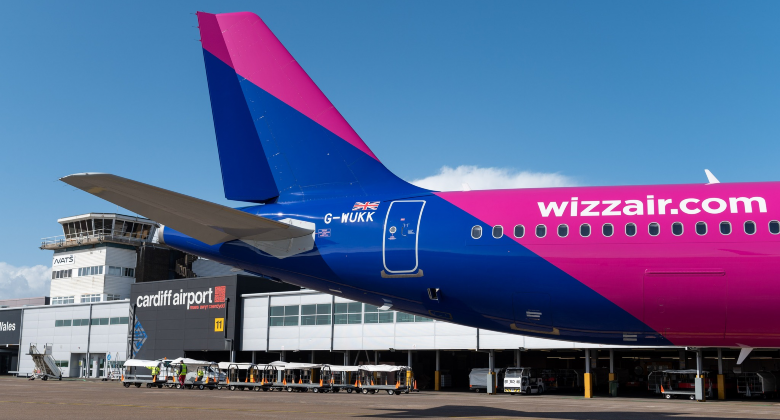 On Friday 8 April, Wizz Air finally opened its new base at Cardiff Airport in Wales. Originally set to open last summer, the launch was delayed due to the ongoing pandemic. Flights to Lanzarote and Tenerife TFS in the Canary Islands started on 8 April, followed by Alicante, Faro and Palma de Mallorca on Saturday 9 April. Yesterday, Sunday 10 April, saw the addition of service to Larnaca in Cyprus. This brings to six the number of destinations already served. All flights are operated by a single Airbus A321 (registration G-WUKK) based at the airport. The following highlights which flights operate on which days and the scheduled departure time from Cardiff:
Monday: Lanzarote (07:20), Tenerife (16:40)
Tuesday: Palma de Mallorca (06:05), Alicante (12:10), Faro (18:25)
Wednesday: Lanzarote (06:05), Tenerife (16:20)
Thursday: Larnaca (14:15)
Friday: Lanzarote (06:50), Tenerife (16:40)
Saturday: Palma de Mallorca (06:05), Alicante (12:10), Faro (18:25)
Sunday: Larnaca (14:15)
With three flights on Tuesdays and Saturdays the aircraft is scheduled to return to Wales at 00:25 the following morning.
Flights to Corfu (2-weekly on Thursdays and Sundays in the morning) and Heraklion (3-weekly on Mondays, Wednesdays and Fridays) are set to launch in mid-June, with service to Sharm El-Sheikh in Egypt beginning in November. Analysis of the airline's on-line booking tool indicates that the Heraklion service will replace the Lanzarote route, with the last bookable flight to Lanzarote currently being Friday 10 June.
Of the eight destinations served this summer from Cardiff, Wizz Air will face direct competition on all of them (weekly frequency shown in brackets) according to Cirium schedule data for August 2022:
Alicante: TUI Airways (2), Vueling (6)
Corfu: TUI Airways (2)
Faro: Ryanair (2)
Heraklion: TUI Airways (1)
Lanzarote: TUI Airways (2)
Larnaca: TUI Airways (1)
Palma de Mallorca: TUI Airways (6), Vueling (2)
Tenerife TFS: TUI Airways (3)
What they said
Spencer Birns, CEO at Cardiff Airport, said: "We're delighted to welcome the opening of the Wizz Air base today, as it marks a real turning point for the airport in its post-COVID-19 revival plans. Our customers in Wales have been asking for a more cost effective choice for many years. What makes this launch so exciting is that Wizz Air is an ultra low cost airline that will help build competition and offer improved choice to people living in Wales and the South West. This is because of Wizz Air's low fares – from as little as £12.99 one-way."
Marion Geoffroy, Managing Director of Wizz Air UK, said: "This is a very exciting time for Wizz Air in the UK, as we celebrate the opening of our highly anticipated base at Cardiff Airport. By bringing our new and efficient Airbus A321 aircraft to Cardiff, we are providing a significant boost to the Welsh economy and creating jobs. The base, which is our fourth in the UK, will bring further connectivity to the region, with passengers in Wales and the South West of England now able to take advantage of our ultra-low fares to "fly local" to their favourite getaways. We've been busy building our Cardiff team, and as we continue to recruit, we encourage those looking for their next adventure to apply today. We look forward to the upcoming summer season, as we welcome new passengers with affordable, direct flights to popular holiday destinations".