Wizz Air opens Venice Marco Polo base; will fly 21 routes but still lags well behind Ryanair and easyJet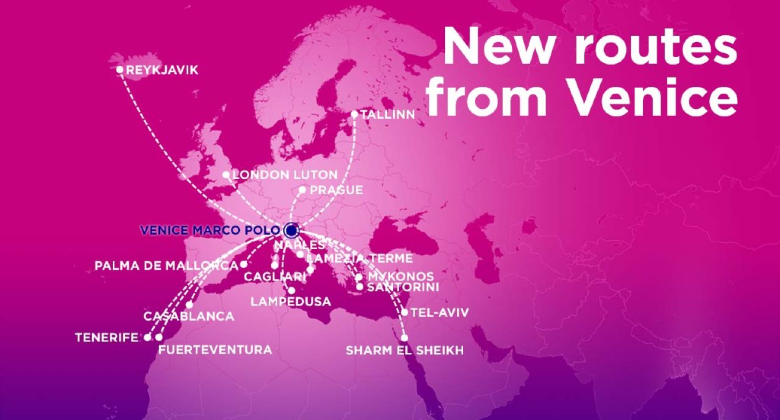 Wizz Air this week opened its latest base in Italy at Venice Marco Polo Airport. The carrier has been operating domestic routes to Bari, Catania, Naples and Palermo for several months, operated by aircraft based at other Italian airports. Now the carrier has started the first of some 17 new routes it plans to launch before the end of the year. These are:
Lamezia Terme, 2 March, 3-weekly
London LTN, 3 March, 4-weekly then 5-weekly from 28 March
Tallinn, 4 March, 2-weekly
Cagliari, 5 March, 2-weekly
London LGW, 27 March, 5-weekly
Prague, 28 March, 3-weekly
Reykjavik, 29 March, 2-weekly
Fuerteventura, 31 March, weekly
Tel Aviv, 13 April, 2-weekly
Casablanca, 2 May, 2-weekly
Olbia, 30 May, 5-weekly then daily from 4 July
Palma de Mallorca, 4 July, 2-weekly
Mykonos, 5 July, 3-weekly
Santorini, 5 July, 2-weekly
Lampedusa, 6 July, 2-weekly
Sharm El Sheikh, 1 November, 2-weekly
Tenerife TFS, 1 November, 3-weekly
Air Service One looked at how Wizz Air's network from Venice VCE compares with that of its low-cost rivals easyJet, Volotea and Ryanair in a story last October, when Ryanair and Wizz Air both announced the airport as a base on the same day. Somewhat surprisingly, given developments elsewhere across Europe, the two carriers are only competing head-to-head on three domestic routes; Cagliari, Catania and Naples.
Wizz Air competing with Volotea to be #3 in VCE
Analysis of Cirium data for this August shows that Ryanair will be by far the biggest airline at the airport, well ahead of easyJet. Some way behind are Volotea and Wizz Air. Volotea will operate almost 50% more flights than Wizz Air as it operates smaller members of the Airbus A320 family compared with its central European rival.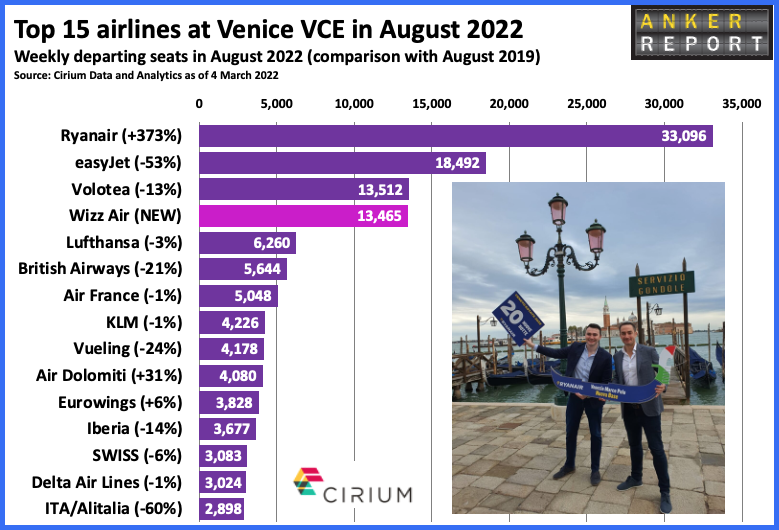 Back in August 2019, the leading airlines at Venice VCE (as measured by seat capacity) were easyJet (39,132 weekly departing seats), well ahead of Volotea (15,510), Alitalia (7,315), British Airways (7,162) and Ryanair (6,993). Alitalia's replacement, ITA Airways now barely scrapes into the top 15, having dropped its daily Catania service and cut frequency on the Rome FCO route from 6-daily to 3-daily.
The Catania route was also served by easyJet (13-weekly) and Volotea (13-weekly) in August 2019. This summer, Ryanair will connect the two airports with 21-weekly flights, Wizz Air with daily flights and Volotea with 4-weekly service. While the number of weekly flights has remained almost unchanged (32 now versus 33 then), seat capacity has increased by 30%.
Don't forget Treviso
When looking at the Venice market it is important to remember the role of Venice Treviso Airport. For many years this was one of Ryanair's busiest airports that was not a base (along with Paris Beauvais). That changed last June when Treviso became a designated Ryanair base. The airport had been shut for over a year after the pandemic struck, with all flights relocated to Venice Marco Polo to save money for the company that runs both airports.
According to Cirium data, Wizz Air was planning to operate 12 routes from Treviso this August, including four to destinations in Romania, three in Ukraine (Kiev IEV, Lviv and Odessa) and one in Russia (St. Petersburg). Somewhat optimistically, the Kiev route is still currently on sale from 27 March, Odessa from 12 April and Lviv from 7 July. However, the St. Petersburg route is no longer bookable.