Wizz Air set for 35% to 40% growth in Q2 versus 2019; Italy now #1 country market, Tirana #4 airport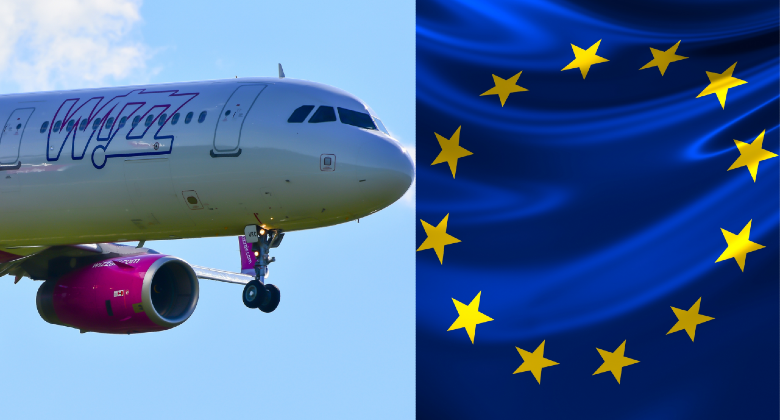 Among Europe's biggest airlines, none is planning to grow faster this summer than Wizz Air. Based on analysis of the latest schedule data submitted to Cirium, the ULCC is expecting to deliver between 35% and 40% more seat capacity across its network in 2022 Q2 than it did in 2019 Q2. Recent data from Eurocontrol shows that Wizz Air is now Europe's sixth busiest airline for flights, having overtaken KLM. However, in terms of flights in Europe, easyJet is still twice as big as Wizz Air and Ryanair offers four times as many flights.
Italy now #1 country market
Back in 2019 Q2, Wizz Air's leading country markets were (in size order) Poland, UK, Romania, Hungary, Italy and Germany. Since then, much has happened, and now Italy is by far the airline's leading country market with almost 70% more seat capacity that its closest rival, the UK. Hungary has now dropped from fourth to seventh, with Spain replacing it in the top six.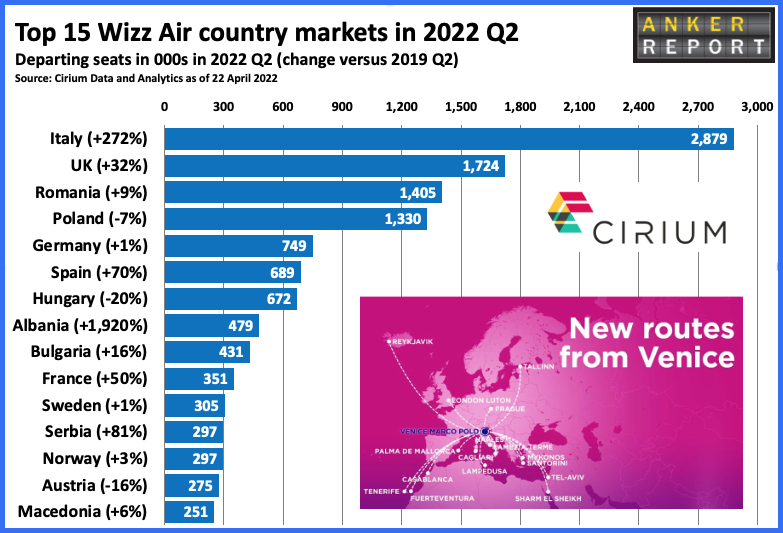 Within the top 15 the fastest growth in percentage terms has come in Albania, which is now Wizz Air's eighth largest country market. Other major markets showing above average growth are Serbia (+81%), Spain (+70%) and France (+50%). Countries not served in 2019 Q2 but that are now served by Wizz Air are Armenia, Bahrain, Egypt, Jordan, Oman, Sri Lanka and Turkey. In total Wizz Air plans to serve 50 countries in Q2. This includes Ukraine, though in reality it seems unlikely that Wizz Air will be operating scheduled services there before the end of June.
Two London airports in top eight
Looking at individual airports, London LTN is still way out in front, as it has been now for many years. However, in terms of seat capacity it is virtually unchanged in 2022 Q2 compared with 2019 Q2. Instead, Wizz Air's focus in London has been on expanding its presence at London LGW, which has seen sixfold growth in the last three years and now ranks as the airline's eighth busiest airport.
While the major Italian airports of Milan MXP and Rome FCO have both climbed into the top eight (as airlines including Wizz Air look to take advantage of the downsized Italian flag-carrier (formerly Alitalia, now ITA Airways), the biggest surprise is to see Tirana Airport now ranked as Wizz Air's fourth biggest.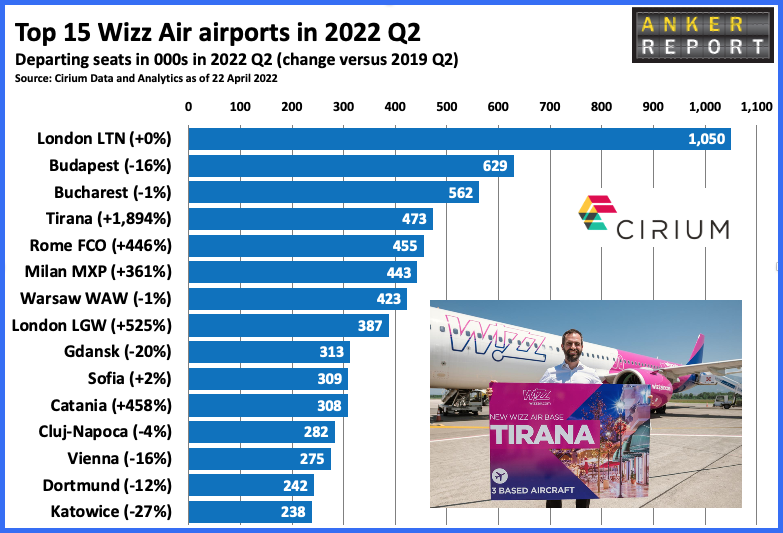 Among the airline's top 15 airports, four have seen capacity declines of more than 10%. These are Dortmund (-12%), Budapest (-16%), Vienna (-16%) and Katowice (-27%). In Budapest and Vienna, Wizz Air faces robust competition from Ryanair. Katowice, which was Wizz Air's first ever base when it launched in May 2004, only just makes it into the airline's current top 15 airports and is the third busiest Polish airport for Wizz Air after Warsaw WAW and Gdansk.
Since the second quarter of 2019, Wizz Air has added over 50 airports to its route network, probably more than any other airline in the world. Of these the biggest (by seats offered) are Abu Dhabi, Venice VCE, Milan LIN, Palermo, Berlin BER (replacing Berlin SXF), Bacau, Brindisi, Paris ORY and Cardiff.