Wizz Air waves farewell to Norwegian domestic market as Flyr gets ready to launch from end of June
Well it was an interesting experiment, but Wizz Air's attempt to shake up the Norwegian domestic market and make some money, has come to an end, as the airline ceased the last of its remaining routes this weekend (13 June). With Norwegian's future apparently uncertain at the end of last year, and 'only' SAS for competition on most of the trunk route, Wizz Air clearly felt that there was a market ripe for its business model. However, negative PR in Norway with regard to its attitude to unions, the survival of Norwegian and the emergence of Flyr have all conspired to change the Norwegian landscape in the last few months.
First flights were last November
Wizz Air's first Norwegian domestic flights began on 2 November between Oslo and Bergen, Tromsø and Trondheim. Three more domestic routes launched from Oslo before the end of November, followed by four more in December. In addition five other domestic routes were launched not involving Oslo.
The following is believed to be the dates of operation of each of the 15 domestic routes operated:
Oslo – Bergen: 2 Nov 2020 to 13 Jun 21
Oslo – Tromsø: 2 Nov 2020 to 13 Jun 21
Oslo – Trondheim: 2 Nov 2020 to 13 Jun 21
Oslo – Aalesund: 27 Nov 2020 to 22 Jan 21
Oslo – Bodø: 27 Nov 2020 to 05 Apr 21
Oslo – Stavanger: 27 Nov 2020 to 13 Jun 21
Oslo – Haugesund: 4 Dec 2020 to 10 Jan 21
Tromsø – Stavanger: 4 Dec 2020 to 11 Apr 21
Trondheim – Stavanger: 4 Dec 2020 to 6 Apr 21
Trondheim – Tromsø: 6 Dec 2020 to 5 Apr 21
Oslo – Harstad/Narvik: 11 Dec 2020 to 25 Apr 21
Oslo – Kirkenes: 15 Dec 2020 to 12 Jan 21
Oslo – Alta: 18 Dec 2020 to 24 Jan 21
Trondheim – Bodø: 5 Dec 2021 to 5 Jan 21
Tromsø – Bodø: 5 Dec 21 to 5 Dec 21 (just 1 flight!)
Analysis of operations data provided by Cirium Data and Analytics reveals that the Oslo-Bergen route operated 171 times up to the end of May, while the Tromsø-Bodø route appears to have operated just once.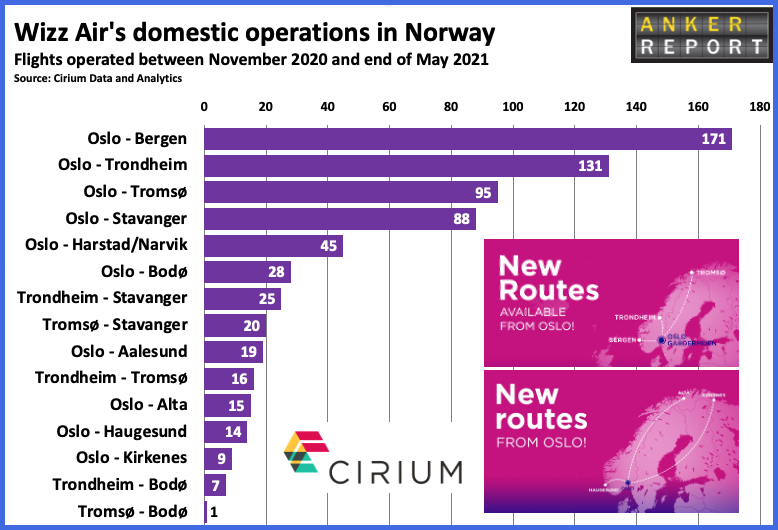 Flyr to start domestic routes from 30 June
Flyr will begin service on 30 June between Oslo and Tromsø. Bodø and Harstad/Narvik flights are set to follow on 1 July followed by Bergen and Trondheim (both from 16 August). All domestic routes will be served at least daily with Trondheim and Tromsø set to be served 3-daily on weekdays and Bergen 5 -daily on weekdays, when operations really get going from mid-August. However, by then SAS and Norwegian may have increased their weekly flights depending on demand.