Wizz Air's significant growth focussed on Italy; Albania and Greece also growing fast; Luton still #1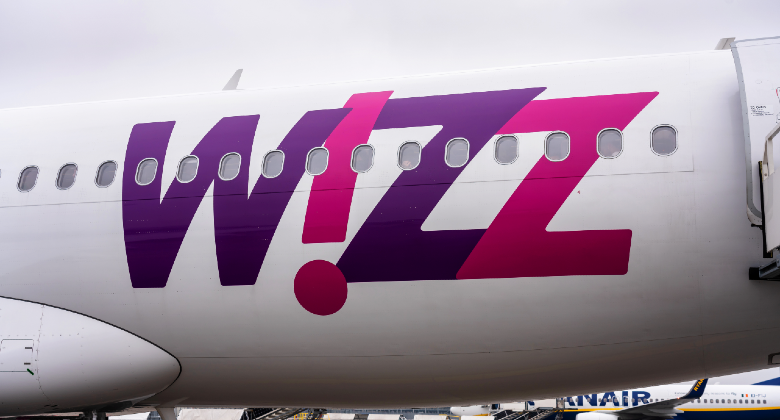 Wizz Air has arguably been the most proactive airline anywhere in the world when it came to network development since the start of the pandemic. According to Cirium schedule data for July 2022, it is currently offering 33% more monthly seats than it did in pre-pandemic July 2019. However, due to the evolution of its fleet towards more of the larger A321s, its increase in flights has been lower at 'just' 24%. Eurocontrol pretty much confirms this, showing the airline operating around 20% more flights in the first three weeks of July compared with three years ago. So where has this growth been focussed?
Italy now also Wizz Air's leading country market
Last week's analysis of Ryanair revealed how Italy had now overtaken Spain to becomes the ULCC's leading country market. For Wizz Air the change has been even more dramatic. Italy has jumped from fifth in 2019 (behind Poland, UK, Romania and Hungary) to first, thanks to increasing its seat capacity in the country by over 250%. It is now offering 70% more seats from Italian airports than it does from UK airports. Of the extra 1.34 million monthly seats that Wizz Air is offering this month compared with June 2019, over 750,000 of those are from Italian airports.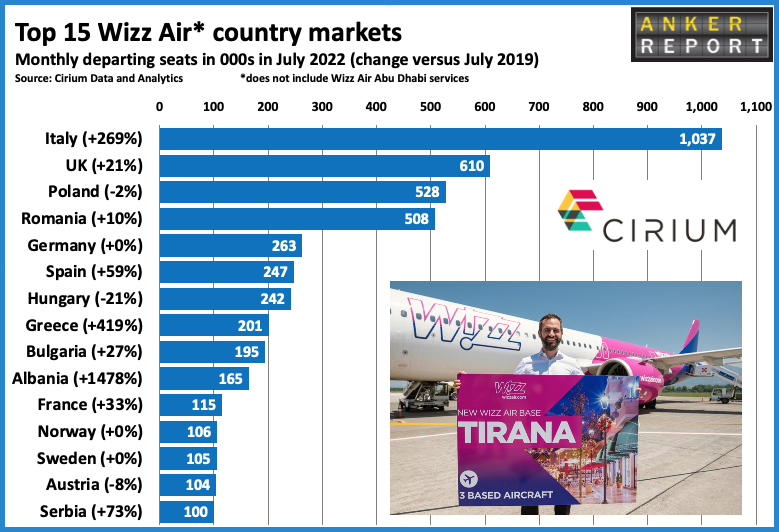 The next biggest increase in seats is in Greece (an extra 160,000), Albania (an extra 150,000), the UK (an extra 100,000) and Spain (an extra 90,000). With the notable exception of Albania, these fastest-growing markets are all in western Europe, rather than the carrier's original heartland of Central and Eastern Europe.
While there has been impressive growth in many of the airline's biggest country markets, it is also revealing to see where it has not increased capacity. Among the top 15 country markets, capacity has been reduced in Hungary (down 21%), Austria (down 8%) and Poland (down 2%). In Germany, Norway and Sweden, capacity has basically remained unchanged.
Italian domestic market now #1
Historically, Wizz Air hardly operated any domestic routes. Now, thanks to its rapid growth in Italy (while Alitalia was closed down and reborn as much smaller ITA Airways), the Italian domestic market (Italy-Italy) is the airline's leading country-pair. Back in July 2019, the airline's biggest country pair was UK-Poland, which has now slipped to fourth, with capacity declining by 15%. How much of this can be attributed to Brexit is hard to say.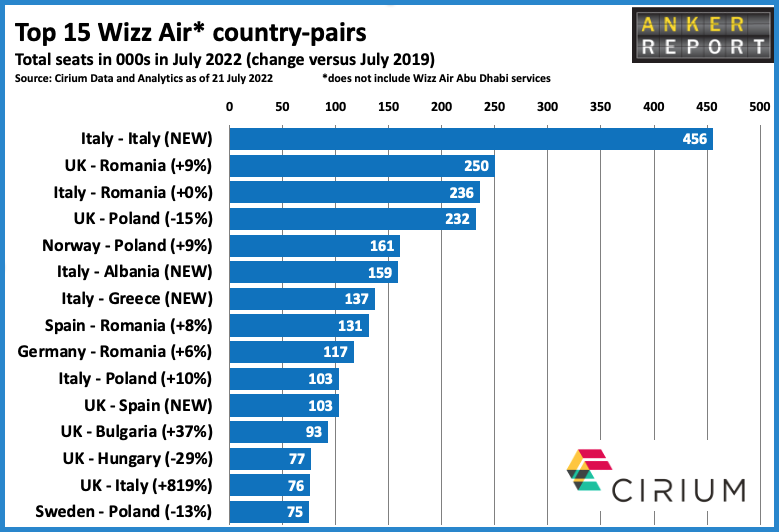 Other new country-pairs in the top 15 include Italy-Albania (6th), Italy-Greece (7th) and UK-Spain (11th). Interestingly, most of the pre-existing top 15 country-pair markets have seen relatively little growth, while some have even seen a decline. Apart from UK-Poland, capacity is also down between UK and Hungary, and between Sweden and Poland.
London Luton still #1 airport
At an airport level, London LTN remains Wizz Air's biggest airport, although capacity is down 3% compared with July 2019. It is over 50% bigger than the airline's next busiest base at Budapest in Hungary, where capacity is down almost 20%. Among the top 20 Wizz Air airports, four are now in Italy (shown in red), with Milan MXP fourth and Rome FCO in fifth. Three airports are in Poland, while Romania and the UK both have two airports in the top 20. The remaining nine airports are all in different countries.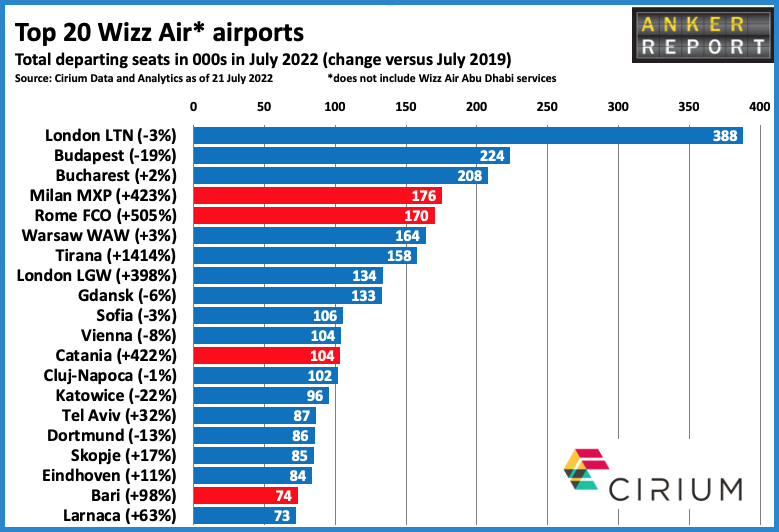 Seven of the top 20 airports have seen capacity increases of more than 50%. These are Tirana (+1414%), Rome FCO (+505%), Milan MXP (+423%), Catania (+422%), London LGW (+398%), Bari (+98%) and Larnaca (+63%). This July, Wizz Air (not including the Abu Dhabi subsidiary which has its own AOC and IATA code – 5W) is serving almost 180 airports. The five biggest 'new' airports, which were not served in July 2019, are Venice VCE, Olbia, Santorini, Palermo and Mykonos.
Among the airports no longer served are three in Ukraine (Kharkiv, Kiev KBP and Lviv) and two in Russia (Moscow VKO and St. Petersburg). Other airports no longer welcoming Wizz Air aircraft are Bodø, Bordeaux, Frankfurt FRA, Glasgow GLA and Hannover. In addition, Berlin flights have moved from Schönefeld to the new airport, Berlin BER.