Yerevan passenger traffic grows hugely; has welcomed multiple new airlines; now 60+ destinations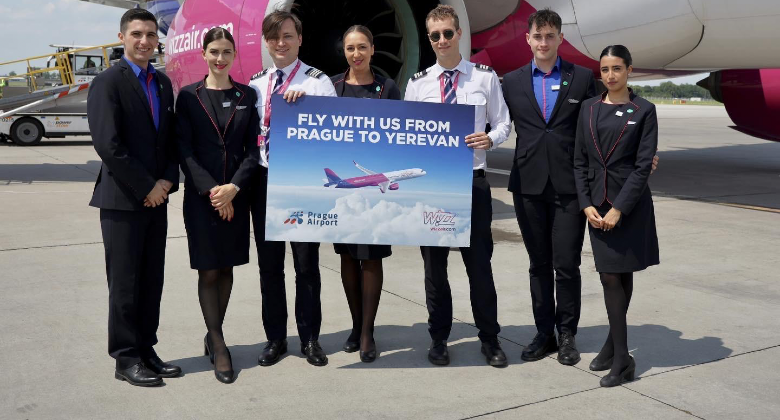 The capital of Armenia, Yerevan recorded 3.65 million passengers in 2022, as the following figure shows. It exceeded its previous best year – 2019 – by an considerable 19.7%. More than this, traffic in the first five months of 2023 totalled 1.85 million – 83.3% more than its previous best January-May, achieved last year. The growth is mainly because of new carriers FlyOne Armenia and FlyArna, but also the arrival of others, such as Cyprus Airways, Eurowings and Pegasus.
Yerevan expects to smash its passenger record in 2023. Helped not just by these two local operators but also by the arrival of various foreign carriers. These include airBaltic from Riga (launched 17 May; 2-weekly) and charter flights by Sri Lanka's FitsAir (20 October; frequency unknown), along with by far the biggest summer yet for Wizz Air.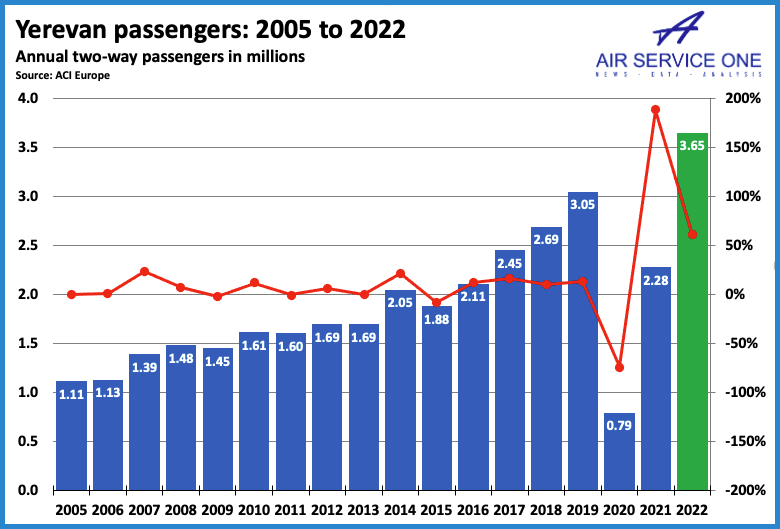 FlyOne is Yerevan's leading carrier
Despite only launching operations in December 2021, FlyOne Armenia is already the airport's largest carrier. According to Planespotters.net, it has four A319s/A320s. It appears to have 19 non-stop routes this July-September, including Novosibirisk (started 4 May, 3-weekly), Düsseldorf (18 May; 2-weekly), Larnaca (28 May; 3-weekly), Tehran IKA (6 June; 2-weekly), Tivat (27 June; 2-weekly) and Marsa Alam (3 July; weekly).
FlyArna, part of the Air Arabia Group, took off in June 2022, and is now the fourth-largest operator. Based on what was said during its formation, it is the national flag carrier – whatever that is worth nowadays – rather than Armenia Airways. According to its website, FlyArna has nine routes this July-September, including Moscow VKO (begins 8 July, 4-weekly) and Tehran IKA (11 July; 2-weekly).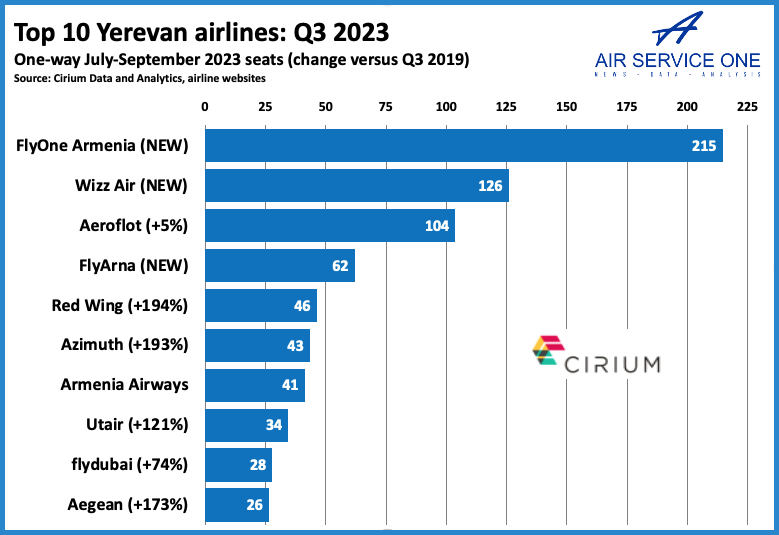 Wizz Air is the second largest operator
Having launched Yerevan in March 2020 from Vilnius and Vienna, Wizz Air is already the airport's second-largest carrier. Of course, this is largely because no other operator is big. It has nine routes this July-September: Abu Dhabi, Dortmund, Larnaca, Milan MXP, Prague, Rome FCO, Sofia, Venice VCE and Vienna. The most recently launched was Prague, on 26 June (2-weekly).
Interestingly, fellow ULCC Ryanair started in two months earlier, in January 2020, strangely among Yerevan's least-demanded months. Cirium schedules information data shows that Ryanair had five routes: Berlin SXF (closed), Milan BGY, Paphos, Rome CIA and Thessaloniki. However, it did not last long, at least partially because of the pandemic.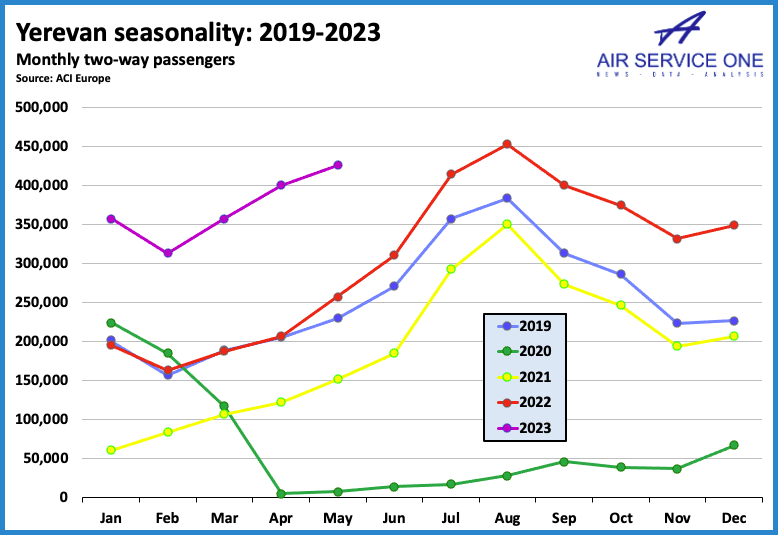 60+ destinations; Moscow VKO is number one
Yerevan has non-stop flights to more than 60 destinations in July-September, with Russia obviously vitally important. An estimated 25 airports in Russia are served, with the country a key source of capacity – with about 48% more seats for sale than in 2019.
Moscow VKO is the number one destination – seven carriers serve it – with the three main Moscow airports filling the top three spots. However, available capacity has shifted away from SVO/DME to VKO. A fourth Moscow-area airport, Zhukovsky, is also served. Approximately 30% of Yerevan's seats are to the Russian capital.
Notice that Chișinău and Larnaca were not served in Q3 2019 yet are surprisingly now among Yerevan's leading destinations. After an eight-year absence, Larnaca returned in 2020 because of Wizz Air, and was joined by Cyprus Airways in 2022 and FlyOne Armenia in 2023. Now the trio have 18-weekly flights: Wizz Air 11-weekly, Cyprus Airways 4-weekly and FlyOne 3-weekly.