Zadar July-August traffic nearly doubled vs. 2019, by far Croatia's fastest growing airport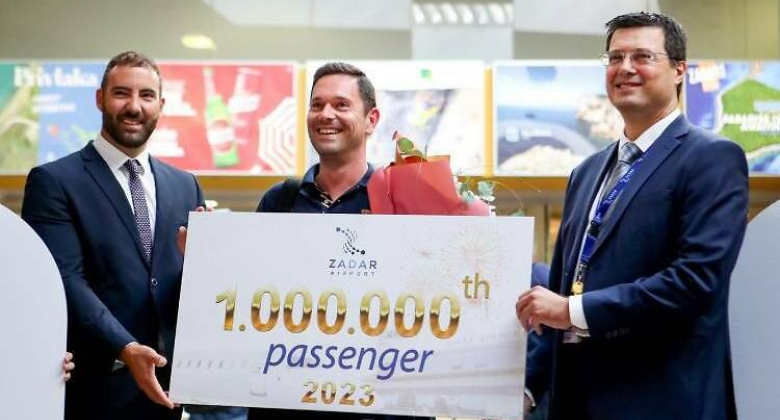 Zadar is located on the Croatian coast nearly equidistant between Split and Rijeka. The country's fifth most populous city at the municipal level, data collected by European Airport Traffic Statistics (EATS) shows that Zadar welcomed 582,000 passengers in the peak summer months of July and August 2023. (August was the airport's best month to date.)
In all, passengers in these two months were 22% higher than in 2022 – the previous record – and nearly double (+95%) versus 2019. Zadar is by far the best recovered of Croatia's airports. It greeted its one millionth passenger of the year on 8 September, a month earlier than last year and more than the total full year 2019 traffic.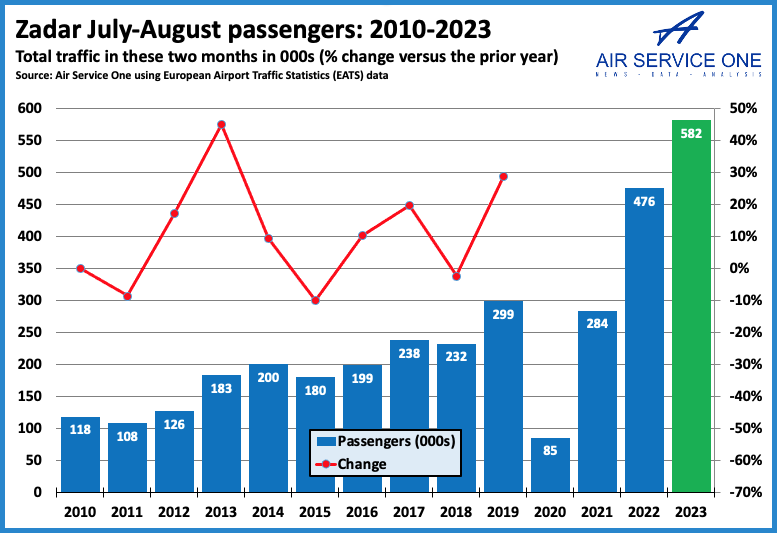 Ryanair provides nearly eight in ten seats
Using Cirium information data to examine Zadar's August schedules reveals that Ryanair accounted for more than three quarters of the airport's available seats (77%). It was 11 times bigger than the second-largest operator, easyJet. Indeed, when all (U)LCCs are combined, they accounted for 89% of Zadar's capacity, against 58% for the whole of Croatia.
Ryanair accounts for Zadar's huge traffic growth. Departing seats rose from about 39,000 in August 2019 to 128,000 four years later (double for total capacity). Zadar's expansion is even more striking given it has lost multiple carriers since 2019, including Chair (2019), Corendon (2019), Iberia Express (2019), Norwegian (2019), Vueling (2019), Fly One (2020), Flyr (ceased to exist; 2022), Lübeck Air (2022), TUI fly (2022), and more.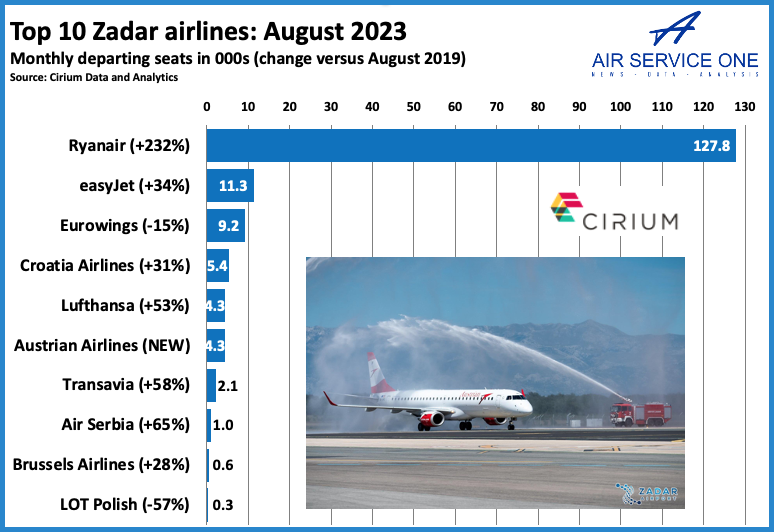 Ryanair's base reopened in 2021
Zadar has been part of Ryanair's network since April 2007, when it was the second Croatia airport (after Pula) to join its portfolio. Zadar first became a base in summer 2013, only for it to close. It reopened in summer 2021 with two based aircraft. Given how extremely summer-seasonal Zadar obviously is, as shown below, Ryanair's base is also only open in the summer.
Ryanair had 47 Zadar routes in 16 countries in August 2023, with Milan BGY and Vienna the most served, each with a daily service. The ULCC's network rose from 21 routes from 10 nations in 2019. Three routes started in 2023:  Rzeszów (2 June; 2-weekly), Münster Osnabrück (3 June; 2-weekly); and Milan MXP (4 June; 3-weekly).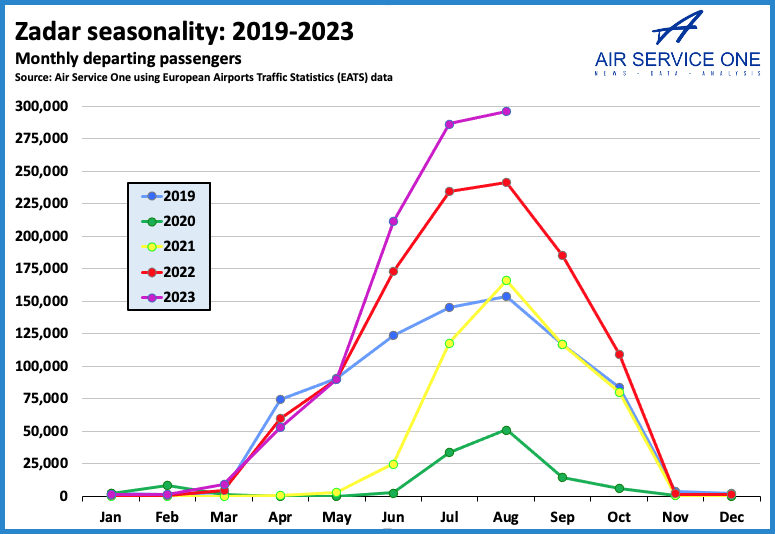 60+ airports with Zadar flights
When all airlines are considered, more than 60 airports across Europe had flights to Zadar in August. They include LOT Polish from Zielona Góra (11 June 2023; weekly), AeroItalia from Forli (24 June 2023; weekly) and SAS from Copenhagen (8 July 2023; weekly). Yet it is Vienna, just 455 kilometres away, that was the most served, both by Ryanair (daily; see above) and Austrian (daily). The latter launched its first Zadar flights in summer 2020.