Zagreb welcomes Ryanair base; traffic grew 200% between 2000 and 2019; Croatia Airlines still #1 with Germany leading country market
Croatia joined the EU in July 2013, but unlike most of its Central European neighbours it did not see a massive increase in air travel demand straight away. Yes, demand grew by between 5% and 10% at Zagreb airport in 2014, 2015 and 2016, but other countries, such as the Czech Republic, Hungary and Poland, had experienced much faster growth in air travel on joining the EU.
Zagreb traffic trebled in 19 years
Croatia's busiest airport in 2019 was Zagreb with 3.44 million passengers. Between 2000 and 2019 traffic basically trebled representing an average annual growth rate of just under 6%. Rapid growth in 2006 and 2007 stalled after the global economic downturn with minimal growth between 2008 and 2013.
Although the airport serving the Croatian capital is the country's busiest, the coastal airports of Split (3.30m) and Dubrovnik (2.90m) were not far behind. During the summer months these airports are actually considerably busier than Zagreb, with Split handling almost twice as many passengers as Zagreb in July 2019.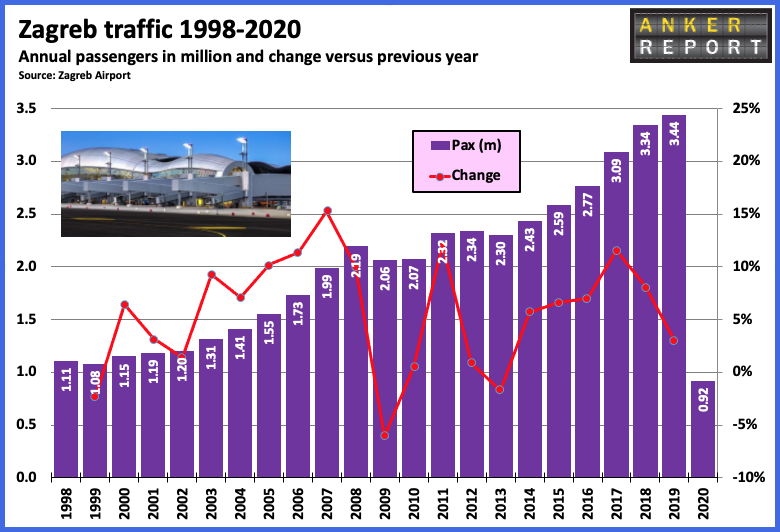 Zagreb's seasonality is less extreme. However, pre-pandemic the peak summer months saw the airport handle over 350,000 passengers, while in January and February that number was below 200,000. The latest figures for August 2021 show the airport welcoming 195,000 passengers. That is just over twice as many as last summer but only half as many as in 2019.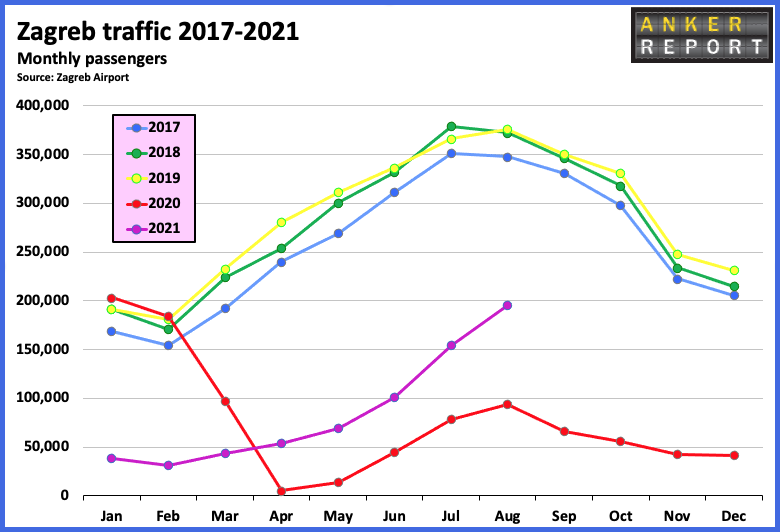 Many flag-carriers present
Croatia Airlines is Zagreb's leading carrier, accounting for over 50% of flights this September and just over 40% of seat capacity. Next comes Ryanair with 15% of flights but 23% of seats. Ryanair's average aircraft size is much larger than that of Croatia Airlines.
Zagreb is served by many of Europe's flag carriers including Aeroflot, Air France, Air Serbia, Austrian Airlines, British Airways, Iberia, KLM, LOT Polish Airlines, Lufthansa, TAP Portugal and Turkish Airlines. In addition Qatar Airways is also present, offering 3-weekly service to Doha with its A320s.
Apart from Ryanair, the only other LCCs currently serving Zagreb are Eurowings (with flights from Cologne Bonn, Düsseldorf and Stuttgart) and Vueling, which operates a weekly service from Barcelona.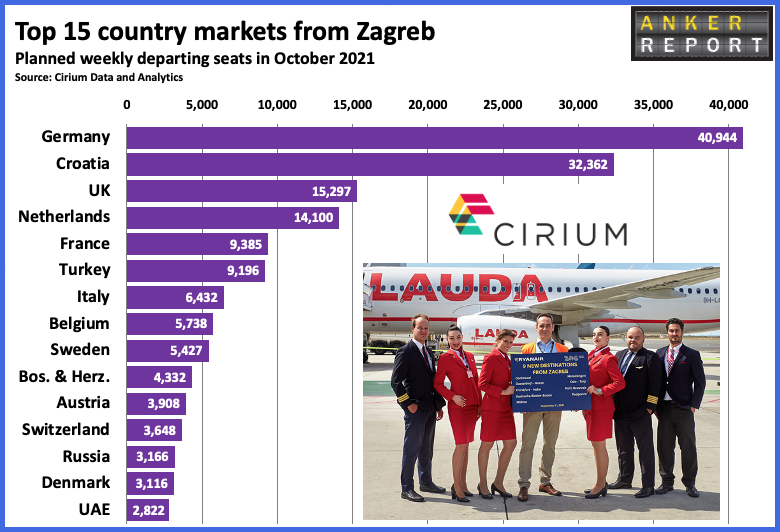 Croatia Airlines shrinks network
The national carrier currently operates a fleet of 13 aircraft according to planespotters.net, comprising two A320s, five A319s and six Q400s, with an estimated average age of around 17 years. According to Cirium Data and Analytics the airline is currently serving 16 destinations non-stop from Zagreb compared with 27 in the summer of 2019. The destinations no longer served by Croatia Airlines are Barcelona, Bucharest, Helsinki, Lisbon, Milan MXP, Mostar, Oslo, Podgorica, Prague, St. Petersburg and Stockholm ARN.
Ryanair base opened in July
Ryanair, which opened its Zagreb base in July, added nine additional routes in early September. Oslo TRF flights began on 1 September, with Karlsruhe/Baden- Baden and Paris BVA flights beginning the following day. On 3 September there were new services to three destinations in Germany; Dortmund, Frankfurt HHN and Memmingen, while connections to Malmö (Sweden), Podgorica (Montenegro) and Weeze (Germany) began on Saturday 4 September. None of these nine routes face direct competition.
Ryanair's maiden flight to Zagreb started on 2 June this year (from Brussels CRL), followed by Milan BGY (17 June), then Gothenburg, London STN and Rome CIA (all on 23 July) and Sofia (3 August). In December, a further nine new services are currently scheduled to start. The destinations starting then are Basel, Dublin, Eindhoven, Malaga, Malta, Manchester, Naples, Paphos and Thessaloniki. As a result, Ryanair currently has flights to 24 destinations to/from Zagreb on sale.
Ryanair is using two ex-Lauda A320s to operate its new Zagreb routes. The aircraft are registered 9H-LOW and 9H-IHH. Both are configured with 180 seats, nine fewer than Ryanair offers on its 737-800s.