Zurich had 22 million passengers in 2022; SWISS & Edelweiss have 60% of capacity; LCCs have just 7%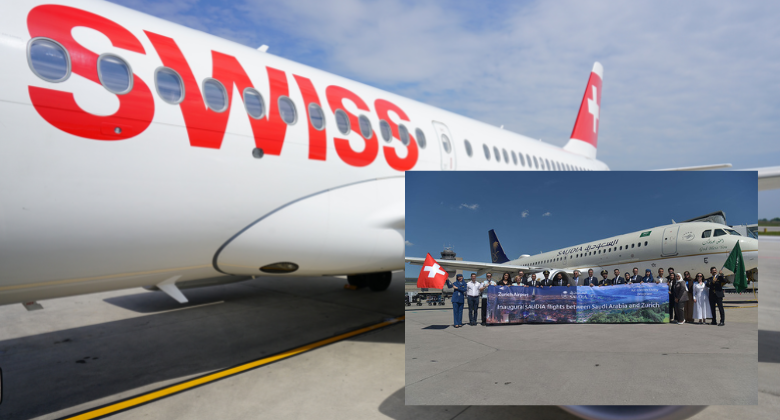 Despite passenger traffic growing by three-quarters between 2005 and 2019, few of Europe's busier airports remain as affected by the pandemic as Zurich. It welcomed 22.6 million passengers last year, down by 28% versus 2019 and the lowest level (excluding 2020/2021) since 2009, according to the airport's own figures. Zurich's recovery has not been helped by a relative lack of LCCs to help stimulate the recovery. However, it has gained eight additional airlines recently, including Brussels Airlines, Ethiopian Airlines and Saudia.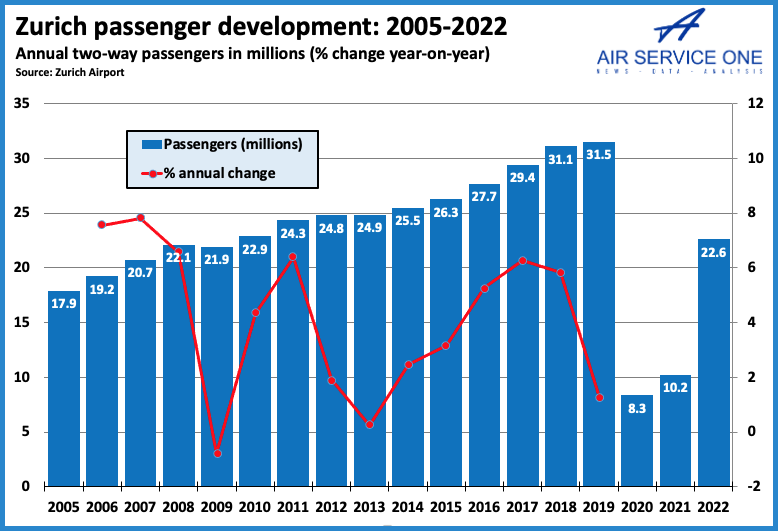 SWISS and Edelweiss have 60% of capacity
This summer, SWISS and holiday and leisure unit Edelweiss together have 7.3 million of Zurich's 12.1 million one-way seats – 60% of the total. Edelweiss has 85 summer routes, while SWISS has 86. Yet the pair tell a contrasting story. While Edelweiss's S23 network has risen from 66 in S19, SWISS has reduced from 93 (excluding Russia and Ukraine). This helps to explain SWISS's capacity decline (-13%) and Edelweiss' growth (+21%) in the following figure.
Zurich doesn't have any ULCCs, but it does have some LCCs. Of these, Eurowings is its sixth biggest airline by seats this summer (five routes), easyJet is ninth (seven routes, including Naples which starts on 29 May) while Vueling is 11th (six routes, including Bilbao, which replaces SWISS and launches on 1 July). Of the trio, only Vueling has grown; the others have sharply reduced in size. This mainly accounts for why LCCs have just 7% of Zurich's capacity, although the airport has rarely exceeded that level.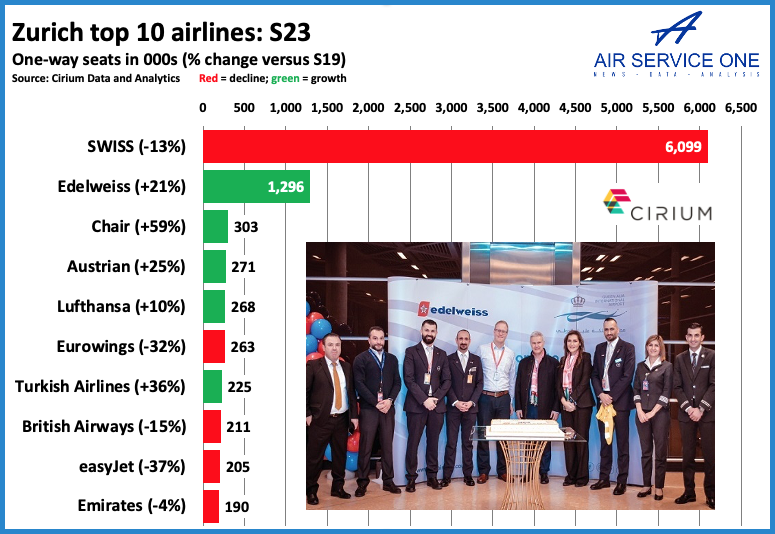 Third ranked Chair (IATA code GM, formerly Germania Flug) is a local carrier with a fleet of four A320-series aircraft, of which three are currently active according to planespotters.net. The airline's website shows it offering flights to 14 destinations in six countries. Spain leads the way with five routes (Fuerteventura, Gran Canaria, Ibiza, Palma de Mallorca and Tenerife TFS) followed by Greece with three routes. Egypt and North Macedonia have two each, with Larnaca in Cyprus and Pristina in Kosovo being the remaining routes.
SWISS's Zurich network changes
Analysis of SWISS's 86 summer routes using Cirium schedules data tells that 64 are in Europe, eight in North America, seven in Asia, three in the Middle East, and two each in Africa and South America. In comparison to S19, its Europe operation has suffered most, down as it is from 69.
Some 12 European routes have ended (or not resumed) since 2019: Bari (replaced by Edelweiss), Bergen, Bilbao (replaced by Vueling), Bremen, Cork, Figari, Heringsdorf, Leipzig, Lugano, Nis, Santiago, Vienna and Zagreb. However, it has since introduced seven: Billund (launched in July 2021), Bologna (March 2022), Bristol (February 2023), Nantes (March 2022), Sofia (March 2022), Tallinn (July 2021) and Vilnius (March 2022).
SWISS's Africa network has reduced by half (no more Dar es Salaam or Nairobi), while Asia has fallen from eight to seven routes (no Beijing). In the Middle East, it has added Beirut (December 2021), replacing Muscat (now with Edelweiss). Its North American routes remain intact and South America saw the return of Buenos Aires in S21 after 17 years.
London LHR is the number one destination
Cirium indicates that Zurich has 197 destinations this summer, including regular flights to Chisinau for the first time. The 197 are in 72 countries. Inevitably, Germany is Zurich's leading country market, and Berlin, Frankfurt and Hamburg are all within its top 10 routes, as in the following figure. However, London LHR is Zurich's top route. There are 427,000 one-way seats and 75 flights in the first week of August, even exceeding perennially popular Palma. SWISS has 49 weekly Heathrow flights and British Airways 26.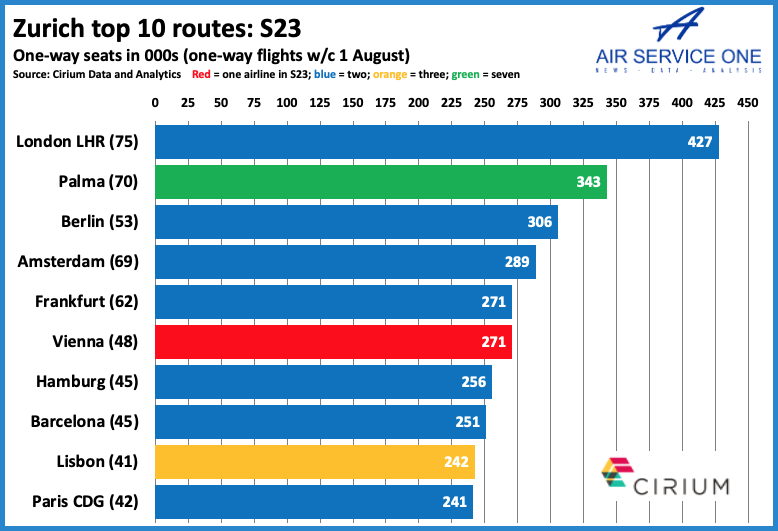 Eight airlines have added Zurich since last year
The following carriers joined Zurich's portfolio in 2022 and will continue operating this summer. The most significant are Ethiopian Airlines – the only sub-Sahara African airline to serve Zurich – and Saudia. Three more airlines will begin or resume this summer:
14 May 2022: Blue Islands, Jersey (1-weekly in S23); last served in 2015
1 July 2022: SkyAlps, Bolzano (2)
2 July 2022: Air Corsica, Ajaccio (1)
3 August 2022: Saudia, Riyadh (3)
31 October 2022: Ethiopian Airlines, Addis Ababa (4; via Milan MXP)
27 March 2023: Brussels Airlines, Brussels (7); last had mainline Sabena in 1996
4 May 2023: Cyprus Airways, Larnaca (2); last served in 2020
25 June 2023: FlyOne, Chisinau (2)
In addition, German leisure airline Condor began serving multiple holiday destinations in Greece, Italy and Spain in July 2021. This summer it is offering flights to six destinations (Heraklion, Ibiza, Kos, Larnaca, Palma de Mallorca and Rhodes) between May and September.
According to Cirium data, airlines that were present in 2019 with at least 50 flights from the airport, that are not offering flights in 2023 are Adria Airways, Aeroflot, Air China, Hainan Airlines, Montenegro Airlines, Onur Air, Royal Air Maroc, Sichuan Airlines, Tunisair and Ukraine International.