New Route of the Day (18 July 2023): Qatar Airways between Doha and Toulouse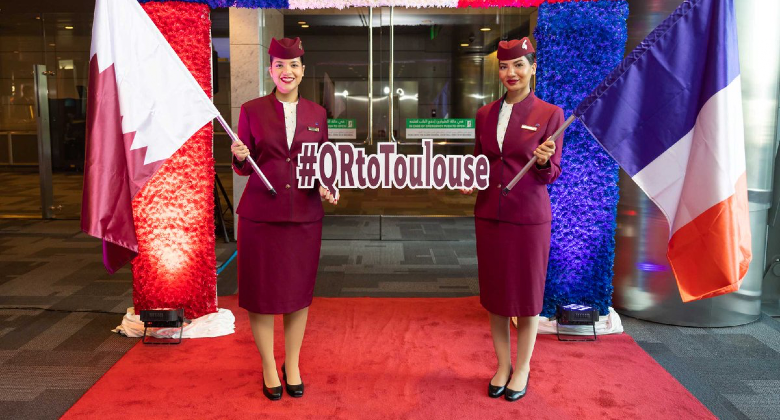 Qatar Airways inaugurated flights between Doha and Toulouse on Tuesday 18 July, marking the airline's latest efforts to expand its network in France. The 4,955-kilometre service will be maintained 3-weekly on Tuesdays, Thursdays and Sundays, with the 260-seat A330-300 aircraft. The oneworld member faces no competition on the route.
Flight QR47 departs Doha at 08:25 local time, arriving in Toulouse at 14:40 local time. The return service, operating as flight QR48, takes off from the French city at 16:10 local time, arriving in the Qatari capital at 23:55 local time.
What they said
Akbar al Baker, CEO of the Qatar Airways Group, said: "Qatar Airways' expanded footprint into France will serve to strengthen the trade, tourism and commercial links between our two countries and, of course, set the stage for future opportunities. Our new routes such as Toulouse, Nice and Lyon consolidate Qatar Airways' position as one of the leading carriers in France in terms of destinations."
Philippe Crebassa, Chairman of the Board of Toulouse Airport, added, "The opening of this route to Doha today is a proud moment for Toulouse-Blagnac Airport. We are delighted that Qatar Airways, one of the best airlines in the world, has chosen Toulouse to accelerate its development. Travellers from the south-west of France now have a direct route to the Middle East. The Doha hub will facilitate connections with Asia, Africa and Oceania for our French and international customers. This opening also creates new opportunities for international air freight transport from Toulouse. I would like to thank all the tourism promotion and economic development institutions in Toulouse and the Occitanie region that have worked with us on this project."
Qatar Airways now serves four destinations in France
The addition of Toulouse to Qatar Airways' network has increased its presence in France to four destinations. The carrier maintains 21-weekly flights from Doha to Paris CDG, as well as four weekly flights each to Nice and Lyon, the latter having been inaugurated earlier this July. As a result, the airline offers 32-weekly departing flights from Doha to France, with 10,839 seats available each way. Most of that capacity is to Paris with 8,027 seats available each week from Doha, with Qatar Airways operating a mix of A380, A350 and 777 aircraft on the route.
Qatar Airways only Middle Eastern carrier to serve Toulouse
Qatar Airways is the only airline from the Gulf, as well as the wider Middle East to serve Toulouse. The last time the French city boasted scheduled non-stop services to the region was in 2015 when Israir maintained flights from Tel Aviv.
Qatar Airways has 1,880 departing passenger flights each week from its Doha hub in August, based on Cirium schedules information. Some 522 are to Europe, making it the airline's second-largest region behind Asia-Pacific. Europe accounts for just over one in four flights (27.8%), down by almost nine percentage points versus August 2019. Europe remains by far Qatar Airways' least-recovered region, with flights a fifth lower than they were.