Eurowings Discover set to exert pressure on Condor at Frankfurt; 21 aircraft planned by mid-2022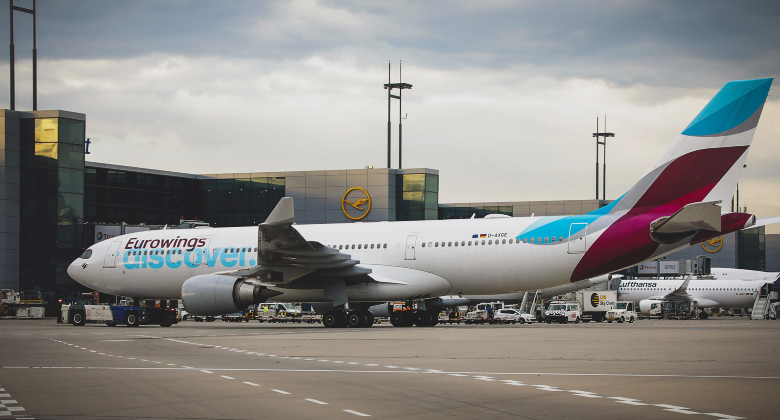 Germany's Luthansa Group already has a wholly-owned, lower-cost subsidiary, Eurowings (IATA code EW). It even used the airline prior to the pandemic to launch long-haul services from Frankfurt. Cirium Data and Analytics shows that in late October 2019, Eurowings was offering flights from Frankfurt to Barbados, Las Vegas, Mauritius and Windhoek in Namibia. So why exactly Lufthansa Group has decided to create a separate airline called Eurowings Discover (IATA code 4Y) is not entirely clear. Sceptics might consider the airline's code a good question, for why indeed?
First flight on 24 July to Africa; almost 20 routes by next summer
The airline's first route, a 2-weekly service from
Frankfurt to Zanzibar via Mombasa, launched on Saturday 24 July
using an A330. Further new routes from the airline's Frankfurt base are set to be added before the end of the summer season including Punta Cana (3-weekly from 9 August), Windhoek (5-weekly from 10 August), Las Vegas (3-weekly from 30 September) and Mauritius (3-weekly from 1 October). The start of the winter season (at the end of October) should see the airline add additional connections to Bridgetown (Barbados), Montego Bay (Jamaica) and Varadero (Cuba). In addition to the long-haul routes, the airline also plans to serve destinations in the Canary Islands, Egypt and Morocco. The beginning of the summer 2022 season will, hopefully, see Cancun, Fort Myers and Victoria Falls in Zimbabwe added to the network, while Calgary and Salt Lake City are currently expected to become options in May 2022. Flights to Anchorage, Halifax and Kilimanjaro are planned for June, though a lot can happen between now and then.
Threat to Condor's future?
Historically, many of these routes have been served by Condor from Frankfurt. Provisional schedule data for November 2021 indicates that Condor is planning to serve all the same long-haul destinations as Eurowings Discover, with the exception of Windhoek. Eurowings Discover's winter network appears to include four destinations in the Canary Islands (Fuerteventura, Gran Canaria, Lanzarote and Tenerife TFS), as well as Hurghada and Marsa Alam in Egypt and Marrakech in Morocco, most of which are also likely to be served by Condor. This would appear to constitute a serious threat to Condor's future, given that almost 50% of Condor's planned November seat capacity is operated from Frankfurt. After a failed planned takeover by Polish Aviation Group (owners of LOT Polish Airlines) in 2020, Attestor Capital had recently announced plans to take a 51% stake in Condor. The plan was approved earlier this week. The company intends to invest significant funds into the airline's widebody fleet which currently comprises 15 767-300s, with an estimated average age of over 25 years, according to planespotters.net. This week it was revealed that an order had been placed for 16 A330-900neos, with deliveries set to start in the third quarter of 2022, with all the 767s being phased out by the end of 2024. Given that Lufthansa and Condor have both been 'bailed out' financially during the pandemic by the German government, it may seem surprising that the two carriers are now going to be competing so directly from Germany's busiest airport. This would seem to reduce the chances of the German taxpayer getting a good return on their investment. Hopefully, Attestor Capital will also have learnt some lessons from when another private investment company, Greybull Capital, rescued a medium-sized leisure airline, this time Monarch Airlines in the UK. Three years after the start of their involvement in October 2014, Monarch Airlines collapsed. And that was during a period when the European air travel market was, overall, fairly healthy and predictable, unlike now.
21 aircraft planned by mid-2022
This year Eurowings Discover's fleet will be no bigger than 11 aircraft but is set to grow to 21 aircraft (10 A320s and 11 A330s) by the middle of next year. All aircraft will apparently be sourced from within the Lufthansa Group. The average age of the A330s is therefore likely to be between 15 and 20 years old. It seems Lufthansa Group is trying to replicate in Frankfurt what SWISS and Edelweiss do together in Zurich. Leisure carrier Edelweiss operates four A340-300s (with an average age of almost 18 years) and 10 A320s. The A340s are currently (this August) being used to operate flights to 14 destinations from Zurich, including seven long-haul destinations; Puerto Plata and Punta Cana in the Dominican Republic, Cancun in Mexico, Male in the Maldives, Montego Bay in Jamaica, San Jose in Costa Rica and the Seychelles. However, Switzerland does not have an equivalent of Condor, providing competition on these routes.