New Route of the Day – Americas (11 August 2023): Sun Country between Eau Claire and Las Vegas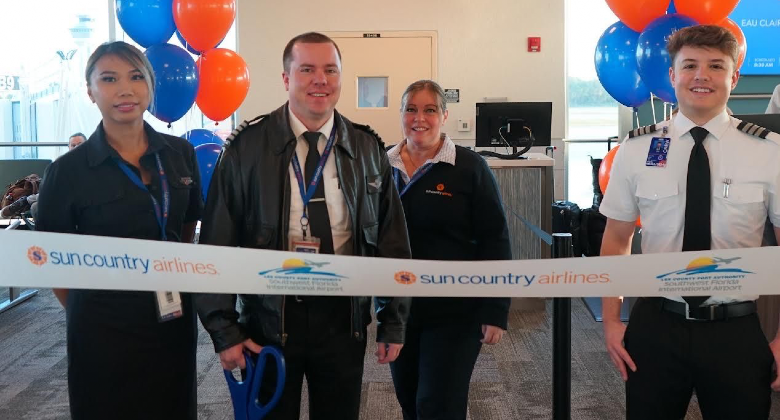 Sun Country (IATA code SY) launched 2-weekly seasonal flights between Eau Claire in Wisconsin and Las Vegason Friday 11 August with its 186-seat 737-800 aircraft. Services on the 2,220-kilometre route will be maintained on Mondays and Fridays. The airline faces no competition with the new flights operated as part of the federal government's Essential Air Service (EAS) program. Known locally as Chippewa Valley Regional Airport, which serves Eau Claire, Sun Country also maintains another three routes under the EAS arrangement.
Flight SY1855 departs Eau Claire at 09:35 local time, arriving in Las Vegas at 11:02 local time. The return service, operating as flight SY1854, takes off from Las Vegas at 12:00 local time, touching back down at Chippewa Valley Regional Airport at 17:07 local time.
What they said
Grant Whitney, Chief Revenue Officer at Sun Country, said: "Sun Country has a long history in the upper Midwest, so we know sort-of the community engagement that's around here. We're really excited about bringing this longer-haul service to Las Vegas."
Charity Zich, Director at Chippewa Valley Regional Airport, added: "Travelers in the region have already shown excitement about this new nonstop seasonal destination from EAU. Sun Country Airlines low fares can now be experienced by departing directly from the Chippewa Valley Regional Airport."
Eau Claire gets longest EAS route in the US
EAS is a US government program enacted to guarantee that small communities in the United States, which had been served by certificated airlines prior to deregulation in 1978, maintained commercial service. Its aim is to maintain a minimal level of scheduled air service to these communities that otherwise would not be profitable. The federal government provides subsidies for the routes.
Services out of Eau Claire were previously operated by SkyWest Airlines under the United Express brand. However, in in the spring of 2022, the airline requested to terminate 22 EAS routes, among which were those from Eau Claire. Once Sky Country was selected as its replacement, the EAS contract with the carrier became one of the more interesting ones in the country. Eau Claire is the only EAS community in the lower 48 to have regularly scheduled flights on 737s. Furthermore, it is Sun Country's first and only EAS contract, while the Eau Claire to Las Vegas service becomes the longest EAS route in the entire country. In addition to these new flights, Sky Country also maintains year-round flights from Eau Claire to Minneapolis/St. Paul and seasonal operations to Fort Myers and Orlando MCO.
Eau Claire has a population of around 70,000 people. It is the second-fastest growing major city in Wisconsin after Madison with population growth of over 5% between 2010 and 2020.