Wizz Air bases one aircraft in Burgas and launches 10 new seasonal routes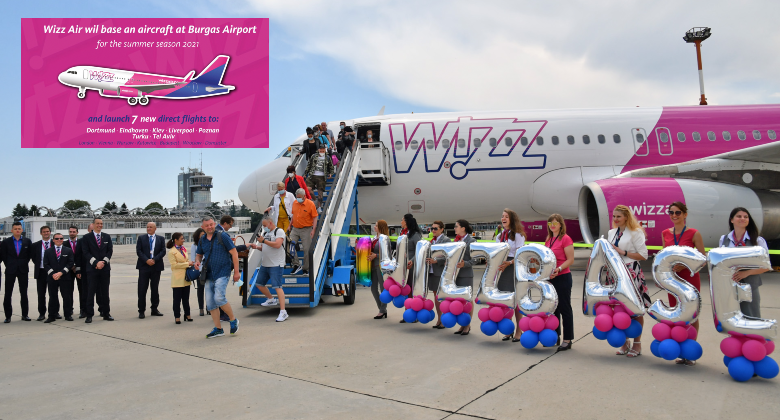 Wizz Air on 10 June opened another new base, this time a seasonal one in Burgas, located on Bulgaria's Black Sea coast. The ULCC first began service to the airport in May 2006 from London LTN, followed a month later by flights from Budapest. The following June flights from two Polish bases, Katowice and Warsaw WAW began. Poznan and Prague services launched in 2009 followed by Wroclaw (briefly) in 2010. However, between 2014 and 2019 only four routes were still operating; Budapest, Katowice, London LTN and Warsaw WAW.
10 new routes for this summer
Finally, a new route was added from Wizz Air's base in Vienna last July, before the airline announced that Burgas would become a seasonal base in June 2021. This has facilitated the launch of eight new routes and the resumption of two previous routes (Poznan and Wroclaw). The eight new routes are Doncaster Sheffield, Dortmund, Eindhoven, Gdansk, Kiev IEV, Liverpool, Lublin and Tel Aviv. In addition, direct flights from Turku in Finland are on sale from June 2022. All of the new routes are set to be flown 2-weekly or 3-weekly once operations have settled down. Because of restrictions from the UK, Liverpool's launch has been pushed back to 26 July, while the Doncaster Sheffield route, which did launch briefly in May, is set to resume from 1 August.
According to Cirium Data and Analytics schedule information for August, Wizz Air will likely be the biggest carrier at Burgas offering more flights and seats than any other carrier. Its nearest rivals for scheduled services at the airport this summer would appear to be BH Air, SmartWings and TUI Airways. Many charter airlines also serve the airport during the peak summer season.
Extreme seasonality
The airport has one of the most extreme seasonality profiles of any airport in Europe. In 2018, when the airport handled almost 3.3 million passengers in total, 60% of those (over 900,000 in each month) were handled in just two months, July and August. Conversely, between November and March, the airport typically welcomes fewer than 20,000 passengers per month. Last year passenger numbers fell to just over 420,000, with July and August again the busiest months.