Ryanair resumes service from Venice Treviso as the airport becomes the carrier's 15th Italian base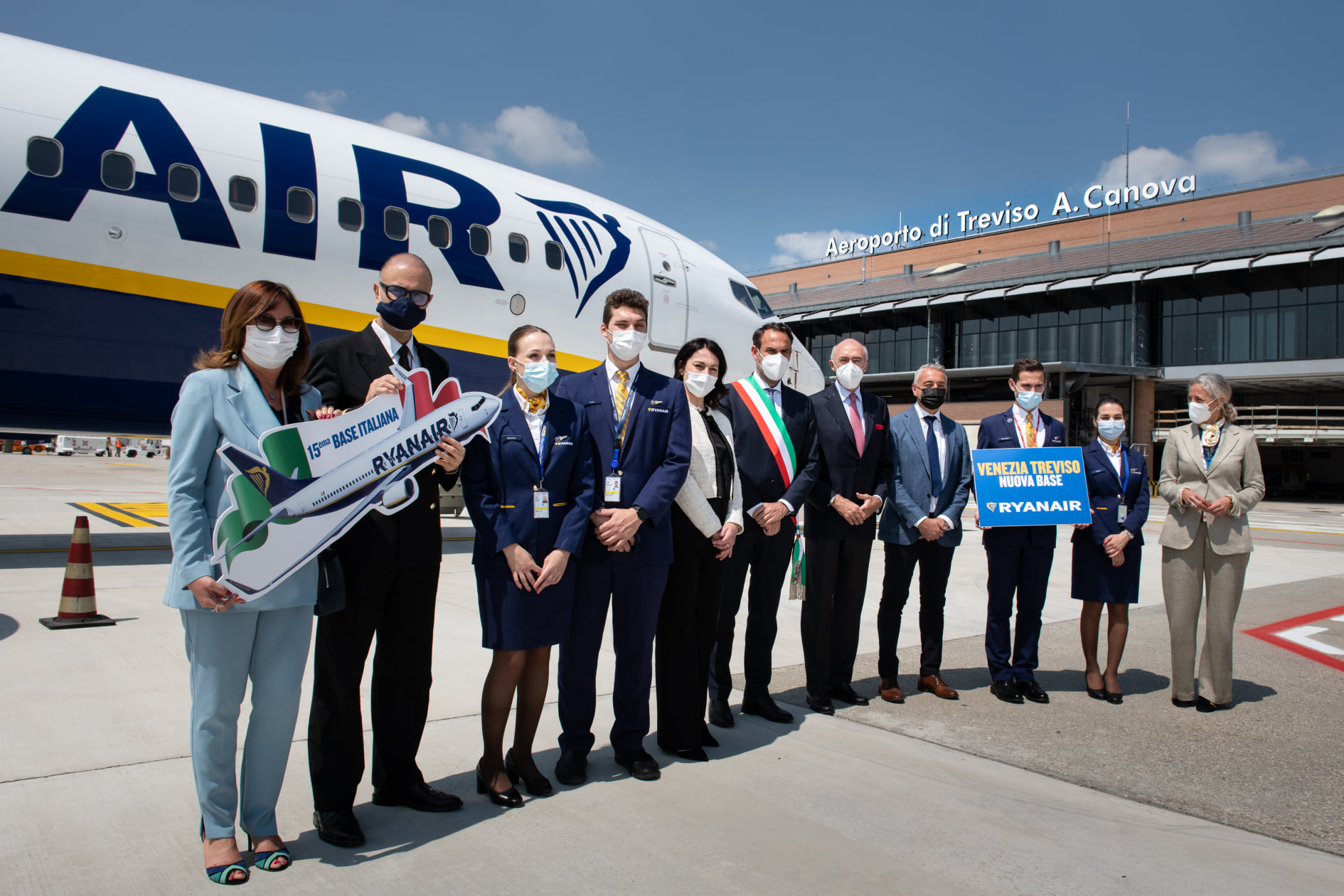 On Tuesday 1 June, Ryanair resumed operations at Treviso Airport (TSF) for the first time since the start of the pandemic, during which time the airport has been kept shut while all operations in the Venice area were concentrated at Venice Marco Polo Airport (VCE). Ryanair had announced last December that it would finally be making Venice TSF a base, having served the airport since May 1998, when service from London STN had begun. In 2019, Venice TSF ranked as Ryanair's 28
th
busiest airport for flights (and eighth busiest in Italy), so it is arguably long overdue (as with Paris BVA) that the airport has become a proper base. Two 737-800s will be based at the airport.
Has served close to 80 routes in total, almost 50 this summer
Since that first service from London STN in 1998, Ryanair has offered flights to almost 80 destinations around Europe and North Africa. Many of these routes did not work out and were subsequently dropped. In S19, Ryanair served 36 destinations from Treviso, while this summer that figure is set to rise to 48. The net gain of 12 routes comprises 22 new routes (of which 10 were previously served from Treviso) and 10 dropped routes. Of the 10 routes not currently served, five are domestic routes (to Bari, Brindisi, Catania, Naples and Palermo) all of which continue to be operated by Ryanair from Venice VCE. The other five routes are Cologne Bonn, Frankfurt FRA, Gran Canaria, Hamburg and Stockholm NYO. Of these, two (Cologne Bonn and Gran Canaria) are currently bookable for W21. In addition to the five domestic routes, Ryanair is also still serving Barcelona and London STN from Venice VCE this summer, neither of which are served from Treviso. The following is when Ryanair first began serving each destination: 1998: London STN* 2001: Brussels CRL 2003: Frankfurt HHN** 2004: Girona* 2005: Liverpool*, London LTN*, Paris BVA, Rome CIA* 2006: Dublin, Shannon* 2007: Bremen*, Malta, Stockholm NYO*, Weeze* 2009: Alghero**, Cagliari, Pescara**, Trapani** 2010: Alicante**, Barcelona*, Bari*, Bordeaux, Brindisi*, Bristol**, East Midlands, Ibiza, Leeds/Bradford*, Malaga, Marseille*, Oslo RYG*, Palermo*, Reus*, Seville, Valencia 2011: Lanzarote* 2012: Billund**, Budapest, Maastricht*, Paphos**, Wroclaw* 2013: Chania** 2014: Berlin SXF*, Brussels BRU*, Catania*, Eindhoven, Lamezia Terme, Tenerife TFS 2016: Corfu**, Sofia 2017: Cologne Bonn*, Edinburgh, Frankfurt FRA*, Hamburg*, Krakow, Marrakech, Naples*, Warsaw WMI 2018: Fez, Gran Canaria*, Manchester, Vilnius 2019: London SEN*, Porto, Prague 2021: Berlin BER (replaces Berlin SXF), Kos, Kiev KBP, Lviv, Oslo OSL, Palma de Mallorca, Poznan, Rhodes, Riga, Sibiu, Suceava, Tel Aviv, Thessaloniki *Not served in S21   **Dropped but resumed in 2021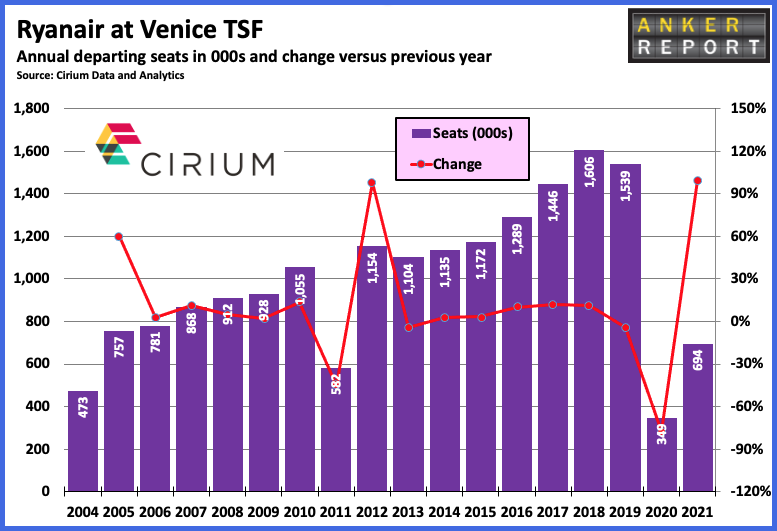 22 new routes starting this summer (of which 10 are resumptions)
Ryanair has already launched several of its planned new routes from Treviso this summer, with the rest set to follow in the coming weeks. The current plan for route launches is: 1 June: Alghero 2 June: Alicante, Kos 3 June: Palma de Mallorca 4 June: Chania, Frankfurt HHN, Suceava, Trapani 5 June: Sibiu 6 June: Tel Aviv 17 June: Poznan 19 June: Riga, Thessaloniki 1 July: Bristol, Pescara 2 July: Billund 3 July: Kiev KBP, Lviv, Oslo OSL 4 July: Paphos, Rhodes 7 July: Corfu With on-going uncertainty regarding travel restrictions, the exact start dates for some of these routes may still change. All routes are planned as 2-weekly except for Corfu which will be operated just weekly. Wizz Air and Pobeda are the only other carriers currently serving Treviso. Wizz Air's focus is on destinations in Central and Eastern Europe, notably Romania and Ukraine. However, it has started domestic flights to Olbia and Palermo this week and is set to launch a third domestic route to Bari on 1 July. Curiously, Ryanair has barely ever served Olbia, with the airline's only regularly scheduled service to the Sardinian airport being from Birmingham, which operated 2-weekly in S08 and S09.